'Life is a marathon, not a sprint': Goldman Sachs CEO at Stern graduation
Thousands gathered at Madison Square Garden on Friday to celebrate this year's graduating class of NYU's Stern School of Business.
Over 5,000 people gathered at Madison Square Garden to honor the Stern School of Business' undergraduate class of 2023 on May 19. The ceremony featured David Solomon, the CEO of billion-dollar investment banking firm Goldman Sachs, as the keynote speaker.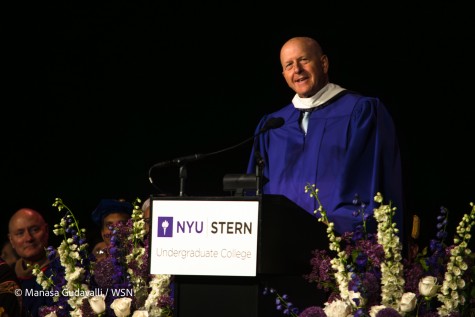 The event marked one of the last graduation ceremonies of outgoing NYU president Andrew Hamilton's term, as he will be succeeded by NYU administrator Linda Mills this July.
Hamilton said Stern has steadily risen in prestige over the years, attributing its success to the school's students and faculty. After encouraging students to apply their education to their day-to-day lives, Hamilton left the ceremony early to speak at the Tisch School of the Arts' graduation at Radio City Music Hall. 
"As you head out into that next stage in your lives, I know that you will draw on everything that you've learned at Stern," Hamilton said. "During these past four years — these very challenging four years — you'll also draw on your inherent talent and drive, but I want to assure you that, in addition to that, you will draw on the remarkable Stern community."
After acknowledging Madison Square Garden's reputation for hosting iconic artists and musicians, Hamilton reiterated his desire to channel Elton John in his speech, a sentiment he had previously expressed at a ceremony for graduates of the Gallatin School of Individualized Study.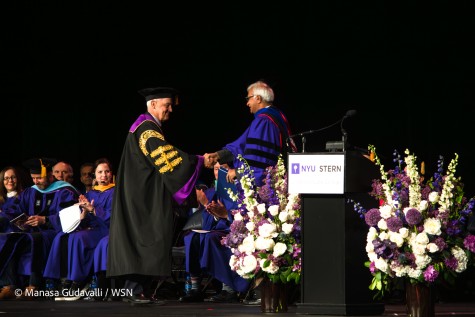 Stern dean Raghu Sundaram then thanked Hamilton for leading the university through the pandemic and maintaining Stern's close ties to NYU's campuses in Abu Dhabi and Shanghai. He congratulated the graduates and noted the school's achievements in the areas of artificial intelligence, sustainability and fighting inequality in business. 
"As you contemplate the next step in your journey, I have only one request to make of you: bring your whole self to everything," Sundaram said. "You have withstood the ravages of a pandemic and emerged stronger than ever before. You're about to graduate and enter the professional world with the added strengths that only a Stern education can provide, a fantastic network of classmates and alumni."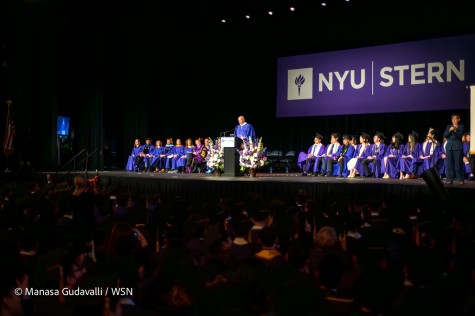 Sundaram then introduced Solomon to the crowd, noting the CEO's second career as an amateur DJ. Solomon spoke about his early aspirations to be a drummer before reflecting on his time at Goldman Sachs and offering graduates advice for their careers after NYU.  
"Don't be in a hurry — see where life takes you," Solomon said. "When someone does something nice for you, write a handwritten note even if you have terrible handwriting. I may not be the doctor my mom wanted me to be, but I sure write like one."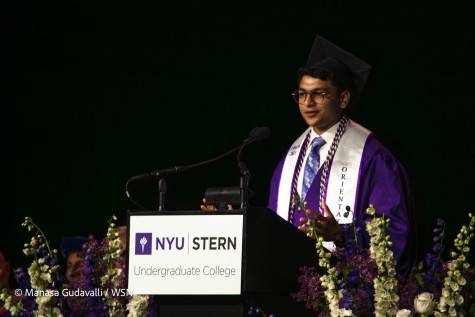 Stern graduate Samyak Sawale, the student speaker at this year's ceremony, commended his classmates for their resilience and determination over the last four years, especially during the pandemic.
"Because of our resilience, strength, and dedication, the NYU Stern community bounced back better than ever," Sawale said. "We have only just taken the first step in being responsible global citizens and ambassadors of the Stern brand."
Miles Field, a graduate who attended the ceremony, said that Stern was the only school he had applied to four years ago and that he was grateful for the friends and memories he made over his time at NYU. 
"It's been a great experience these past four years," Field said. "I look forward to starting the next chapter with all these people who have had such an impact on my life."
Manasa Gudavalli contributed reporting.
Contact Yezen Saadah at [email protected].