'I see unity': Hamilton at Gallatin graduation
In one of many school-specific graduation ceremonies at NYU this week, friends, family, faculty and administrators came together to honor the Gallatin School of Individualized Study's class of 2023.
Thousands of friends and family gathered at the Beacon Theatre to celebrate the Gallatin School of Individualized Study's class of 2023 on May 16, marking the end of Gallatin dean Victoria Rosner's first year as the school's leader and one of the last graduation ceremonies of NYU president Andrew Hamilton's tenure.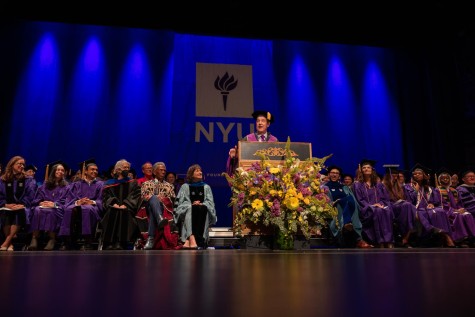 At the ceremony, Rosner and Hamilton were joined by other speakers, including Gallatin alum and Emmy, Grammy and Tony Award-winning actor André De Shields, in addressing graduating Gallatin students.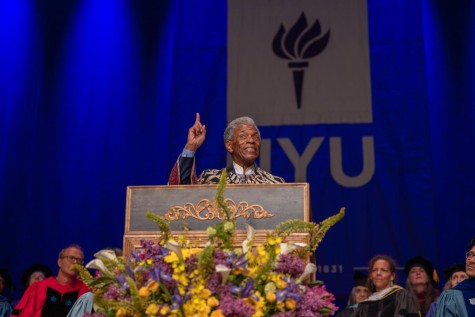 "For however many years you've spent pursuing education at the Gallatin School of Individualized Study — maybe a few of you haven't realized it yet — there is no one like you, there has never been anyone like you and there shall never be anyone like you," De Shields said in his speech.
Rosner, who previously served as dean of academic affairs at Columbia University's School of General Studies, began her current role as Gallatin's dean last July. She said that Gallatin's innovative approach to education is what brought her to the school, before congratulating the graduates and wishing them well in the future.
"I have found in Gallatin the best of an interdisciplinary, purpose-driven education, and a school that truly serves as a role model for its commitment to excellence and originality," Rosner told WSN. 
Hamilton congratulated Rosner for her leadership over the past year, and said that the school and its students are thriving under her tenure. Hamilton, who will be succeeded by longtime NYU administrator Linda Mills on July 1, said he is giving his final farewell to students at 18 graduation events in New York this week, as well as to graduates at NYU's Abu Dhabi and Shanghai campuses next week.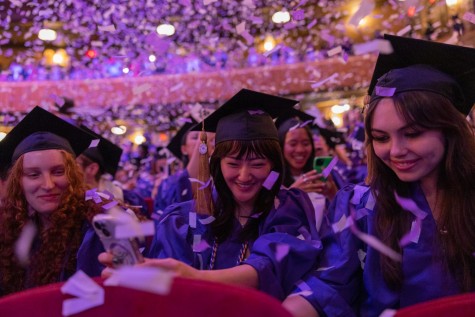 "I look at NYU Gallatin graduates and I see an antidote to division and divisiveness," Hamilton said. "You are united in your search for discovery and the way in which you approach the world's questions with creativity and with self-reflection. You are united in your desire to make a positive impact on the world."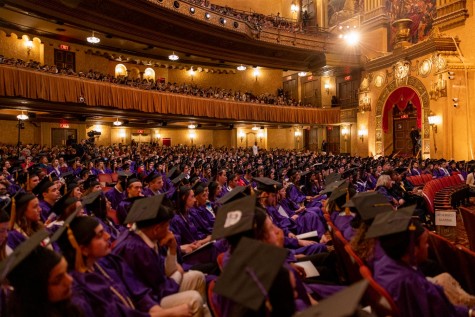 Hamilton also spoke about the Beacon Theatre's history, noting the iconic artists that have performed there in the past. 
"So many great performances have taken place here, so many rock stars and rock bands, and I'm always tempted to channel my inner Beyoncé," Hamilton said. "Today, without question, the rock star that I'm channeling is Elton John. Elton has an English accent just like me."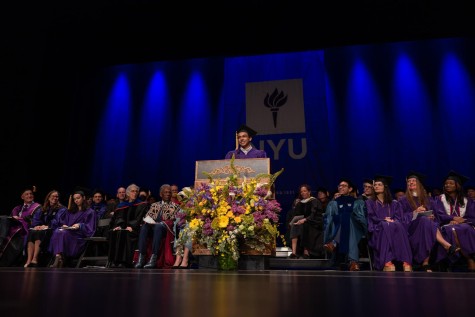 Armaan Ahmed, the student speaker for Gallatin's graduating class, said that the school opened up academic opportunities for him, including the chance to pursue several different fields of study at once.
"Over the past four years, Gallatin has shown me that to be lost is not a state to fear, not a waste of time, but maybe the very thing worth striving for," Ahmed said. "This is what so many Gallatin classes inspired within me — to be just as curious and naive as when I was as a first-year."
Stephanie Fischer, one of the graduates at the ceremony, said the event provided her with a sense of closure for her academic career, as she completed her degree following the fall 2022 semester.
"It's been a long time coming," Fischer said. "I feel like I'm finally at the point where I wanted to be, but with so many more lessons learned. I'm ready, I'm excited, I'm doing this for me and it's really empowering."
Carmo Moniz contributed reporting.
Contact Yezen Saadah at [email protected].