Greenwich Village church that supported abortion access in the '60s continues activism
Judson Memorial Church, which has historically provided women with reproductive health care referrals, remains vocal in a post-Roe v. Wade world.
Judson Memorial Church is a little-known historic landmark nestled among NYU's cluster of buildings around Washington Square. Founded by Edward Judson in 1890, the Baptist church's interest in health care has been an important part of its identity from early on. Judson offered free and low-cost health care classes to women and children in the early 1900s, which led him to found the Judson Health Center in 1921. It became one of the first community health care clinics in the country, and still stands at its original location on Spring Street.
"We are not scared off by bodily functions like some churches are," Abigail Hastings, a minister at the church, said. "We have always cared about health care."
During the '60s, when abortion was still illegal in the United States, the church began an initiative that offered abortion referrals to women with unwanted pregnancies. The initiative, called the Clergy Consultation Service, quickly grew from a small group of 21 Protestant and Jewish religious leaders to a movement of thousands of clergy members around the country. It ran for six years, ending in 1973, when the Supreme Court's landmark Roe v. Wade case was first ruled upon and abortion was nationally legalized.
The movement was led by Reverend Howard Moody, who became a senior minister at the church in 1956. Moody began meeting with a group of clergymen and rabbis at the Washington Square Methodist Church — now a condominium on West Fourth Street — to discuss the theological implications of what it would mean to counsel women on abortions.
From these discussions came the creation of the Clergy Consultation Service on Abortion, which provided safe and affordable access to abortions through counseling and referrals to providers. The 21 clergy who founded the group listed their names in a 1967 New York Times article. Their message was explicit: if someone needed reproductive care, all they had to do was call the listed number.
Arlene Carmen, an abortion activist who first came to the church in the mid-'60s and later became part of its administration, pretended to be pregnant in order to locate and vet abortion providers.
"She went to each of these providers and checked whether the place was clean, whether she was treated with respect and whether or not they charged her," Hastings said. "There was a lot of extortion going on. That was how they started the initial list, and it was through the courage of so many people that it eventually spread."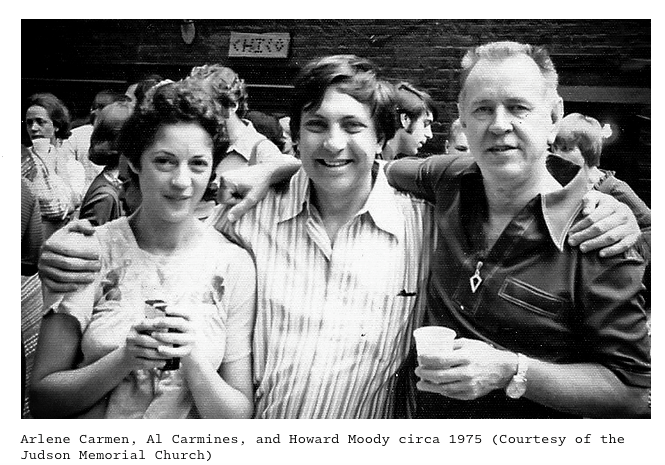 Hastings said that by the time the vetting process was completed, there were 3000 clergy, rabbis and nuns involved across 38 states. She added that one article called the service the "pre-internet Yelp" for abortion providers.
Despite facing the risk of imprisonment and fines for their work, the Clergy Consultation Service continued until abortion was made legal nationwide. Throughout its existence, the service helped almost half a million women obtain abortions. The clergy were blackmailed for money and threatened to be exposed multiple times. When New York passed its law legalizing abortion, Moody and Carmen were consulted by the government to help draft the legislation. One draft included a requirement that women meet with a clergyperson. According to Hastings, Moody rejected this, not wanting to restrict women's decisions.
According to the Judson Memorial Church's Baptist theology, life begins at birth, as the Bible states that God "breathed into his [Adam's] nostrils the soul of life, and man became a living soul." The Baptist concept of "soul freedom" is also interpreted as every individual having the right to rule over their bodies and minds with guidance from God. Likewise, a woman has the moral agency to make her own decisions about her body.
"It's not like we're doing this work because we're New York liberals," Hastings said. "It is a fundamental theological concept for our faith."
Rev. Donna Schaper, an activist who was formerly a senior pastor at the Judson Memorial Church, believed in a similar theology and was a member of The Jane Collective, another underground abortion service that operated from 1969 to 1973. It similarly helped women with unwanted pregnancies to find safe and affordable abortions, or provided the procedure itself. The Jane Collective, along with the Clergy Consultation Service, was one of many organizations in New York City that helped women access abortions.
"I did counseling every Tuesday and Thursday afternoon for women who were pregnant," Schaper said. "We'd get funding, and we'd get them out and back to New York. Then I was trained as a Jane, where I did maybe six different procedures over time."
Schaper believes that organizing is just as important as it was fifty years ago, when she herself took part in student activism. 
"Students in New York should focus their attention on Illinois, Alabama, Arkansas, those places, instead of New York or Connecticut," she said. "We need to make sure that people who are already likely to be poor aren't having to drive, buy a hotel, all of that expensive stuff, just to have a medical procedure."
Fifty years later, history repeats itself. Women around the country have continued to seek alternative reproductive health care following the Supreme Court's decision to overrule Roe v. Wade. Abortions under most circumstances are now banned in 13 states around the country, with an additional ten states expected to pass legislation to limit the procedure.
To this day, the Judson Memorial Church continues its activism. The Empathy Project, started by the church, provides theological discussion to support women struggling with reproductive decisions, as well as informational packets and referral services through organizations like Planned Parenthood and the National Network of Abortion Funds.
Contact Clara Scholl at [email protected].