Sammy L. Coffee brings warmth to Third North
Latte artist Sammy Lin blends aroma and art through espresso at his newly opened cafe.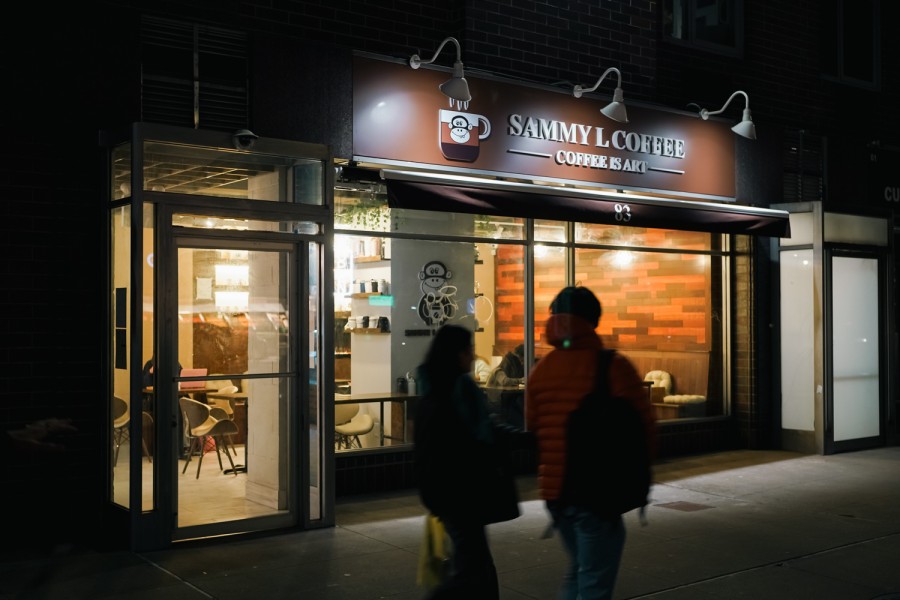 Having just stumbled out of a plane coming straight from the murky atmosphere of Saudi Arabia, the weather this semester hit me like a truck. Looking for comfort in the cold, I noticed a new cafe had opened underneath the Third Avenue North residence hall. Balloons floated near the entrance as a punchy, red "Grand Opening" sign beckoned me forward: Sammy L. Coffee.
The owner, Sammy Lin, clad in a brown apron, walked me to a table and sat me down. High-quality clothes hung on a rack in the center of the cafe, with sparkling mugs decorating the top shelf of the back wall. But it didn't feel excessive; every piece had a purpose. 
This wasn't some trendy cocoa bean chop shop, but rather an artist and the sum of his work. As his employees churned out espresso shot after espresso shot to the fiending masses, Lin took a break to speak to WSN about the art of lattes and his long career in caffeine retail. 
This interview has been edited for length and clarity.
WSN: What brought you to New York City?
Lin: I've been here for 22 years. My first job was as a busboy at an Italian cafe and restaurant on the Upper East Side. It was really hard work. I knew nothing about Italian food or coffee. I'm from China — I was a music teacher!
When I came here, I knew zero English. After three months, the main barista over there went back to Italy. Then, my boss sat me down and told me I had one week to learn everything about coffee. I had one chance. If I passed the test, I would land a new job, a better job. That week, I worked 70 hours. After my shift, I would stand behind the coffee bar and try to learn everything from the Italian barista — that was a hard time for me. You see this burn mark on my arm? That's been there for 20 years.
WSN: How'd you get it?
Lin: From steam. The old espresso steamers were used to add foam to milk and make it hot. It was really hot! The new machines are safe, but back then, yeah. This is my mark. I hope it stays there forever. It reminds me of how hard I worked. After one week of training, I passed the test in front of five Italian customers. They insisted to my boss that I was ready. That was when I became a barista. Remember when I told you I was a music teacher?
WSN: How could I forget?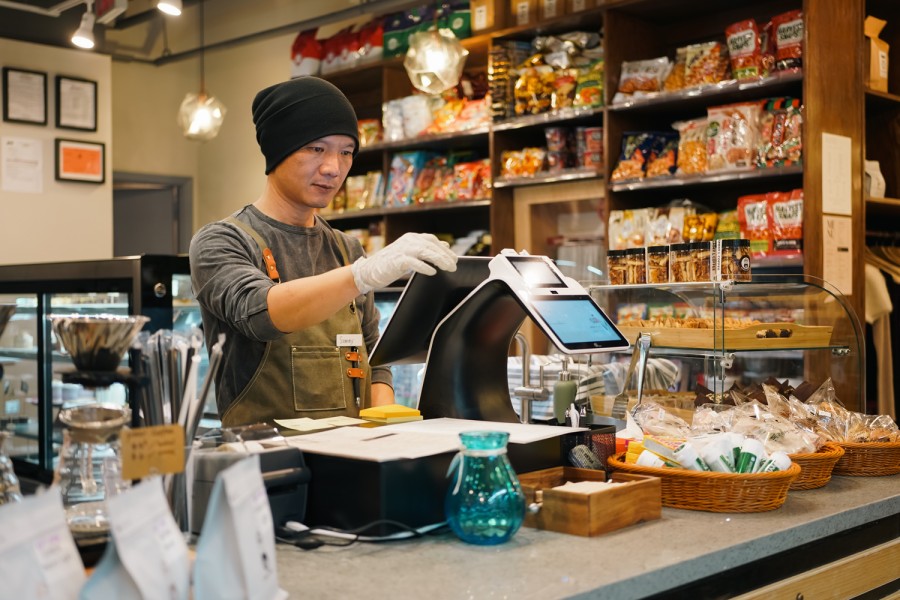 Lin: I love the arts. Paintings, music, movies — I love it all! I believe every art form, in the end, leads to the same point. So I got to thinking, we should do something with coffee. Twenty years ago, I heard people were doing art on lattes, and I created my own method. My first design was a snowman.
The latte is a cup with a brown color inside, but milk is the white part. So I thought a snowman is only two white circles, one big scoop, one small scoop, one body, one head. Then you draw eyes and a smiley face, and that's it!
The second one was a monkey. It came from a mistake, when I failed to draw a snowman one time. When the big one became too big, it smushed into the small one and gave an oval-like shape. But I played into it, drawing big eyes, then big ears. It became a monkey! That's art. Sometimes you learn from your mistakes and develop your creativity from that.
WSN: The monkey is the logo of your cafe right?
Lin: Yeah, the monkey holds a special meaning for me. It shows that you can transfer the wrong into a surprise. My customers went crazy for the designs, they've never seen anything like it on lattes. I started to do more. I did a lady's face, then New York City's skyline, then a mountain landscape. I feel good doing artwork for customers — I feel good that they enjoy not only the coffee, but the art on the coffee. They doubly enjoy it.
WSN: Talk to me about your shop. You have a beautiful coffee bar over there, and then you have clothes on the rack from, where, Korea? 
Lin: Around here, there are so many coffee shops, and they're all doing the same style: bagels, yogurt. I wanted to bring a new style to the city. And here's NYU. The young generation, they want to try new things! I'm Chinese, I'm Asian, so I try to integrate more Asian culture in my cafe.
All the cups you see on the wall are from China. The clothes are from Korea. The bubble drinks are from Japan. I didn't want to just limit it to one country, I wanted to bring an all-Asian experience here. I wanted customers to feel the difference.
WSN: Why did you choose to open this cafe under an NYU dorm?
Lin: My daughter actually came up with the idea. She's at Cornell now, but before that, NYU was her dream school. She gave me the idea to open my first cafe under a dorm so she could bring all of her friends here. NYU is also located in an amazing area in the city. People from all over the world live here, especially young people. Young people promote change, urging me to move forward toward the future and open my heart and mind to new ideas. I'm 48 years old, but because I'm surrounded by the youth, I feel as if I'm 25!
Only in this area, at NYU, could I make a difference while remaining around new ideas. Young people give you love and hope for tomorrow and for the future. 
I ended the interview on this positive note. As I began to shake his hand, he apologized for the glove that covered his right hand. He had burned himself again. I asked if he was OK.
"Never better," Lin said. "It's going to be a great memory."
Contact Don Ahmad at [email protected].