Meet 3 tattoo artists shaking up NYC's tattoo scene
These artists are pushing the envelope of tattooing, and they're doing it on their own.
Tattoos have taken a turn for the avant-garde. Modern American tattoo culture is evolving — the predominance of the American traditional style is diminishing, and more personal styles are now coming into the spotlight. New York City has seen a rise in home-grown tattoo artists, who've made the art form their own while learning through experimentation on themselves and friends. From out-of-this-world designs to nostalgic hand pokes, meet three of the new-wave artists on the rise in New York City.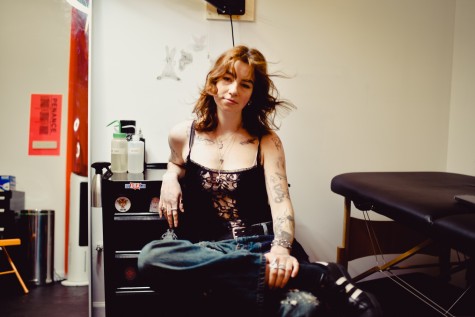 Bowietats
Ella Bowie's childhood was filled with the whimsical stories of authors Peg Maltby and May Gibbs, which her Australian family raised her on. Her father later introduced her to the works of Edward Gorey, and the thematic elements of these childhood stories have since found their way into the now 22-year-old's work. Known for her soft, dreamy designs, Bowie's fantastical tattoos are reminiscent of an illustrated picture book, a nod back to her childhood.
"The bunnies are from my childhood," Bowie said of the character that often comes up in her work. "My dad and I used to send each other bunny memes, like bunnies with pancakes on their heads. He's always had little bunny things around."
Alongside bunnies, Bowie often creates flash sheets that feature designs of other woodland creatures, like mice or birds. The sincere care Bowie puts into her designs extends to how she treats her clients; the confidence she's gained from clients who've placed their trust in her has pushed her to inspire the same feeling in them.
"I want to have someone leave here feeling like they had a really comfortable experience, and maybe even feel a bit more confident," Bowie said.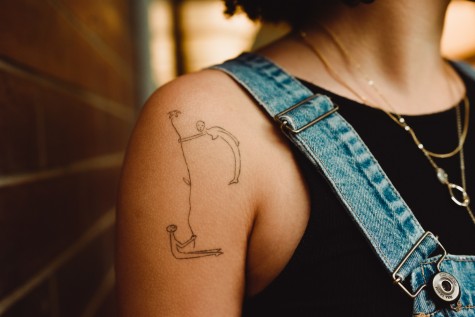 CAS first-year Ava Santiago got a tattoo from Bowie at the beginning of the spring semester. While she was initially nervous going into the session, her nerves quickly eased once Bowie got to work.
"It almost felt as if a friend was giving you a tattoo," Santiago said. "She made it so comfortable and when I walked out, I was just so happy."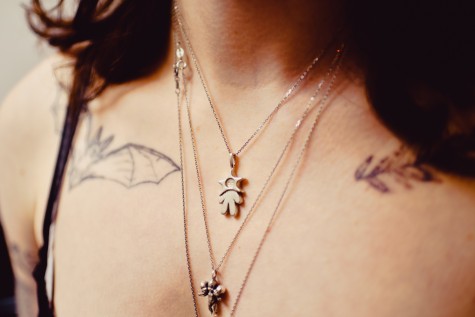 Bowie is a part of Penance Tattoo, a tattoo studio in East Williamsburg that hosts four in-house tattoo artists. She joined the studio this past February, two years after she began tattooing. As she continues to work as a tattoo artist, she's extended her designs to different mediums — two months ago, she teamed up with silversmith and friend Hayden Markley, to transform one of her signature characters into a necklace. 
This summer, Bowie's looking forward to traveling across the country to work in different cities. To see more of her work, check out her website or Instagram.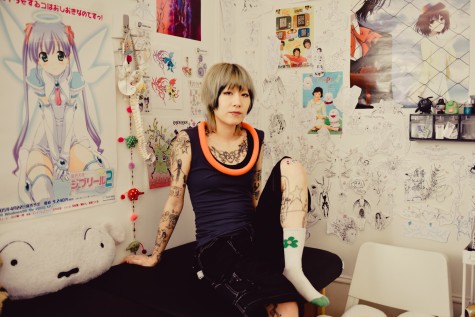 Neobot.fbx
For 25-year-old J Yueqiao Ma, the New York City-based interdisciplinary artist behind the account @neobot.fbx, art has been a part of their life for as long as they can remember. Growing up as an only child, J often chalked the sidewalks in their neighborhood, and they've been drawing ever since.
Throughout their childhood, J primarily looked to manga and anime as inspiration when it came to art. Traces of those childhood inspirations can be found in J's current tattoo work, with references to iconic early-2000s media popping up in their flashes — a little Hello Kitty in one design, or a Terriermon Digimon in another. While these Easter eggs can be found in some of J's work, their energetic characters — and the immersive worlds they inhabit — come solely from what they dream up.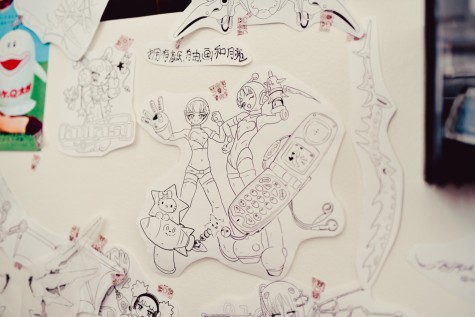 "Everything just came from my head," J said of their character designs. "But then I will think really hard on what to give them clothes-wise."
J's characters are always dressed in costumes that perfectly encapsulate their animated, cyber-techno tattoo style. Their interest in costume design partially stems from their past studies in fashion design as an undergraduate at the Parsons School of Design. Now, leaning more into the design aspect of fashion as opposed to the physical production of it, J leverages their past studies to fully bring her characters to life.
"Before the pandemic, a lot of people's impressions about tattoos were still mainly traditional tattoos," J said. "I'm not the biggest fan of contrasted colors and thick lines in my work — I want to experiment in different styles and break the stereotypes, to make tattooing more about art and fun."
It wasn't until 2021, after J had graduated from Parsons, that they began tattooing. What started as a few simple hand pokes between friends soon became a full-time job. After their friend gave them a tattoo machine, J began to experiment with tattooing even more, and found their niche in creating more internet-inspired designs. They then began posting their work on Instagram, and the rest is history. Now, as a newly-minted recipient of an MFA in Computer Arts from the School of Visual Arts, J has seen their diverse artistic disciplines converge.
"Everything goes together," J said. "Subculture, fashion, music and art all go together. It's really smooth, transitioning from one to another."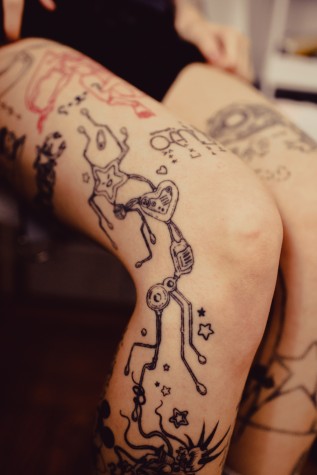 In terms of their tattoo work, J has created augmented reality tattoo filters on Instagram, which, when used on the app to scan a certain tattoo, will bring an animated 3D rendering of the design to life on your screen. 
When you walk into J's studio, you're fully immersed in their world, with their varying creations everywhere you look. A bit of the artist can be found in every corner of their studio, similar to how a part of them finds its way into every one of their designs. On the back wall of their studio hangs a poster of a Cyborg Simulator, an original character J saw themselves in.
"She's very scared, like she doesn't know what she's doing," J said, describing the character. "She's also me, exploring my own world. I feel like all the characters I've made are kind of like a version of me." 
At the moment, J is celebrating their recent graduation. To see more of their work, view their website or Instagram.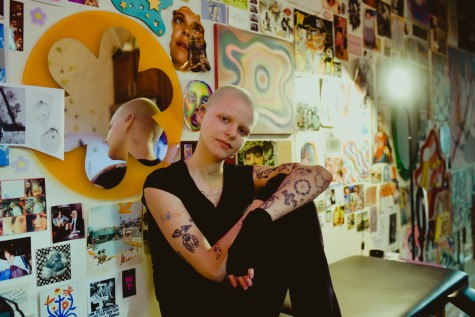 Uncle Phoebe
Tattoo artist and model Phoebe Satterwhite started tattooing much like every other teenager interested in decorating their bodies — with experimental stick-and-pokes. The 25-year-old did their first tattoo, a tiny triangle that represents change, on their own hip when they were 14 years old. A pioneer themself, Satterwhite contrasts sharply from other hand poke artists in Brooklyn for one reason — they largely don't accept male clients.
"If you're a guy, you can get a tattoo anywhere," Satterwhite said. "We can let men into lesbian bars because we simply just can, but I don't have to let a man through my door if I don't want to. This is the one space they're not supposed to go. I don't necessarily try to make it a space for non-men, but I feel like it just happens."
For Satterwhite and other queer artists, there's an all-too-familiar feeling of going into a space and feeling out of place. The intimacy of receiving a piece of art on your body requires a level of trust that isn't always able to be handed off to a stranger — especially one that's only conscious of cisgender and heterosexual clients. Satterwhite works to create a more welcoming space, where anyone can come in and feel comfortable when getting a tattoo.
"The application of a hand poke tattoo feels a lot more intimate," Satterwhite said. "I don't really like the idea of putting people in pain, and I feel like a lot of us have this weird idea of pain — like we have to experience it to get a tattoo. I feel like that's not necessarily the case, and I think hand poking opens a lot of doors for people who typically stray away from tattoos for that reason."
Satterwhite practices from the comfort of their own home, and every aspect of their studio feels inviting; the walls of their apartment-turned-studio in Williamsburg are peppered with their own drawings and a variety of colorful collages. A quick flip of the design book lying on the coffee table reveals a peek into their effortless, ultra-surrealist tattoo style. With whimsical and slightly psychedelic designs, Satterwhite creates emblems of bunnies, strawberries, heart-shaped lockets and other similarly playful icons using a form of gray wash, a tattoo ink medium that allows for more detailed shading work. By mixing black ink with water, Satterwhite is able to make their tattoos age better — the spreading of gray ink, in comparison to black ink, is a more realistic rendition of shading.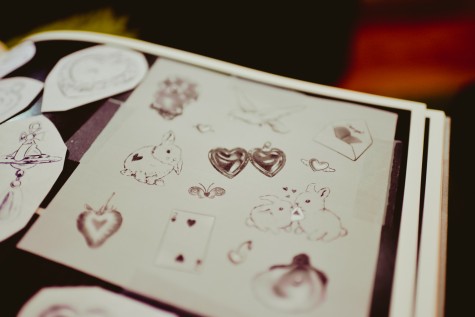 "My style has developed so much because of grey wash. I think it's so fun," Satterwhite said. "It's important because so much of my hand poking is meticulous, and made up of so many little dots that you want to last."
For Satterwhite, the decision to hand poke rather than use a machine is an act of defiance against traditional tattoo culture, in which machismo has positioned pain as a necessary precursor to engaging with the art. In being visible and authentic as both an artist and a person, Satterwhite hopes to create an environment that feels comfortable for both parties involved in the vulnerability of getting a tattoo.
"My personality overlaps with work in the way that I connect with my clients — I feel like putting myself on my Instagram and letting people see who I am, as this queer person, in this space that looks like this, is important," Satterwhite said. "You're not getting any surprises." 
When not tattooing, Satterwhite can be found modeling. Having seen the lack of tattooed models in the industry, Satterwhite hopes to change that, with a recent gig in Aaron Potts' showcase at New York Men's Day. 
To see more of Satterwhite's work, check out their Instagram.
Contact Adrita Talukder and Olivia Liu at [email protected].