From chicharrón to cashew-based mac 'n' cheese: The ultimate list of vegan restaurants around NYU
Here are some of the best places on or near campus for delicious vegan food to celebrate the start of the semester.
If you have ever gone out to eat with a vegan, chances are you have seen them order multiple side dishes, alter a dish until it's unrecognizable, or settle for the dreaded house salad at least once. For those like me who are vegan, we've learned to make the most out of any menu.  
Thankfully, in New York City — and especially in Greenwich Village — eating vegan is not too much of a challenge. There is a vegan restaurant for nearly every cuisine, craving and meal. Rather than scouring a menu for something to veganize, I find myself overwhelmed by the number of vegan options. Not only do most restaurants indicate vegan options or help vegans alter menu items — many are fully plant-based. In other words, the city is a vegan foodie's dream.
Whether you are looking for a hearty breakfast, comfort food, or an ice cream cone to help you mourn the end of winter break, here are seven vegan restaurants for herbivores and omnivores alike. 
Consider trying a few of these places even if you aren't vegan. Don't worry, I won't bore you with the long speech about why veganism is great. But I will tell you that it never hurts to expand your palette and try a new dish.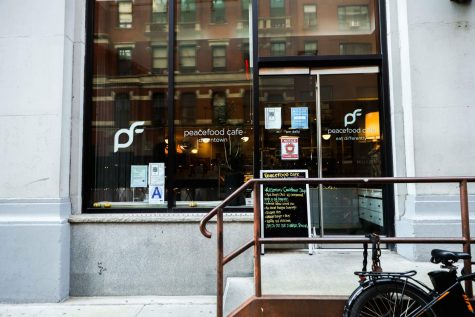 It's not everyday that you can order nachos and macarons at the same restaurant, let alone have them both be vegan. A short walk from campus, at 11th Street and University Place, Peacefood Café serves a variety of dishes that celebrate seasonal vegetables, from a miso tahini sprout sandwich ($11) to a roasted potatoes pizza ($16). The café doubles as a bakery, offering homemade pastries, smoothies and juices — all, as you probably guessed, vegan.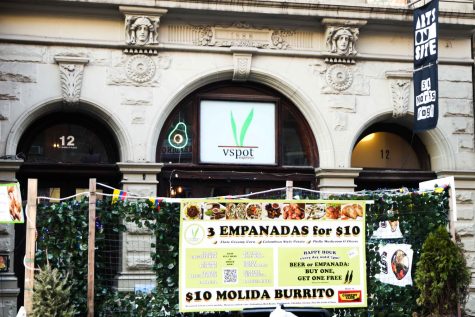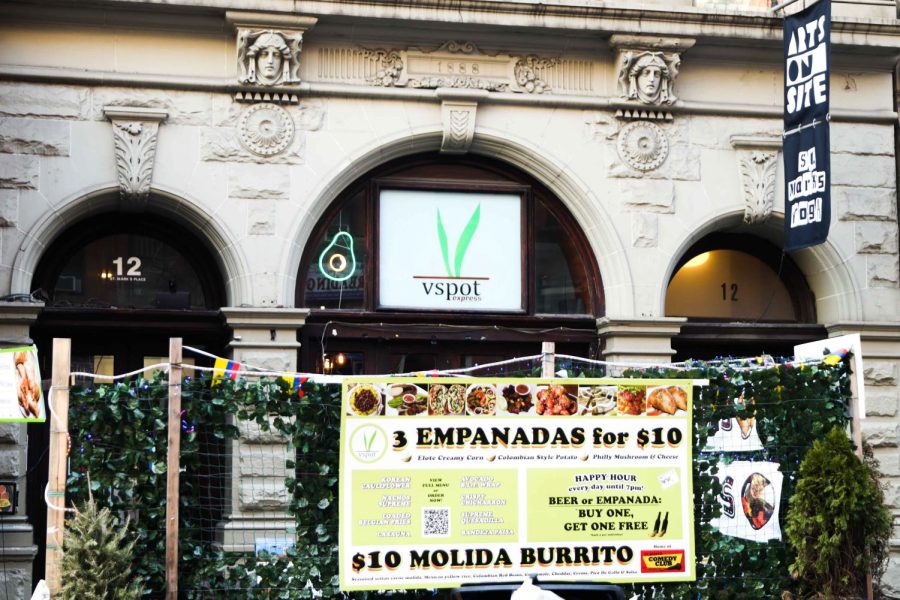 You've heard of plant-based restaurants — but have you heard of a plant-based comedy club? No? Well, let me introduce you to the V Spot Express. This restaurant and comedy club serves Latin comfort food with a side of laughter. V Spot offers a variety of dishes, from well-known staples like empanadas ($5) to traditional dishes like chicharrón ($7), a popular dish that consists of fried meat, which V Spot swaps out for wheat-sourced protein seitan. While many Latin American dishes like rice and beans or plantains are already vegan, it can be difficult to find vegan versions of traditional meals that would typically include animal products. V Spot has overcome this challenge by bringing together the familiar flavors of a Latin kitchen with plant-based proteins and plenty of comedy.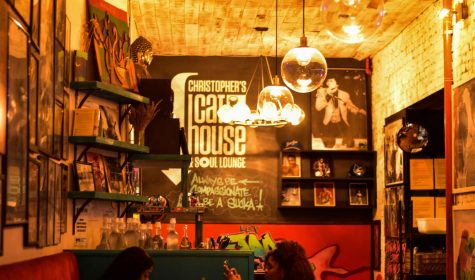 Hungry student, beware: This place will put your appetite to the test. Located on Carmine Street, between Bleecker and Bedford streets, Urban Vegan Kitchen offers vegan twists on the classic comfort foods you know and love. From a sizzling pan of cashew-based mac n' cheese ($15) to a hot plate of "chick-un & waffles" ($21), you'll forget that chicken or cheese ever even existed. These hearty vegan staples will warm your soul and provide the nourishment you need for a productive study session in Bobst.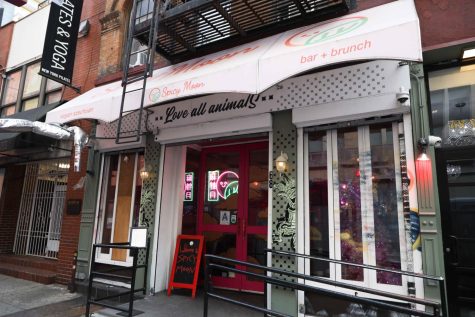 One block from Washington Square Park lies a restaurant offering an innovative take on classic Szechuan dishes, such as dan dan noodles ($11) and cumin-spiced tofu ($17). Each bite delivers a burst of flavor and a spicy kick that will keep you warm for the winter. With regular lunch specials and all dishes under $20, this can be your new go-to spot instead of the regular Kimmel fare or Cup Noodles you have waiting at home.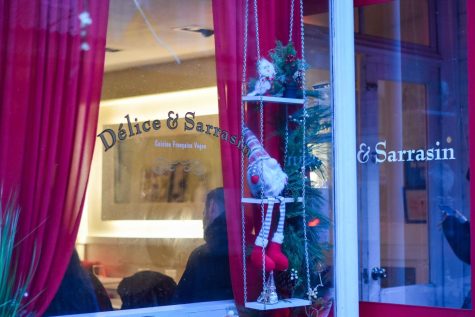 Délice & Sarrasin has managed to make vegan a variety of French classics — traditionally dependent on dairy — without sacrificing any of the flavors. The restaurant aims to recreate traditional French recipes — from sweet crepes ($10-$12) to tahini-based foie gras ($15) or pea-protein boeuf bourguignon ($22) — without harming any animals. Cue the French café music and you'll feel as though you've traveled to NYU Paris.  
Van Leeuwen's Ice Cream
,
120 MacDougal St. and 48 1/2 E. Seventh St. (and your nearest grocery store)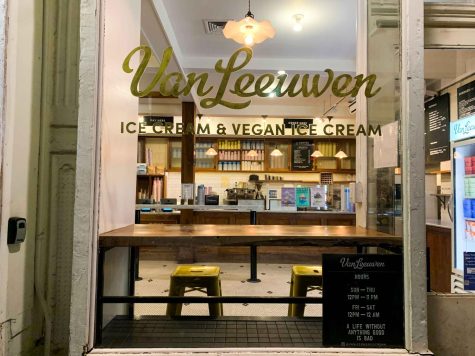 You have likely seen their pints in the ice cream section during your visits to Whole Foods or Mortan Williams, but if you have yet to try their diversity of vegan options, now is the time. Van Leeuwen's offers both regular and vegan options, and it has an array of delicious flavors — starting at $6 — toppings and treats. You can expect a mix of classics, such as rocky road and vanilla bean, with creative twists, such as bourbon vanilla apple crisp. With three stores located a short walk from Washington Square Park, you should reward yourself after class with a milkshake or grab a pint to go for your weekend Netflix bingeing session.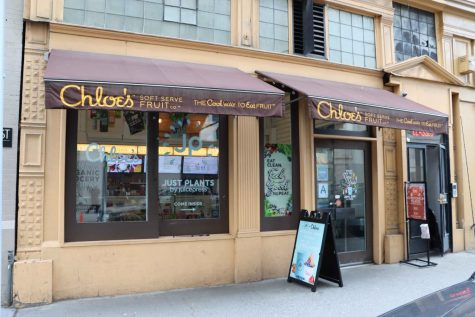 Chloe's Fruit — not to be confused with another plant-based spot, By Chloe — sells soft serve fruit that has simple ingredients, but still satisfies any sugar craving. Former Assistant District Attorney Chloe Epstein founded the dessert spot in order to provide quality dessert without artificial ingredients. With vegan waffle cones ($6.50), fruit sundaes ($7.25), ice pops ($4) and breakfast-inspired treats ($6-$9), this is the place to satisfy your sweet tooth. Aside from traditional soft serve options, Chloe's Fruit offers creative signature dishes, such as a waffle parfait ($6) and soft serve-based superfood bowls ($9). If you are looking for a healthy sweet option to celebrate the beginning of the semester, look no further. Chloe's Fruit has you covered.
Contact Juliana Guarracino and Gabby Lozano at [email protected].