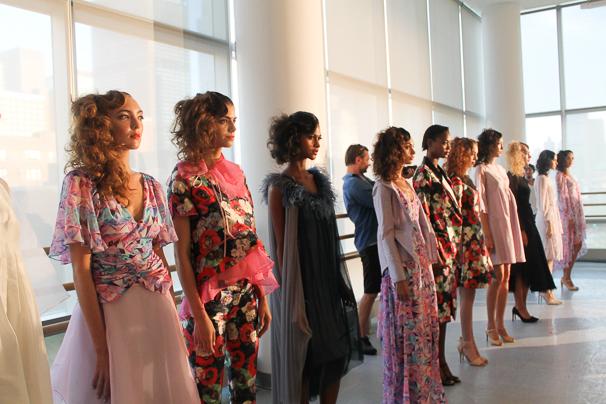 All eyes were drawn to a single model in a flowing, gossamer gown, as she entered the softly lit studio atop Alvin Ailey Dance Theatre, walking down the runway at an unusually slow, sexy pace. Marilyn Monroe's sultry classic, "Diamond's are a Girl's Best Friend," set a fun, light hearted mood as more models, wearing Yuna Yang's Spring/Summer 2015 collection, sensually filled the room, adorned with side parts and poufy, playful curls as well as cherry red and candy pink lip glosses.
Yang's seasonal inspiration was the power and optimism of dreams, which she drew from American culture in the 1940s. After the show, in an exclusive interview with WSN, she further explained her inspiration.
"I always liked the 1940s and the Second World War Era…when women started working and wearing denim," Yang said. "You know [Rosie the Riveter]? I always thought that picture was very positive, American and…[fashion-forward.] I wanted to try that look out with denim."
True to her word, Yang did experiment with denim, of course by glamming it up with pristine pastels, floral prints, and silken textures. However, the real showstoppers of the night were the ethereal gowns that Yang has been internationally known for since her first collection's debut in 2008. Yang's designs this season were remarkably diverse, though all looks shared a soft colored palette. While some pieces were airy and delicate, Yang showed unexpected edge by showcasing several lace dresses with matching coats, featuring structured, blazer-like collars. The result? Fierce.
Other standouts of the night include a sheer, polka dotted trench coat, a blue and coral, collared, floral dress that clearly paid homage to the sirens of the silver screen, and a floor-length, white peasant-styled gown called "the Sleeping Beauty."
Once again, Yang delivered what she does best: classic elegance, spiced with a modern, New York woman's sensibility. This season's irresistible collection spoke to every powerful, optimistic dreamer in NYC, from the businesswomen of midtown to the sophisticated, rooftop-party goers of the Meatpacking District.
Email Emma Scoble at [email protected]