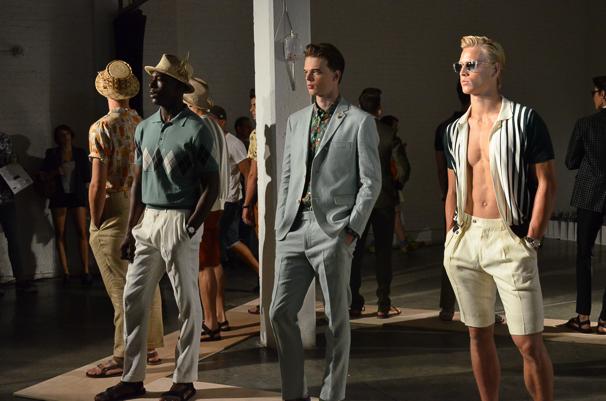 The cool, posh spirit of a 1960s-era resort was eminent in David Hart's Spring/Summer 2015 collection. Citing Palm Springs as inspiration, preppy, fresh and well-tailored suits met floral-print short-sleeve button-downs and straw fedoras, while unbuttoned bowling shirts stood alongside richly saturated purple and sky blue suits in shiny silk and mohair.
Consistent with the line's past collections, the precise fits and cheerful but tasteful color palette was consciously vintage-inspired. The use of whimsically outdated mod atomic prints came across as entirely creative and not at all campy, due to its pairing with classic, polished cuts and carefully chosen colors.
Hart's collection eschewed gimmick for instead a unique spin on old styles. Clear-plastic, rounded sunglasses with blue lenses by Moscot added a modern touch and exemplified the line's glamorous signature, while Teva sandals made the best use of the New York fashion scene's unending fascination with normcore. Wearable may not be the first word that comes to mind, but it certainly is not the last for these colorful but cool looks.
A version of this article appeared in the Thursday, Sept. 11 print edition. Email Ariana DiValentino at [email protected]