Pro-Palestinian students and faculty at NYU, Columbia University and the City University of New York criticized the institutions for their relationships to corporations that allegedly invest in weapons manufacturers for the Israeli military — which they say includes JPMorgan Chase & Co. — at a teach-in on Friday.
Attendees gathered outside the JPMorgan headquarters in midtown Manhattan, and alleged that JPMorgan enables NYU to use tuition revenue to fund the expansion of academic programs in Israel. They also called on the university to shut down its study abroad program in Tel Aviv, claiming the site makes it complicit in Israeli policy decisions.
"We have to confront that as students in these universities, we're both debtors to NYU and Columbia as well as investors in their crimes because they're able to do this because of our tuition money," said an NYU student who helped organize the event, and requested to remain anonymous due to safety concerns. "There is no being an innocent standby to the violence of these institutions — either you actively speak out against it or you're watching it happen before your eyes." 
Organizers said the university uses loans from JPMorgan to invest in NYU Tel Aviv and other university infrastructure, including its $122 million purchase of 3 MetroTech Center in 2022 and its $1.2 billion investment in the Paulson Center. They alleged that NYU then uses student tuition to pay back the loans. A spokesperson for JPMorgan declined to comment.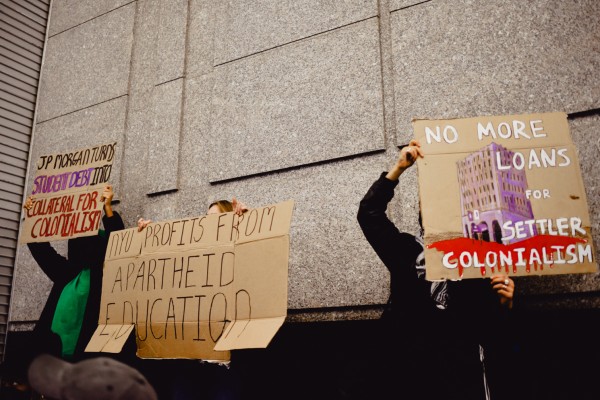 In a written statement to WSN, NYU spokesperson John Beckman said the university is not involved in Israeli policymaking, calling the accusation "spurious," and that shutting down its Tel Aviv site would violate academic freedom. Beckman also said borrowing money to make investments in infrastructure is common practice for higher education institutions, and that Columbia also invests student debt into mass infrastructure, including its Manhattanville campus. 
"The claim that NYU Tel Aviv is somehow 'complicit' with the Israeli policies does not stand up to the most meager scrutiny," Beckman wrote. "It is not involved in government policy setting, any more than NYU's Greenwich Village campus is involved in U.S. policy setting."
Some students have called for NYU to shut down its Tel Aviv site due to an Israeli law that prevents foreigners who have called for a boycott of the country from entering. Students have said the law violates academic freedom, the university's Code of Ethical Conduct and its Non-Discrimination and Anti-Harassment policies. NYU has repeatedly stood by the site, and said it cannot support what it says would be an "academic boycott."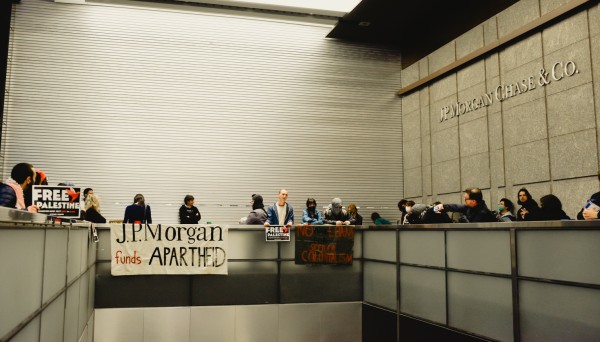 An NYU graduate student at the event, who also requested to be anonymous due to safety concerns, said that the university, alongside Columbia — which has a Dual Degree Program with Tel Aviv University — relies on financial connections to JPMorgan to maintain its programs in Israel.
"We reject capitalist regimes of death for profit," the student said. "We oppose the collusion of capital and higher education in the furtherance of genocidal projects. We deplore civil rights violations our administration commits by building campuses in occupied lands administered by an apartheid regime."
Andrew Ross, a CAS professor and member of Faculty for Justice in Palestine who spoke at the teach-in, criticized NYU and Columbia for their academic ties to Israel through their respective study abroad programs. 
"NYU and Columbia are the only standalone programs [in Israel] — they're unique in that regard," Ross said at the event. "They decided it wasn't enough to embed in Israeli institutions, although they both have very, very close ties to Tel Aviv University."
Correction, Nov. 21: A previous version of this story incorrectly suggested that all attendees at the sit-in were affiliated with on-campus groups. The article has been corrected, and WSN regrets the error.
Correction, Nov. 28: A previous version of this article incorrectly stated the exact location of NYU Tel Aviv. The article has been corrected, and WSN regrets the error.
Contact Aashna Miharia at [email protected].