Ryan Carney elected next NYU student government chair
NYU's Student Government Assembly elected Ryan Carney, a senior in Liberal Studies, as its new chair.
Ryan Carney, a senior in NYU's Global Liberal Studies program, was selected as the next chairperson of the university's Student Government Assembly, after winning a majority of votes cast by members of the student government during an election on Thursday evening. He will replace the current chair, Ron Hall, starting this summer.
Carney, who also studies public policy, is currently the senator representing the Liberal Studies school. He has been a member of the SGA for almost three years. As chair, he said he hopes to improve event programming and outreach for students, focus more on the needs of graduate students, and strengthen the relationship between the universitywide SGA and student governments at NYU's study away campuses.
"One of my goals is to make SGA a household name," Carney said in his speech to the assembly. "SGA's mission is to improve the student experience, and we can't achieve that without your voice."
Carney came out on top over three other candidates: Mya Sato, JiJi Lee and Tina Panda. Before voting began, each candidate gave a 90-second speech, followed by a five-minute question-and-answer section. Carney and Lee had expressed interest in running for the role at the SGA's last meeting and candidates were formally announced a week later.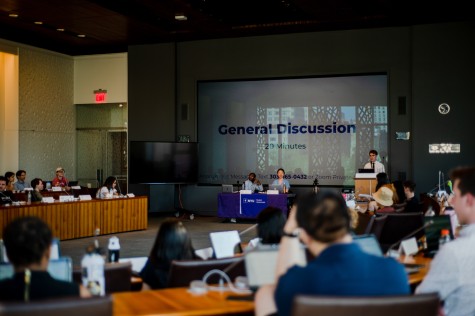 The chairperson is the main representative of over 50,000 students at NYU in administrative matters, overseeing the operation of the university's student government. Elections for the chair position are open to members of the student government — the broader student body cannot participate. Hall, who has served as chairperson since May 2022, said that he believes that Carney was an excellent choice.
"Ryan's been a great asset to the body and I believe he can steer SGA in a wonderful direction," Hall said. "I'm excited about the team … that's coming together next year as I strongly believe that they will work tirelessly to create the best possible student experience."
The election was carried out through an online ranked-choice voting system, which allowed members to vote in order of preference rather than for only one candidate. Recently, the student government's Chair Election Reform Committee proposed an overhaul of the election process for next year that would involve a preliminary vote by its members followed by a popular election open to all students.
At the meeting during which the election was held, Hall also addressed concerns about the College of Arts & Science Student Council elections, which ended two days ago after one of the two candidates in the running, Adiba Chowdhury, was controversially disqualified for violating minor campaigning rules. The Election Code used by the CAS Student Council states that candidates can no longer participate in a race after two violations.
"We have been having conversations with their leadership and the team — hoping to reach some form of reconciliation," Hall said. "I'm confident that the leadership team is very supportive and collaborative in terms of working towards a solution."
Contact Ania Keenan and Bruna Horvath at [email protected].