Contract faculty move to formalize union, demand recognition from Hamilton
Contract faculty at NYU marched to university president Andrew Hamilton's office in Bobst Library to demand union recognition on Feb. 22, an action they have been asking for since 2020.
A group of professors gathered outside NYU's Bobst Library on Wednesday afternoon before making their way up to the building's 12th floor, where the office of President Andrew Hamilton is located. There, they delivered a letter asking for Hamilton to formally recognize a labor union for contract faculty.
The letter was signed by more than 500 contract faculty — a classification that includes full-time professors without tenure who are typically employed by the university on contracts that are renewed every one to three years.
Contract Faculty United, the union representing the professors, is affiliated with Local 7902 — the same chapter of the United Auto Workers that represents NYU's adjunct faculty and graduate student workers. Representatives for the union hope that NYU — and Hamilton, specifically — will formally recognize the union, which would allow them to begin bargaining over a collective contract for its members, who form a significant portion of the university's teaching staff across all of its colleges and institutes.
"We would encourage him to recognize our unions as a way to end his time at NYU with a really positive contribution to the community and something that puts students and educators first," said Elisabeth Fay, a CAS professor and an organizer with the union.
Among the union's demands are a guarantee of fair collective bargaining, a guarantee of due process for contract faculty terminations and the establishment of annual raises that match inflation rates.​
The union intended to hand-deliver its letter to Hamilton. Fay asked an NYU Campus Safety officer for permission to speak with the president. That request was turned down, and instead,  a representative from his office came to receive the letter on his behalf.
Over the last two years, other labor groups have secured significant victories. In November of 2022, the union representing adjunct faculty at NYU, ACT-UAW Local 7902, agreed to a new contract with the university, narrowly avoiding a strike that had been authorized by 95% of its voting members. After months of negotiations with NYU, the adjunct union won increased wages, improved healthcare coverage and other benefits from the agreement, which will remain in effect for six years.
Unlike adjuncts, contract faculty do not yet have a recognized union, though Contract Faculty United has been asking for NYU to voluntarily recognize it since at least September of 2020. Contract faculty generally have longer contracts than adjunct faculty, are paid more, and receive health care benefits from the university sooner than their adjunct counterparts.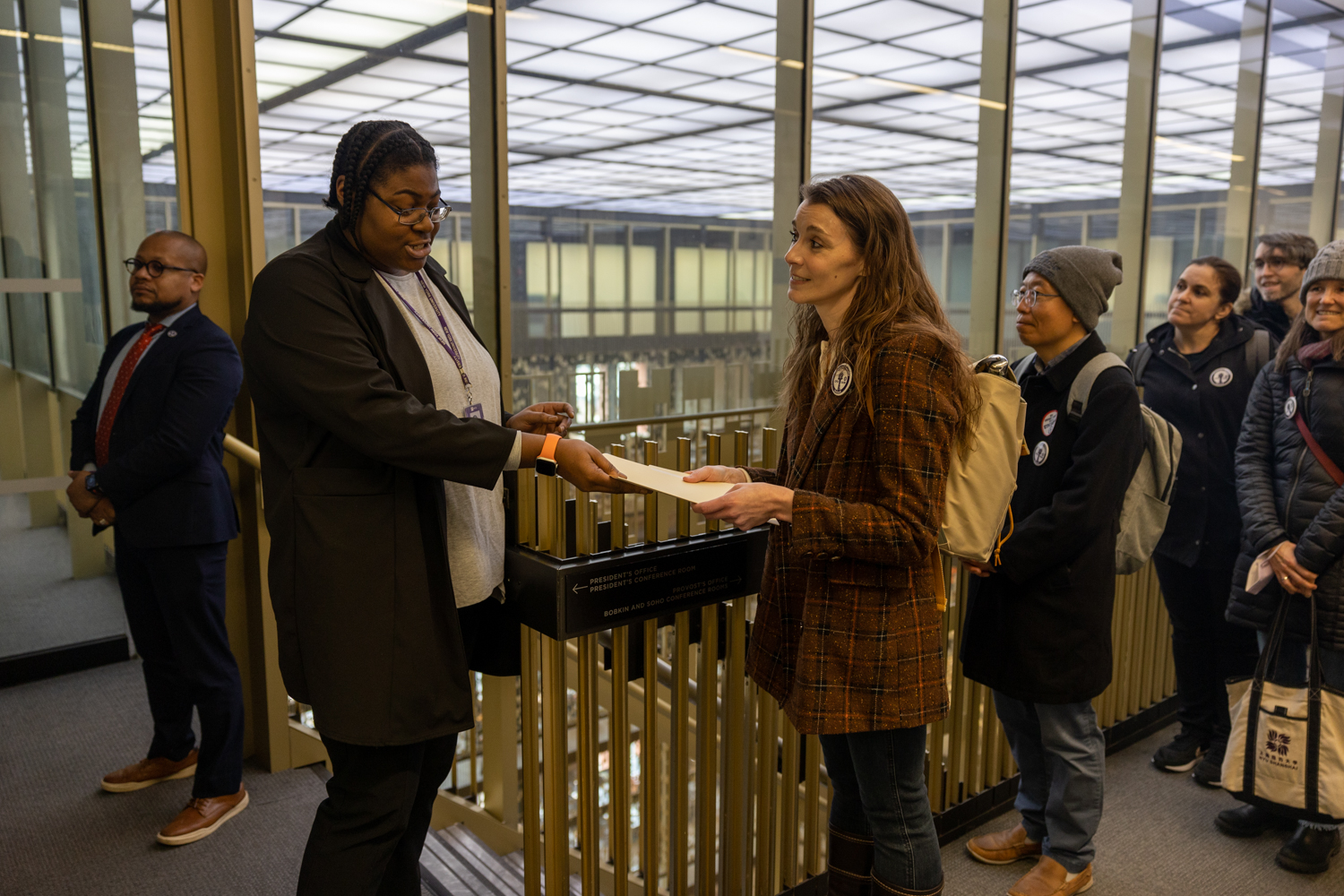 Jacob Remes — a clinical associate professor at the Gallatin School of Individualized Study who is a member of Contract Faculty United's organizing committee — noted that other unions on campus, such as the adjunct union and the union for graduate students, have been recognized and successfully bargained with the university over contracts in the past.
"When we are recognized, we will be the largest union of such faculty like that in the country," Remes said. "There's this huge wave of graduate workers, adjuncts, full-time non-tenure track faculty, undergraduate RAs — incredible numbers of university workers are organizing and are forming unions with incredible majorities."
In 2021, NYU's graduate student union, GSOC-UAW, went on strike for three weeks, and secured a new contract that included increased compensation and better health care. Six years prior, in 2015, the union became the first union of graduate students to ratify a collective bargaining agreement at a private university in the United States.
Fay said that the contract faculty union was giving NYU one week to respond to its letter. The union has a demonstration planned for next Wednesday, March 1, and expects a response before it takes place. A union flier handed out at the event claimed that the union is the fastest growing at the university, having grown by 1000% over the last 20 years.
"Students can't tell us apart, and we do much of the same work — but contract faculty cost less, teach more, and don't have the job protections that come with tenure or a union contract," the flier read.
In the event that NYU declines to voluntarily recognize the union, the professors have the option to go to the National Labor Relations Board to ask for an election. If a majority votes in favor, the NLRB would then certify Contract Faculty United as the collective representative for contract faculty.
On Wednesday, the group from Contract Faculty United, joined by a number of student supporters, ended their gathering by hanging a banner from the mezzanine level of Bobst Library. The banner displayed the name of the union, with a long list of names of contract faculty signatories printed on a scroll draped over it.
Remes noted that the petition marks the first instance in which union members shared their names publicly. He said that he hopes the university will recognize the union and begin bargaining before July — before Hamilton steps down and president-designate Linda Mills takes on the role.
"There's no reason why that shouldn't happen," Remes said. "They are both committed to making sure the university continues to function, and I think they recognize that we do the essential work that makes the university work."
Contact Bruna Horvath at [email protected].