The Cheap Labor of Academia
The history of the fraught relationship between NYU and its unionized adjuncts.
Nov. 3, 2022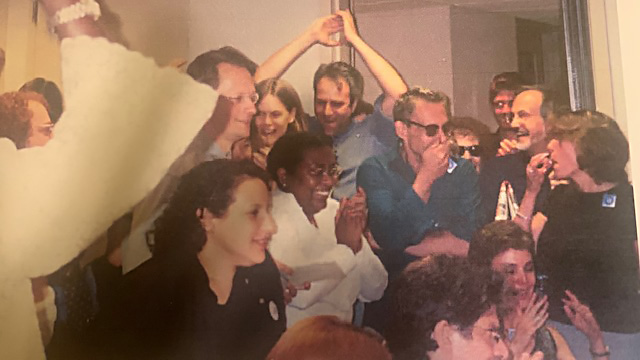 Adjunct faculty celebrate on the night of their first-ever union contract win in July 2002.
A tentative contract was reached between NYU and ACT-UAW Local 7902, the union that represents adjunct faculty at NYU and The New School, early on the morning of Tuesday, Nov. 1. The agreement marks the end of seven months of negotiations and will increase compensation, health care coverage and other employee benefits for adjuncts across the university.
"These are significant raises in direct response to NYU adjuncts' organizing efforts and collective pressure," adjunct union president Zoe Carey said in a press release Tuesday afternoon.
The union and NYU concluded negotiations three and a half hours after the expiration of the adjuncts' previous contract. Adjuncts were prepared to strike if an agreement had not been reached. In the coming weeks, the union's membership will vote to ratify the agreement.
The outcome is the latest chapter in a 20-year history of cyclical conflict between the union and NYU — a history dominated by an ever-widening rift between what the university is willing to concede and what the adjuncts believe they need.
According to past and present members, the union originated from the efforts of a small group of professors. "In the beginning, it was really only eight to 10 people," said Cate Fallon, who is a founding member of the union and the current chair of its NYU unit.
Fallon describes drawing inspiration from the success of NYU's Graduate Student Organizing Committee, which began organizing in the mid-1990s. As adjuncts began planning to organize in 2000, the graduate student union authorized a potential strike, which led the university to settle on a contract for graduate student workers.
"We thought, 'If they can do it, so can we," Fallon said.
Former NYU adjunct Martha Bordman first began organizing with other adjuncts within the American Language Institute, calling on William Jex — the director of what was later renamed the English Language Institute — to raise their hourly rate. (The English Language Institute was shut down in 2021.)
"When I asked him, he said yes," Bordman said. "I wondered why he hadn't given us a raise before, and he said, 'Because you didn't ask.'"
Around the same time as the meeting with Jex, Bordman recalled receiving a flyer in the mail from a group of adjuncts that had begun organizing across NYU.
In March of 2002, the adjuncts went to the United Auto Workers to take the next steps toward a union election. To request an election from the National Labor Relations Board, organizers need to acquire signatures from 30% of adjuncts in support of unionization. Bordman said the group spent two years collecting signatures, relying on door-to-door canvassing to reach out to adjuncts.
"They were like, 'What do you mean — we don't need a union. Unions are for steel workers; I'm a university professor,'" Bordman said. "But at the time, adjuncts had no health insurance. If you were sick, you had to pay out of your pocket if you wanted to get a sub, or you had to make up the class somehow — which was practically impossible."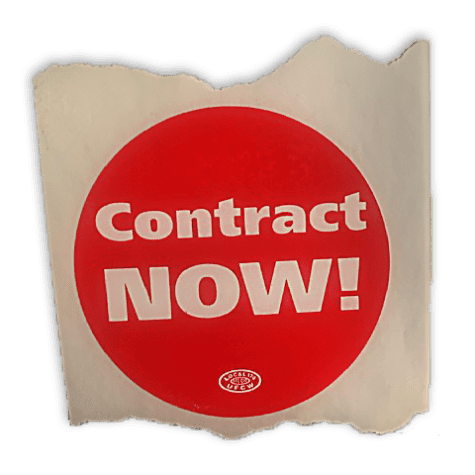 "
It was pure excitement to be a part of the campaign.
— Sylvia Gonzalez, former NYU adjunct
Scott Sommer, the former UAW New York subregional director, said that working around adjuncts' hectic schedules posed a challenge to union organizing. He said that he had most of his conversations with adjuncts about the union election while they were walking to a subway station to commute to their other jobs.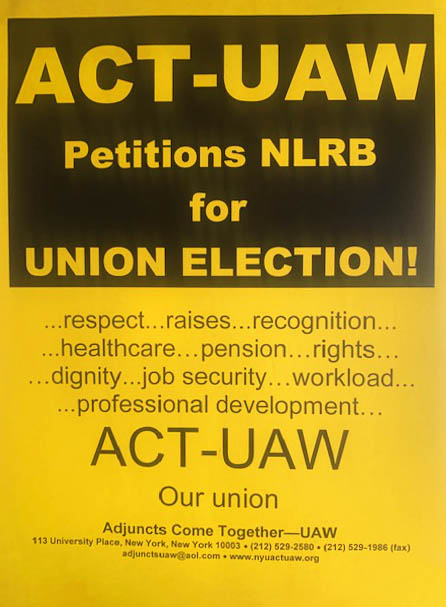 By March 20, 2002, the adjuncts had reached their signature count and filed to hold union elections.
"It was pure excitement to be a part of the campaign," former SPS adjunct Sylvia Gonzalez said. "Everyone served with a lot of passion, and it was real work."
NYU fails to discourage unionization
NYU administrators did not directly block the adjuncts from organizing, but then-NYU president John Sexton had discouraged unionization in a letter to adjuncts in a May 16, 2002. In the letter to Bordman, he referenced his background as an adjunct professor.
"Were I still an adjunct, I would vote 'neither' union," Sexton wrote to adjuncts. "It is my belief that the adversarial nature of collective bargaining likely will diminish the quality of the dialogue I believe must characterize the coming years." 
Then-SPS dean David Finney expressed similar sentiments in another letter to the school's adjuncts.
"I hope you will not cede your voice to a third party," Finney wrote. "I want each member of our faculty to retain their own voice as the adversarial nature of collective bargaining may diminish our ability to pursue shared goals as colleagues."
After winning representation on July 9, 2002, the union changed its name from Adjuncts Come Together to ACT-UAW Local 7902 to commemorate the date of its election victory with the digits 7902.
Local 7902 was the first group of adjuncts at a large private university to achieve unionization, according to Sommer. He said that the unionization of adjuncts at NYU was a turning point for the UAW. "The eyes of the industry were on us," Sommer said.
"Right away, we were busy," Fallon said. She said the union handled five to six arbitrations within the first year of operation, while the standard is around two to three.
"
It is my belief that the adversarial nature of collective bargaining likely will diminish the quality of the dialogue I believe must characterize the coming years.
— Former university president John Sexton, in a 2002 letter to adjuncts
Jex informed Bordman that her services at the ALI would not be needed on July 21, 2002.
"I know you are only too aware that we did not select you for assignment to the ALI business or evening comp courses for the Fall semester," Jex wrote in an email to Bordman on Aug. 28, 2002. He added that the hiring decisions were based on who had "worked more cooperatively and more collegially with their peers and with ALI administrators and staff."
Bordman instead alleges that she was fired because of her union participation, which Sommer found likely.
"This was them shooting their shot to try to get rid of one of the leaders," Sommer said. "They had to say that because they couldn't say she was a bad teacher — she was a good teacher."
NYU spokesperson John Beckman denied these claims in a recent statement to WSN.
"Speaking generally, we reject and dispute any claim of an employee being sanctioned because of their union-organizing activity," Beckman wrote. "NYU doesn't do that."
After winning the union, the adjuncts' next struggle was securing a contract with the university.
In March 2003, local politicians including U.S. Sen. Chuck Schumer signed an open letter calling on NYU to grant adjuncts job security, higher wages and retirement benefits. In a letter to Sexton on April 19, 2004, four New York City Council members urged the university president to settle a fair contract with the union.
"We sincerely hope that this administration realizes the gravity of these issues, and that it will work accordingly with the union to resolve this matter in a timely manner," the letter reads. 
Contract negotiations dragged on, however, and on April 21, 2004, the union came within hours of a strike. It was avoided after a 12-hour negotiation session between the union and the university. 
After the nightlong negotiations, an agreement for the first contract was reached. Gonzalez remembers receiving the news in an early-morning phone call from Bordman.
"I got the call from Martha around 6:45 in the morning," Gonzalez said about her former SPS colleague. "She said, 'Sylvia, we have a contract.' A union without a contract is no union. I would say that was one of the most impactful moments I have experienced."
According to documents obtained by WSN at the time, the university had made plans to replace striking instructors. The university planned "to have full-time faculty pick up where adjuncts left off, follow the course syllabus and continue the course until and/or if the adjunct returns."
Having narrowly avoided a strike, the adjuncts had gained recognition from the university. However, they would not be officially covered by a contract until May 20, 2004.
In September 2004, a proposal circulated about the inclusion of adjuncts from The New School into Local 7902. After pushback from some NYU adjuncts, the merger between the two universities' adjunct unions was approved the next month.
After the adjunct union won its first contract, NYU adjuncts started the next semester with something new: health insurance.
Adjuncts enrolled online and chose between three insurance carriers.
"I could not be more thrilled that I have health benefits," Judith Schoolman, an adjunct in the journalism department, told WSN at the time.
Under the first contract, adjuncts and part-time faculty were eligible for certain types of health care coverage based on time spent in the classroom. This scale was used to determine eligibility until the most recent contract, which expired on Oct. 31. Many adjuncts struggled to cover insurance costs under this system.
David Vinjamuri, an SPS adjunct and a member of Local 7902's bargaining committee, said that, even when teaching his heaviest course load of four classes, he was still unable to afford the $2,219 a month needed to cover his NYU health care plan.
"Teaching up to six courses a year would not allow us to pay for health care, our mortgage, childcare," Vinjamuri said. "I'd have to teach 24 classes a year to do that."
While the details of the new contract are not yet public, the tentative agreement reached on Nov. 1 expands adjunct health insurance. If the contract is ratified, the university will contribute to health care premiums and expand coverage for adjuncts' children, spouses and other dependents.
Grievances and arbitration
The first contract established a grievance process that allowed adjuncts to bring complaints against the university. Local 7902's first elected president, Ward Regan, told WSN in 2005 that the union had filed at least 20 grievances against the university for alleged contract violations.
In March 2005, the union alleged that NYU was not meeting the standards set for office space or membership dues. In a complaint filed with the National Labor Relations Board, the union detailed how they were provided less than half of the agreed-upon 600 square feet of office space. They were also falling short of funds from membership dues as a result of the university's failure to provide the names, compensation and contact information of all the adjuncts eligible for the union.
"
We're often left to wonder: Are we going to teach the next semester, or not?
— Emily Barnett, former president of the adjunct union, in a 2016 interview
Adjunct Robert Nagle described how the union helped resolve issues with his pay dating back to 2003. In 2005, he was awarded four semesters of back pay and a salary increase. He told WSN at the time that he believed the union played a large role in the success of his case.
"If the adjuncts hadn't unionized, my result wouldn't have been as positive," Nagle said. 
Back-and-forth negotiations characterized the relationship between the union and the university through the 2010s. When Andrew Hamilton succeeded Sexton as university president in 2016, adjuncts were encouraged by a change in leadership, but continued to push for raises and additional benefits.
In 2016, Emily Barnett, then-president of the union and a professor at The New School, told WSN that Hamilton's attitude toward adjuncts was a step forward.
"He is the first president in my recollection to really acknowledge adjuncts," Barnett said. "There was a breakfast specifically for adjuncts very shortly after he started his tenure at the university. This is something that would never have happened under the previous president."
Barnett noted, however, that the acknowledgement did not equate to improvement, since a majority of adjunct faculty remained on year-long or semester-long contracts that require rehiring. "We'd like to get some better job security too," she said. "We're often left to wonder: Are we going to teach the next semester, or not?"
Union trustee and NYU journalism professor Ross Barkan was part of a slate of candidates elected in 2020 who now occupy multiple leadership positions in the union. Barkan said that he is optimistic about the new leadership, but that adjunct professors still face challenges.
Former NYU adjunct union unit chair Chris Rzonca said that the financial pressures faced by adjuncts, coupled with the demands of teaching, leave adjuncts alienated. "The nature of being an adjunct can be very isolating," Rzonca said. "We keep teaching because we love it, and the university takes advantage of that."
In addition to the isolation adjuncts face, Barkan and Fallon said that the union and its members had become less connected. A main focus of its current leadership, Barkan said, is to revitalize the union's connection with its members.
"We were running against a slate that had been in charge for a long time," Barkan said. "There was a feeling that the union was not engaging enough with its members."
A 2020 survey conducted by the AFT found that only 15% of surveyed adjuncts reported confidence in their ability to cover basic expenses. Several adjuncts at NYU said they have taken on outside jobs to cover the cost of housing, food and transportation in the city.
"The bulk of adjunct teaching is cobbling together a livelihood," Sommer said.
Vinjamuri, who designs public libraries outside of his work as an adjunct, said that he would have liked to have dedicated a larger portion of his career to teaching. Due to the low pay rates for adjuncts, though, that has not been a viable option. He said that he currently makes around $6,000 per course. "NYU forced me to redefine my career," Vinjamuri said.
Barkan said that he counts himself lucky that his job as an adjunct serves as a source of supplemental income alongside his career as a professional journalist.
"It seems almost impossible right now in New York City to be a full-time adjunct and pay rent," Barkan said. "In an ideal world, this would not be the system. It is a balancing act when you are grading papers and maintaining your professional responsibilities."
As a new contract awaits ratification, adjuncts remain in a precarious position. Despite encompassing over a quarter of undergraduate faculty, many live paycheck to paycheck, bracing for the next round of negotiations and hoping that this time, the university will value their livelihoods.
 "We are the cheap labor of academia," Gonzalez said.