Anesu Nyatanga | Love Actionably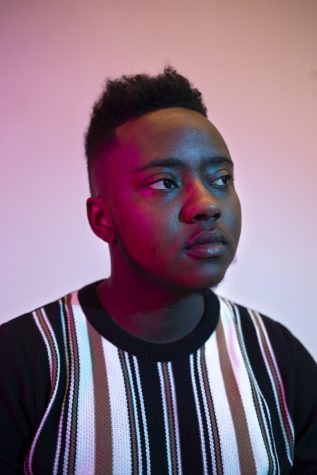 As members of SHADES trickle into the LGBTQ Center's lounge for their biweekly meeting, Anesu Nyatanga invites them to grab an empanada and make themselves comfortable in the plush blue chairs. Anesu chats with each person that walks through the door, and everyone eases into conversation, discussing black barber shops and university events. Even though this is the first meeting for some attendees, the group gets along effortlessly.
Anesu is a co-leader — or thought leader as they call it — for SHADES, a club for queer and trans people of color. Currently a CAS senior studying Social and Cultural Analysis, Anesu joined the organization his first year. He is also the chair of Gender and Sexuality for the Governance Council of Marginalized and Minority Students, a presidential intern currently working in the Department of Public Safety and a member of student government. Within student government, he is the senator-at-large for queer and trans students, as well as black students, and the vice chair of the Student Senators Council.
Despite all these titles, there's only one thing Anesu wants to be known as: a lover.
"Is that weird?" he asked. "I kind of have fallen into everything I've done because I have love for others, and love for people."
From SHADES to student government, Anesu has immersed himself in these environments because he wanted to extend his love to different groups on campus. For Anesu, part of this means being able to help communities find happiness and reach their full potential.
"I think real love is actionable, it's healing, it's challenging — it's a verb," Anesu said. "It's a thing you're constantly doing, constantly trying to do. I have, in moments of my life, experienced not the kind of love that I would like, and I think there are a lot of ways you can respond to that."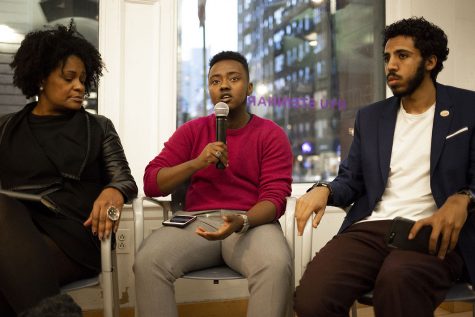 As a black transgender man, Anesu has endured moments without love, including the actionable kind. Anesu has identified as trans for many years and medically transitioned when he came to NYU. His identity has put a strain on many of his relationships, and he often felt as though the people around him didn't understand his identity as a whole — where his blackness and being trans intersected.
"I really think black queer and trans people are like the best people on this earth," Anesu said. "I think that there's just something beautiful and unique in our collective history and how we navigate this world. And when we all get to be in spaces together and talk about it, I think something beautiful happens."
Although it took time to find the communities he feels most at home in, the people in these spaces can see him for who he truly is, which is something he missed for a lot of his life. The close connections Anesu has made have helped him heal — and continue to heal.
Throughout his adolescence and into college, his family struggled to come to terms with his identity. His single mother, an immigrant from Zimbabwe, and older siblings didn't fully understand why he wanted to cut his hair or take hormone pills or get top surgery. Since family meant everything, it became especially hard to imagine life without their support.
His resilience has not gone unnoticed. Over the past two years of knowing Anesu, Tisch doctoral candidate Troizel Carr has watched him use his experiences to help and support others.
"It's been so special to see someone who has been through so much still have so much love for the world," said Troizel, who calls Anesu their mini-me.
Troizel started the CMEP retreat, Horizons, which brings together queer and trans black students. Anesu has attended its two retreats so far and helped facilitate the most recent one, citing it as one of the best experiences he's had at NYU. For him, creating a space for queer and trans black people to feel safe, appreciated and seen was incredibly powerful.
"I think that really can hit your heart in a special way," Anesu said. "When someone leaves something that you've done and looks at you and says that [it] was needed and that they appreciated it — that's the best thing ever."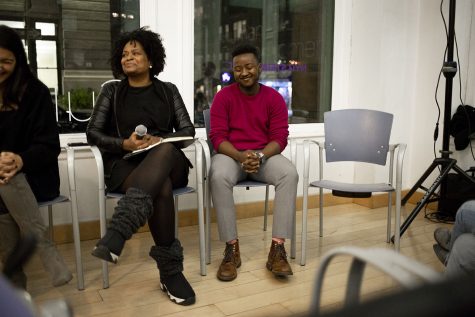 Anesu is constantly trying to create safe spaces for those around him. "Anesu himself is a safe space," Ron Piper, Anesu's co-thought leader for SHADES, said. "He creates a welcoming space for students just by being present."
Even in large, public settings, Anesu can make a roomful of people feel comfortable and intimate. I saw this during a Town Hall on the [email protected] results in November, where Anesu sat on a panel alongside university administrators President Andy Hamilton and Chief Diversity Officer Lisa Coleman.
It's the little things — he listens intently when someone else has the floor. Even when he stares at the ground or at someone else's shoes, his head bobs up and down as he absorbs every word. And when he hears someone speak their truth, he grins and his whole being lights up, charged by their passion.
"Everything he does is intentional, he never just shows up to show up, he is present and engaging within all spaces he's in," Ron said. "He makes sure that everyone feels the strength and acceptance that their voices should be heard."
Anesu approaches his leadership roles with the utmost seriousness because the people he represents — students, minorities, the LGBTQ community — often get overlooked by institutions. He is very aware of the fact that he has more decision-making power in the NYU community than the average student. In fact, every time I met with Anesu, he brought this up, pointing out that many others deserve to be where he is, too.
"I think it's a lot of privilege," Anesu said, referencing his power within the university. "It's not something I like to take lightly. In a way, the privilege really motivates me to do it all."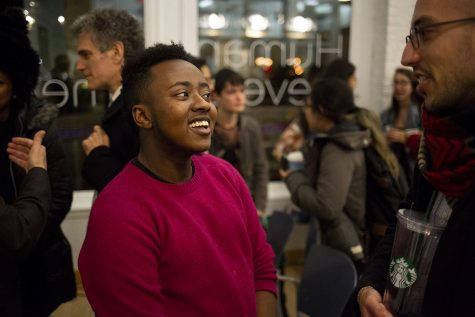 And do it all he does. Some projects he's currently working on are collaborating with other student leaders to create a list of pronouns for students to choose from on Albert and bringing intersectionality to the forefront of institutional conversations. But there is so much more Anesu wants to do — to the point where he wishes there was more time in the day.
"You can forget to care about yourself," Anesu said."Or you can care about others to run away from caring about yourself. And I think that has always been easier for me — to pour a lot of love into everyone else around me or into whatever instead of putting it in myself."
Despite his hectic schedule, Anesu is the kind of guy that will find time — hours or even mere minutes — to catch up, go watch a movie or grab a drink. Gallatin senior Jaysen Henderson-Greenbey, a leader of Queer Union and a close friend, is amazed by Anesu's ever-thoughtful soul.
"I would recommend a book to Anesu, and he'll actually read it," Jaysen said. "He's always super busy — his calendar is packed — but he will make time for you."
Anesu's friends describe him as self-sacrificial, noting how much good has come out of his hard work. "He's brought me out of dark days," Ron said.
But Anesu remains humble.
"I hope for him that he realizes how important he is to the existence of other people," Troizel said. "Because if Anesu wasn't here, then a lot of other people wouldn't be here either."
Email Natalie Chinn at [email protected] A version of this article appeared in the Thursday, Dec. 6 print edition. Read more from Washington Square News' "Influential 2018" special issue.