Urbanspace puts your favorite dining hall to shame
When you don't want Cluckstein for the third time this week, check out Urbanspace Union Square.
As the semester begins, everyone is looking for the perfect spot to study and grab a quick bite — or maybe 13. Conveniently located between University Hall and Palladium on 124 E. 14th St., Urbanspace Union Square is a 10,000-square-foot food hall featuring 13 food vendors. Open from 7 a.m. to 10 p.m. Monday through Wednesday, 7 a.m. to midnight Thursday and Friday, 9 a.m. to 12 a.m. Saturday, and 9 a.m. to 9 p.m. Sunday, Urbanspace is open later than most of NYU's dining halls. Bobwhite Counter, Summer Salt, Casa Toscana, Kid Brother Pizza Bar and Wafels and Dinges even accept NYU Campus Cash. 
From the entirely gluten-free Twenty One Grains to the plant-based Plant Junkie, you can find options for every diet at the food hall. Most food options hover around $15, the cost of one meal swipe, with many choices priced even lower. Additionally, Top Hops Beer Shop is Urbanspace's largest bar, serving craft beer, cocktails and wine.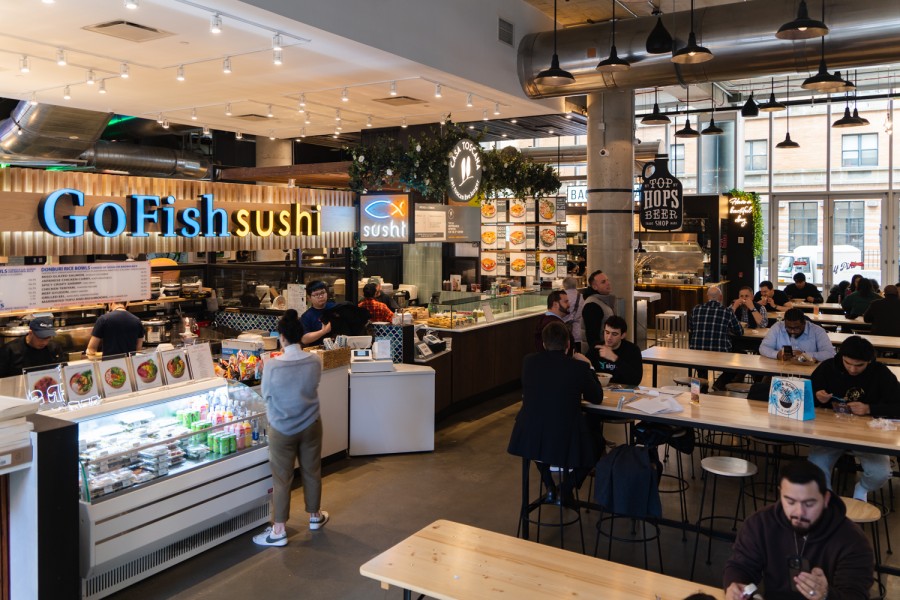 Urbanspace seems sprawling from the outside, occupying the entire ground floor of the newly completed office building, Zero Irving. However, Urbanspace felt much smaller and more inviting once I entered. The bright lights and artistic murals liven up what would otherwise be a very industrial space. I weaved between people sending emails, NYU athletes fresh from the Palladium Athletic Facility and MTA workers enjoying their lunch break. The large outdoor patio was filled with middle and high schoolers giggling while eating burritos from Summer Salt and chicken tenders from Bobwhite Counter.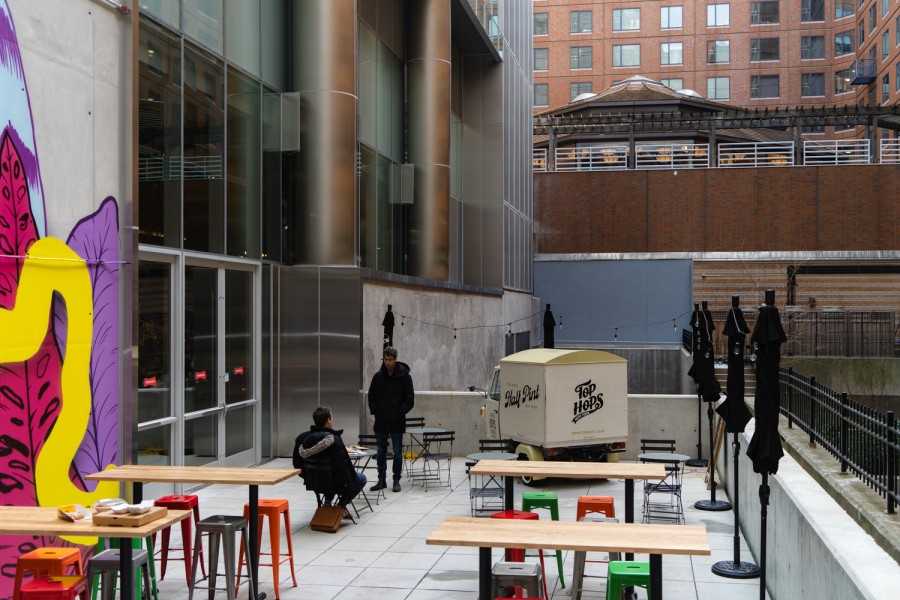 As I was perusing Urbanspace's offerings, Kid Brother Pizza Bar quickly caught my attention. The glow of the woodfire oven was alluring, and out of it came my Goat Cheese Fonduta Pizza with Spinach. Paying $15 for pizza might feel like a crime with Joe's Pizza less than a block away, but this personal pie is the perfect size for two. Goat cheese and spinach are a killer combination, but Kid Brother's crust was easily the star of the show. Their dough is triple fermented, and their nine-year-old starter is fed every two days. Even as a food studies major, this level of bread science went over my head until I took a bite of that crust. The balance between chew, crunch and char was perfected with this slice.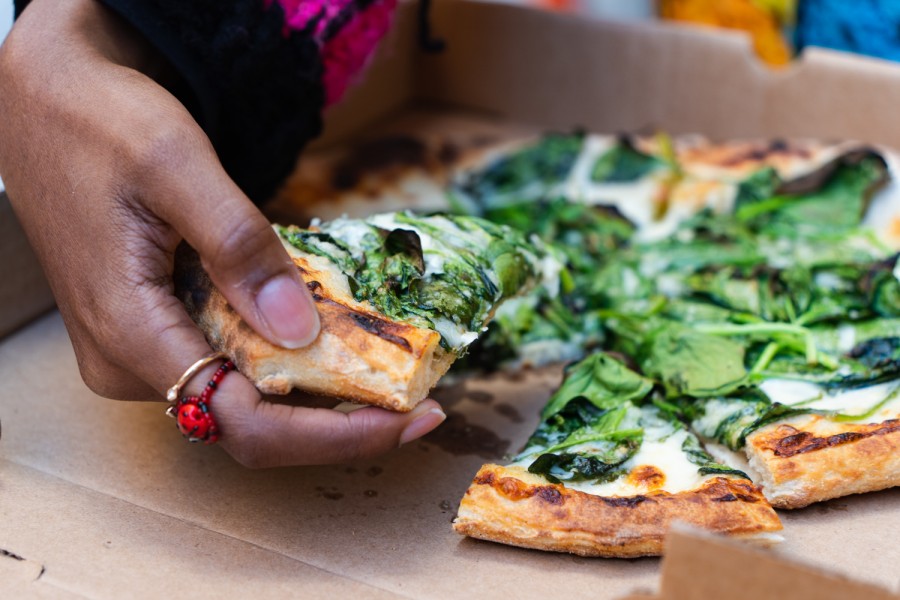 Bobwhite Counter was next on my list. I'm a die-hard Cluckstein fan and will wait in a 30-minute line at the Marketplace at Kimmel for those illustrious chicken tenders, so I had to see how Bobwhite Counter compares to the MVP of NYU dining halls. The combo box with buffalo chicken tenders and fries ($10.99) did not mess around. The chicken was juicy and the coating was crispy, but it was the buffalo sauce that kept me coming back for more. I am a chicken tender purist — chicken, fries and ketchup are my holy trinity — so, the fact that I enjoyed the buffalo sauce was a pleasant surprise. The fries definitely hold their own, but my soft spot for the french fries at the Third North dining hall remains.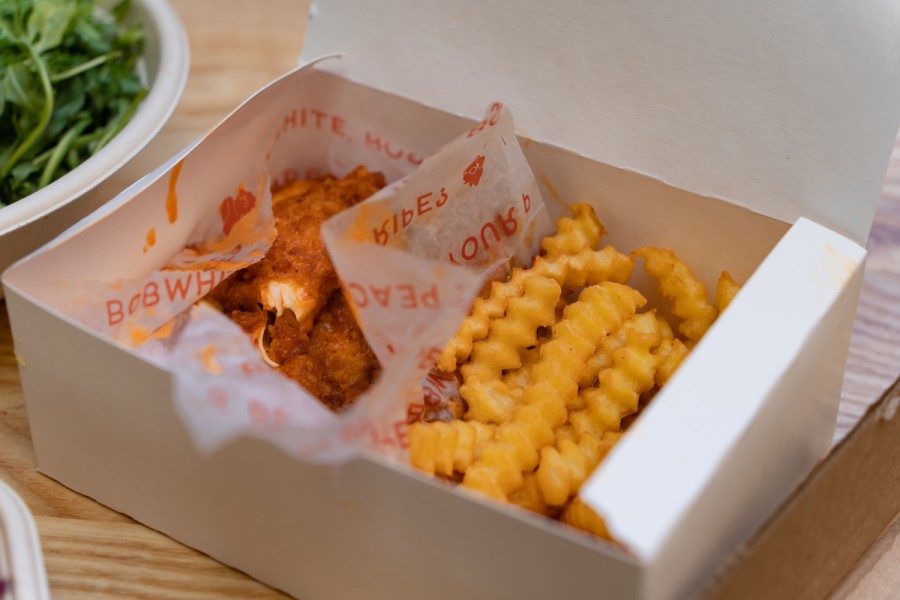 For my gluten-free gang, I swung by Twenty One Grains. You can customize your own bowl or wrap, or go with one of their pre-curated options. The Hearty Eggplant Bowl caught my eye, filled with brown rice, roasted eggplant, arugula, sun-dried tomatoes and curried chickpeas, all topped with orange turmeric dressing. Reasonably priced at $11.90, this was the most nutritious thing I ordered and definitely one of the tastiest. Despite the bowl being named after the roasted eggplant, the curried chickpeas and orange turmeric dressing were my favorite parts. This combination gives Pom & Honey a run for their money.
Whether you're trying to save your meal swipes or the line at Dunkin' Donuts is simply too long, there is something for you at Urbanspace. Hit up your homies and secure the prime seating overlooking 14th Street so you can people-watch while eating your Playa Bowl. 
Contact Sasha DuBose at [email protected].