Global Fashion Collective presented 17 international designers who showcased their visions of home, place, beauty and time through their New York Fashion Week Spring/Summer 2024 creations. Together, they grappled with the duality of diversity and unity, as well as tradition and modernity.
———————————
SHOW I
———————————
Hyper Couture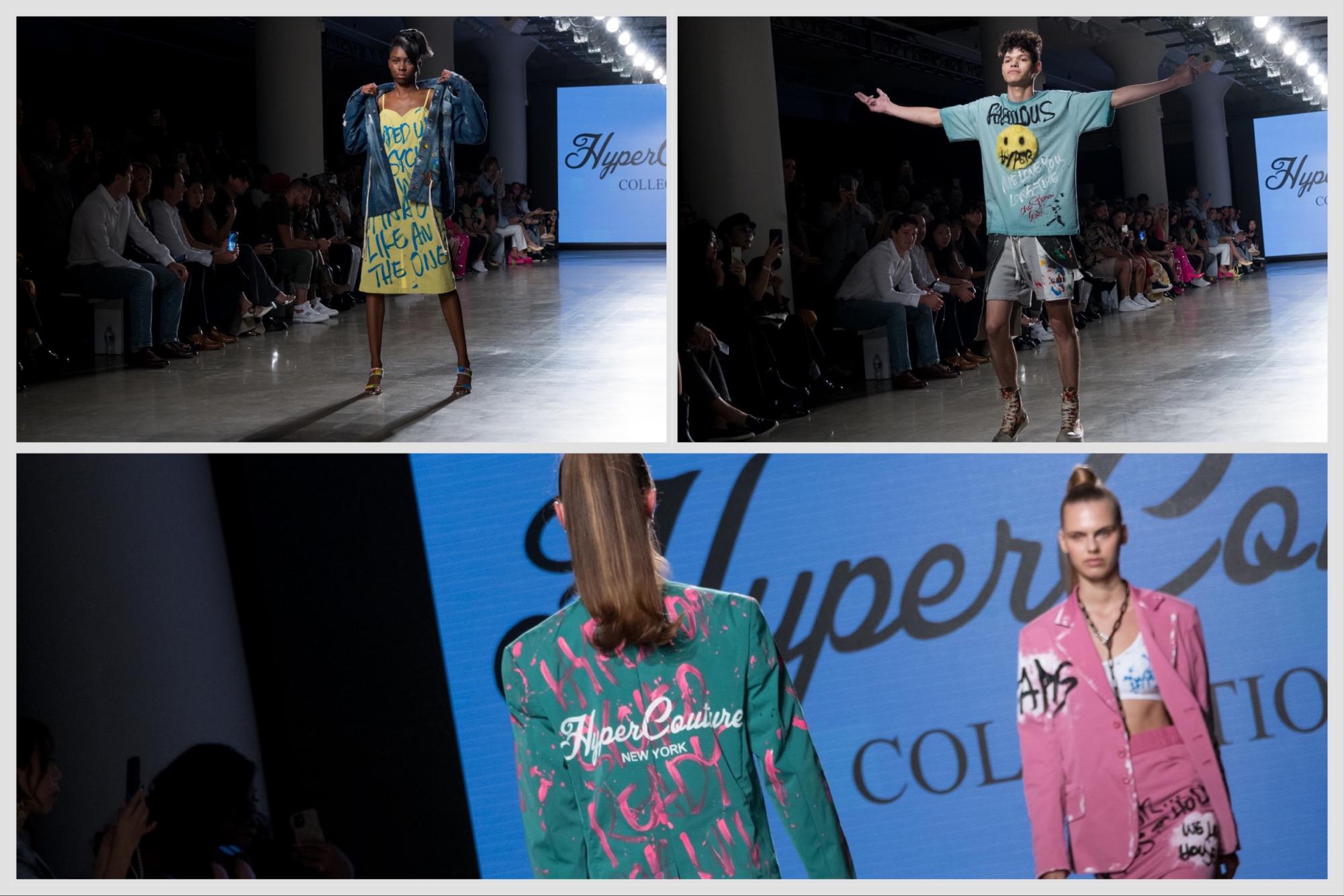 Hyper Couture kicked off Global Fashion Collective's NYFW shows on the night of Sept. 10, flooding the white-walled venue of Clinton Mercantile with vibrant, wearable graffiti. Designer Satoshi Shinada's collection leaned into the free-spirited eclecticism of streetwear, mixing fabrics to create hybrid pieces like a jersey-denim sweatshirt. Audience members craned their necks to read the painted prose, especially during the show's finale, where a duo in denim formalwear  — reminiscent of Britney Spears and Justin Timberlake's iconic 2001 double denim costume — took the stage. 
SECTION 35 
Indigenous dancers, dressed in traditional regalia, emerged from backstage to open for Justin Jacob Louis' brand SECTION 35 — highlighting the theme of  "first fashion" over fast fashion.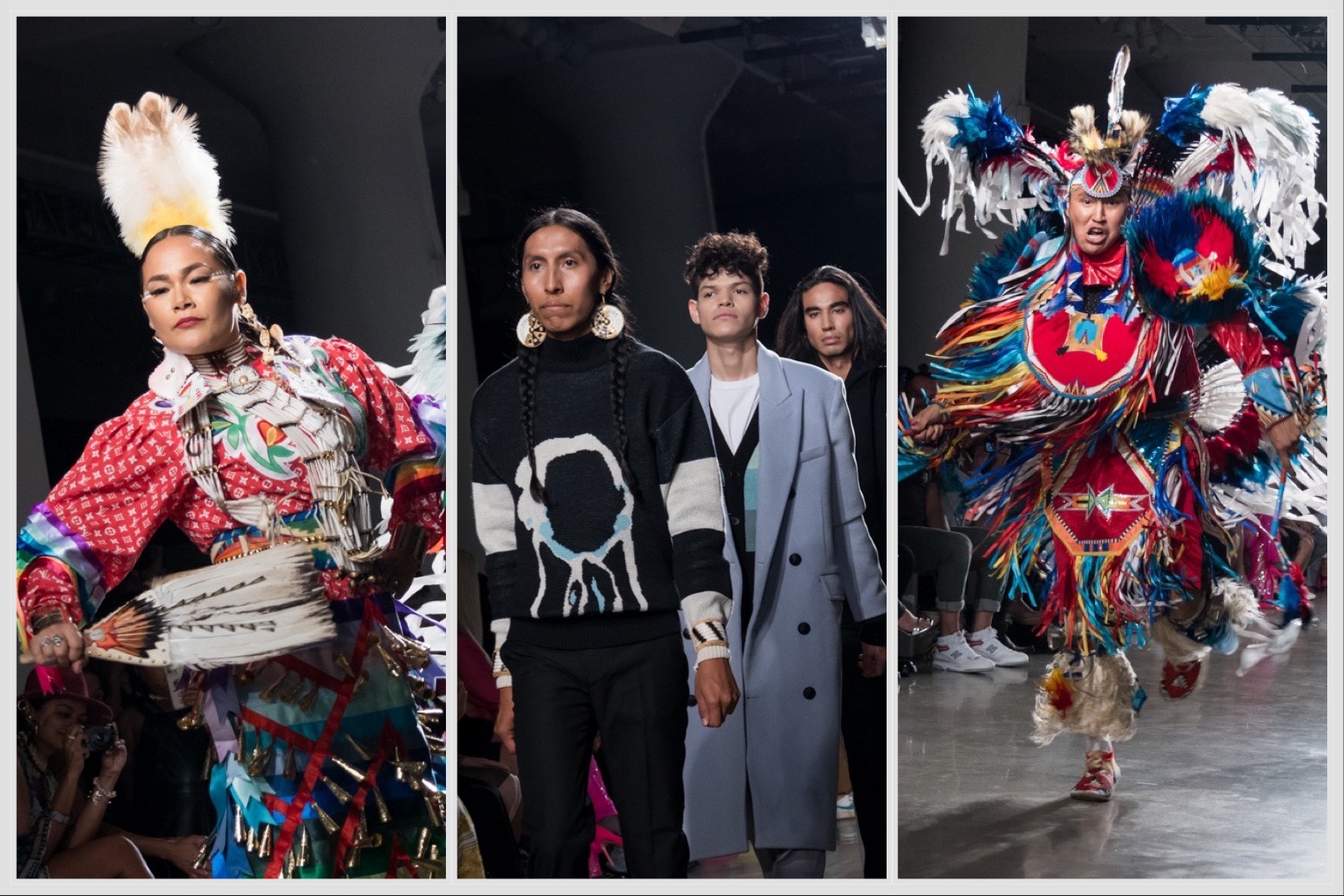 Louis' collection featured long coats and sweaters with details of mountains and stars, as well as the phrase "made on stolen land" — pieces which Louis described as a reflection of the formal attire he saw in old photos of his home, the Samson Cree Nation. 
"It was really inspired by those town clothes and building something that's contemporary, and that we can wear in this day and age," Louis said. "It was important to have the dancers come and open and all of our people here taking up the space with me. If I was by myself, it just probably wouldn't have felt as right."
———————————
SHOW II
———————————
Sound of Ikebana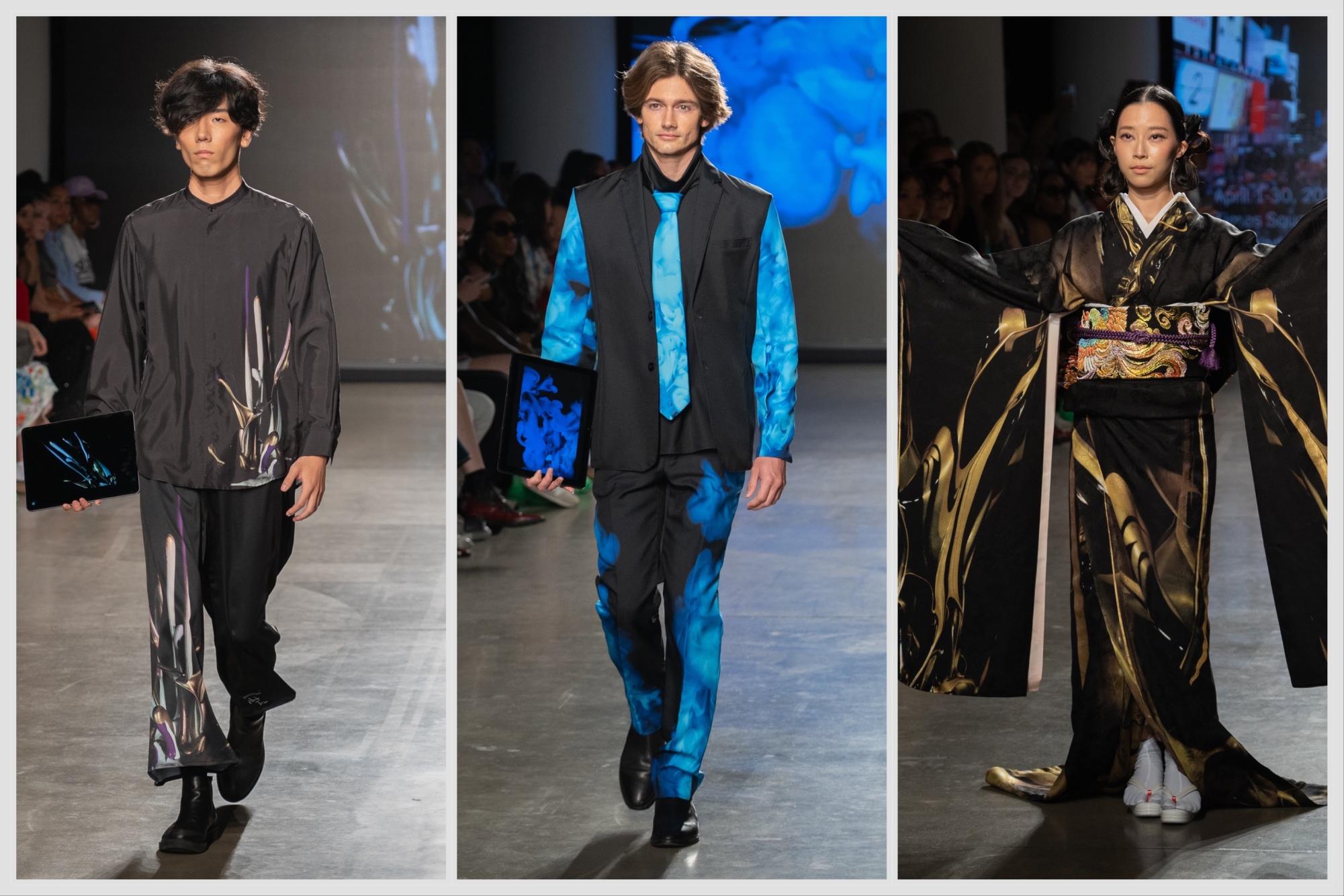 Naoko Tosa, the designer of Sound of Ikebana, uses a high-speed camera and digital textile printing technology to capture frames of her life, before shaping them into wearable designs. The models showcased beautiful splashes of color on Japanese garments and held iPads which animated the colors on their outfits. 
 #whysocerealz!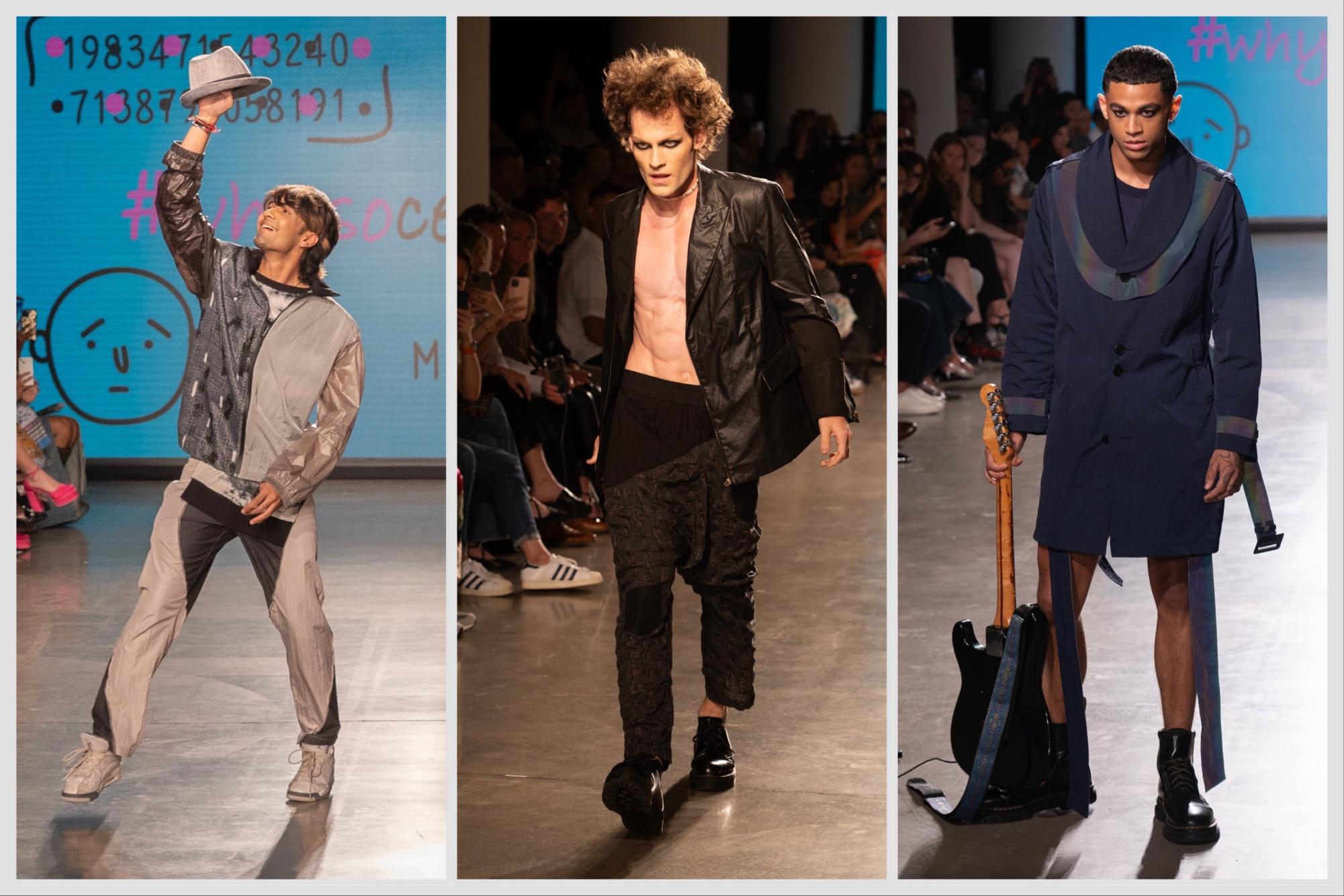 #whysocerealz! designer Sung-bin Lee aims to make his collections playful and dynamic. Lee did so in his latest collection through meshing presumably incompatible aesthetics; pastel and neutral outfits contrasted grungy and metallic makeup looks. A live musical performance accompanied the show, which had models headbanging as they strutted down the runway.  
META VOCUS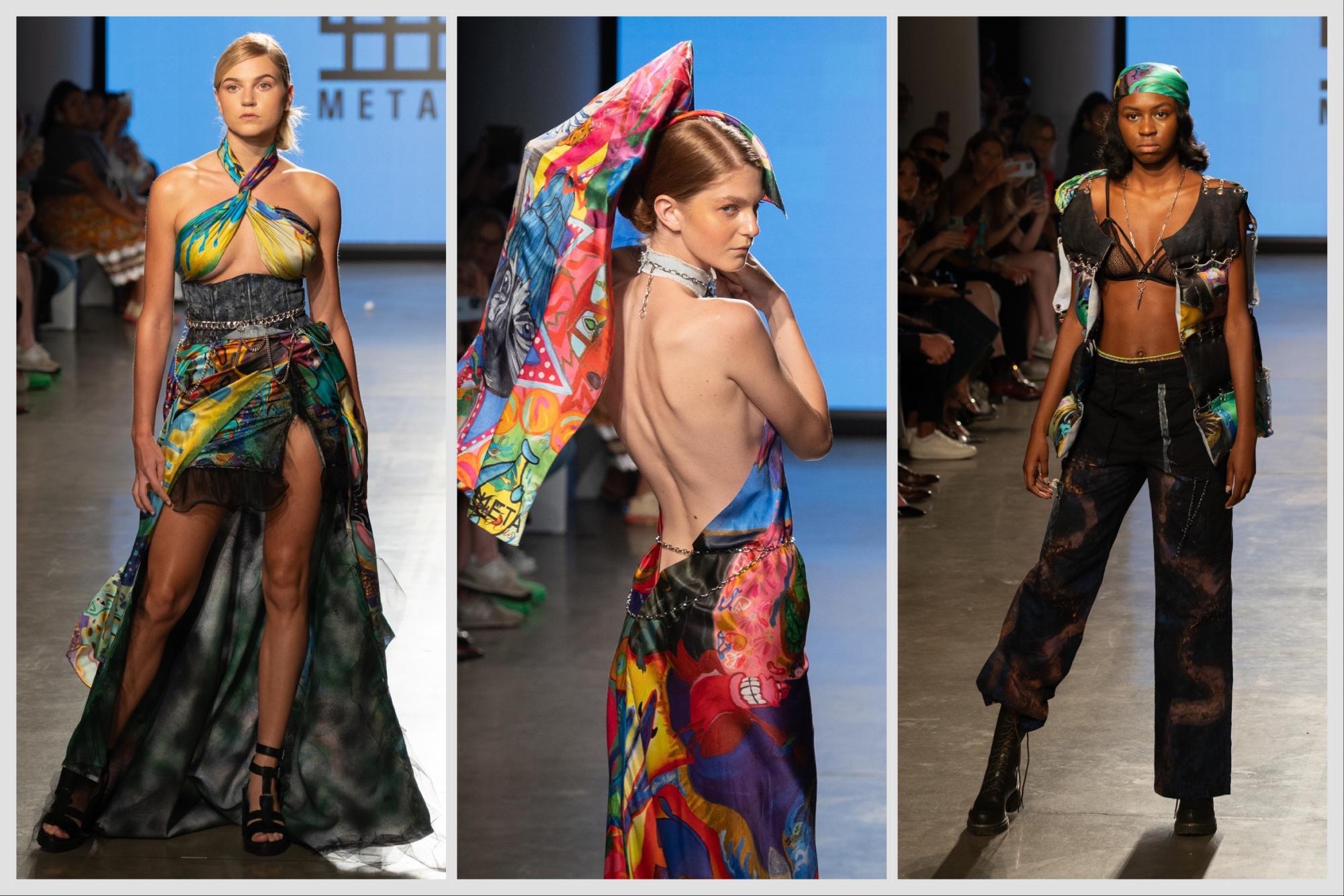 META VOCUS prides itself on slow fashion, taking the care to emphasize sustainability in the production of its pieces while using fashion as a means to comment on societal and environmental issues. Each design is based on a painting that showcases an issue important to the founders, like education and sustainability, in the hope that customers will make more purposeful choices when purchasing and support their causes. 
META VOCUS used neutral undergarments to highlight its diverse usage of colorful scarves. Scarves were used as umbrellas, belts, head wraps and even halter tops. When co-founders Lili Boros and Mélina Quenneville walked the runway, they too wore scarves to compliment the outfits. 
Models shone with silver jewelry, and wore textures like denim or silk down the runway. The designs were incorporated on corset tops as well as ties, allowing the audience to focus on the versatility of the designs, proving that slow fashion doesn't always have to be boring. 
Satomi, el beso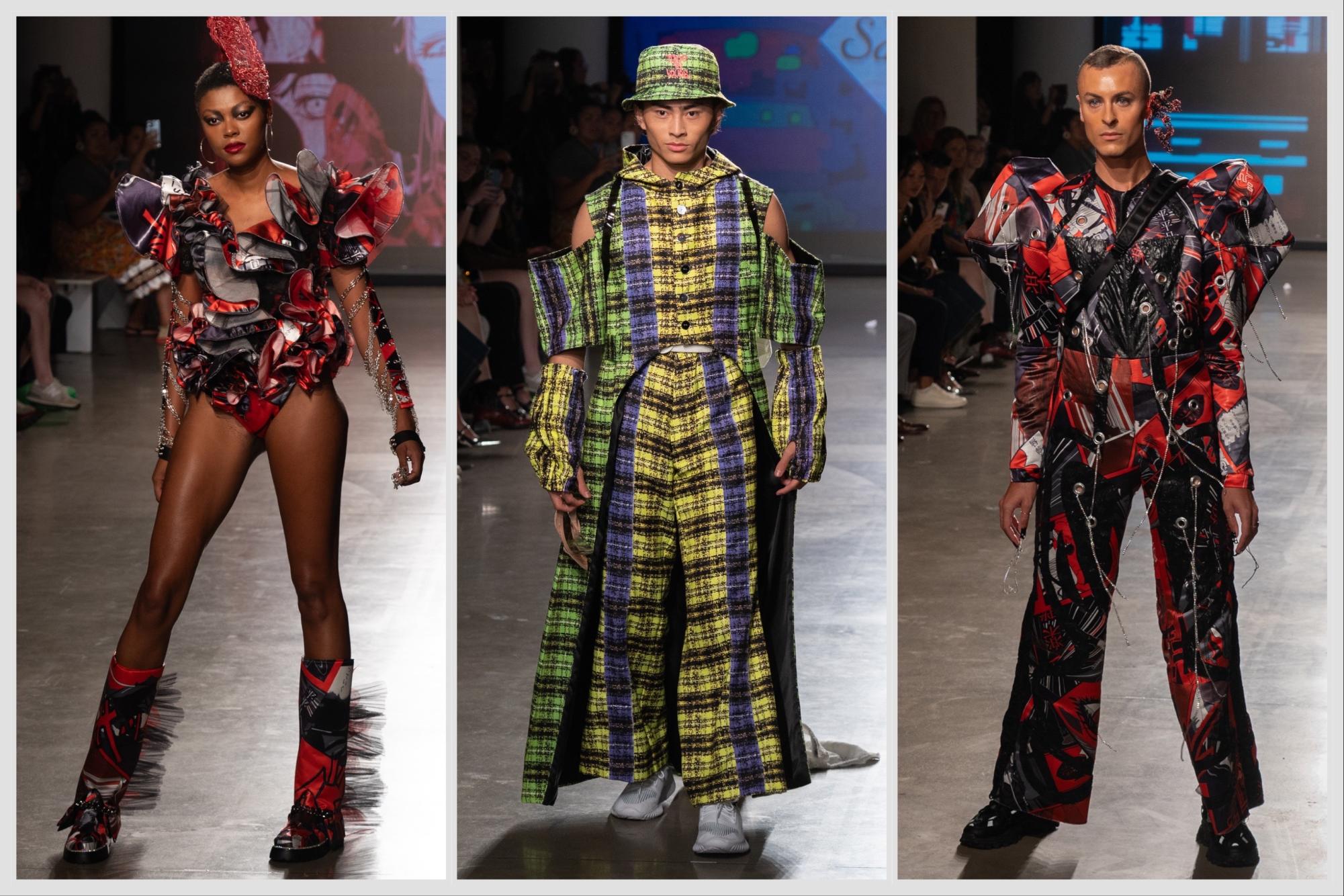 Global Fashion Collective's second show closed out with Satomi, el beso. Designer Satomi Takakura's avant-garde designs borrowed from Japanese anime iconography, and her bold usage of blacks and reds underscored the collection's animated style.
Each piece was uniquely geometric as Takakura playfully experimented with form, employing large shoulder pieces, towering heels, silver chains, gravity-defying tulle detailing, and eccentric head pieces. 
———————————
SHOW III
———————————
MIYABI
Japanese designer Miyabi Ikeda began her show with a performance art piece. A model draped in an elaborate kimono with large platform shoes descended down the catwalk, straining to lift her feet from the ground as her shoes weighed her down. But as she reached the end of the runway, she kicked off her shoes and began a triumphant dance. This moment evoked a bold sense of freedom that continued throughout the collection.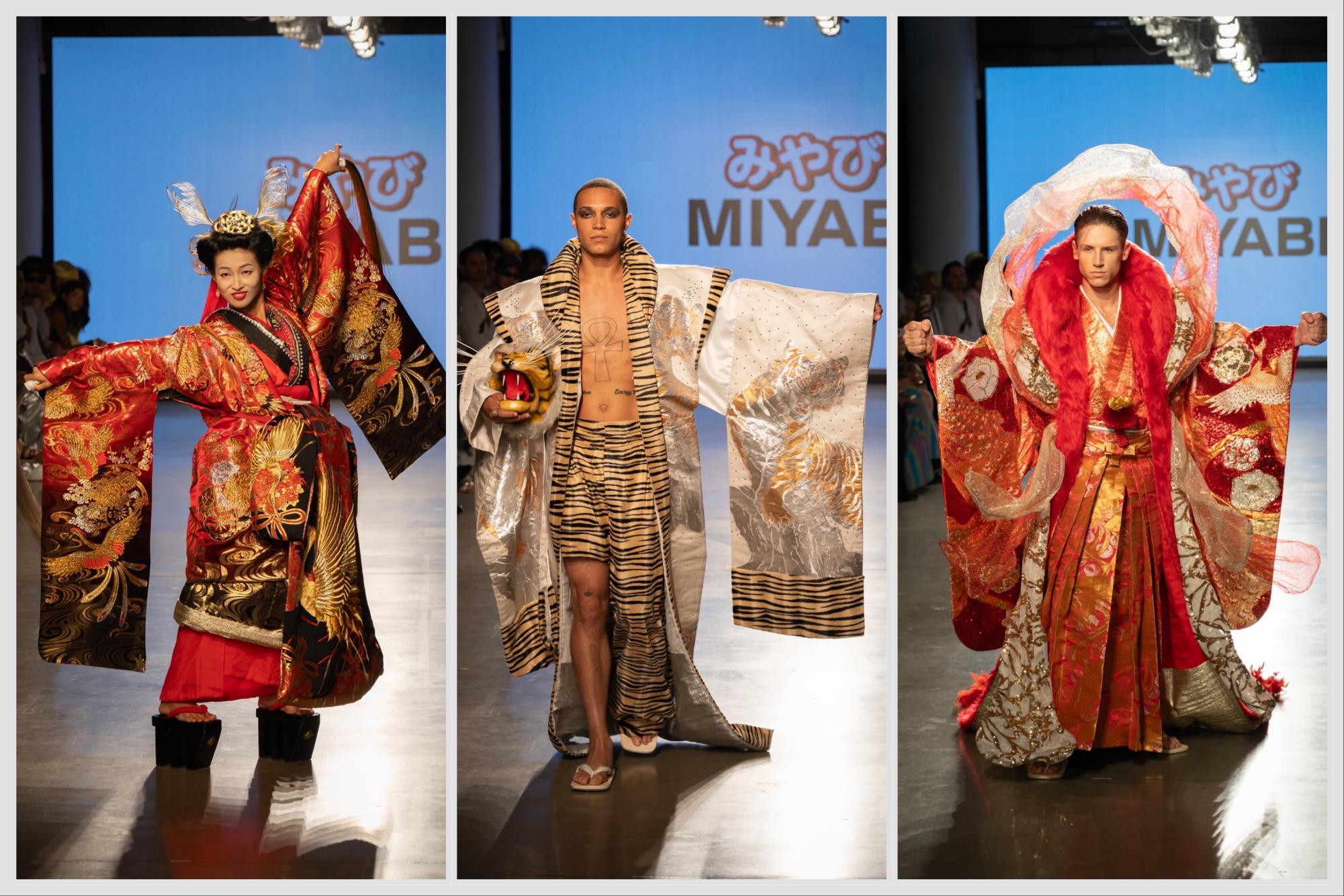 In an interview with WSN, Ikeda said the show served as a "coming of age ceremony," both representing the traditional Japanese ceremony of Seijinshiki and commemorating the brand's 20th anniversary. 
The collection stayed true to the traditional wear of Seijinshiki, with all models donning intricately detailed silk kimonos. Swarovski crystals and divine adornments added depth to the garments, and the cultural imagery embedded in the fabric offered rich narratives. The sixth look of the collection, a white and gold kimono resembling "Jinbaori," or traditional Japanese battle attire, was completed with a tiger head-accessory held by the model, adding a symbol of strength to the collection. 
HOSHI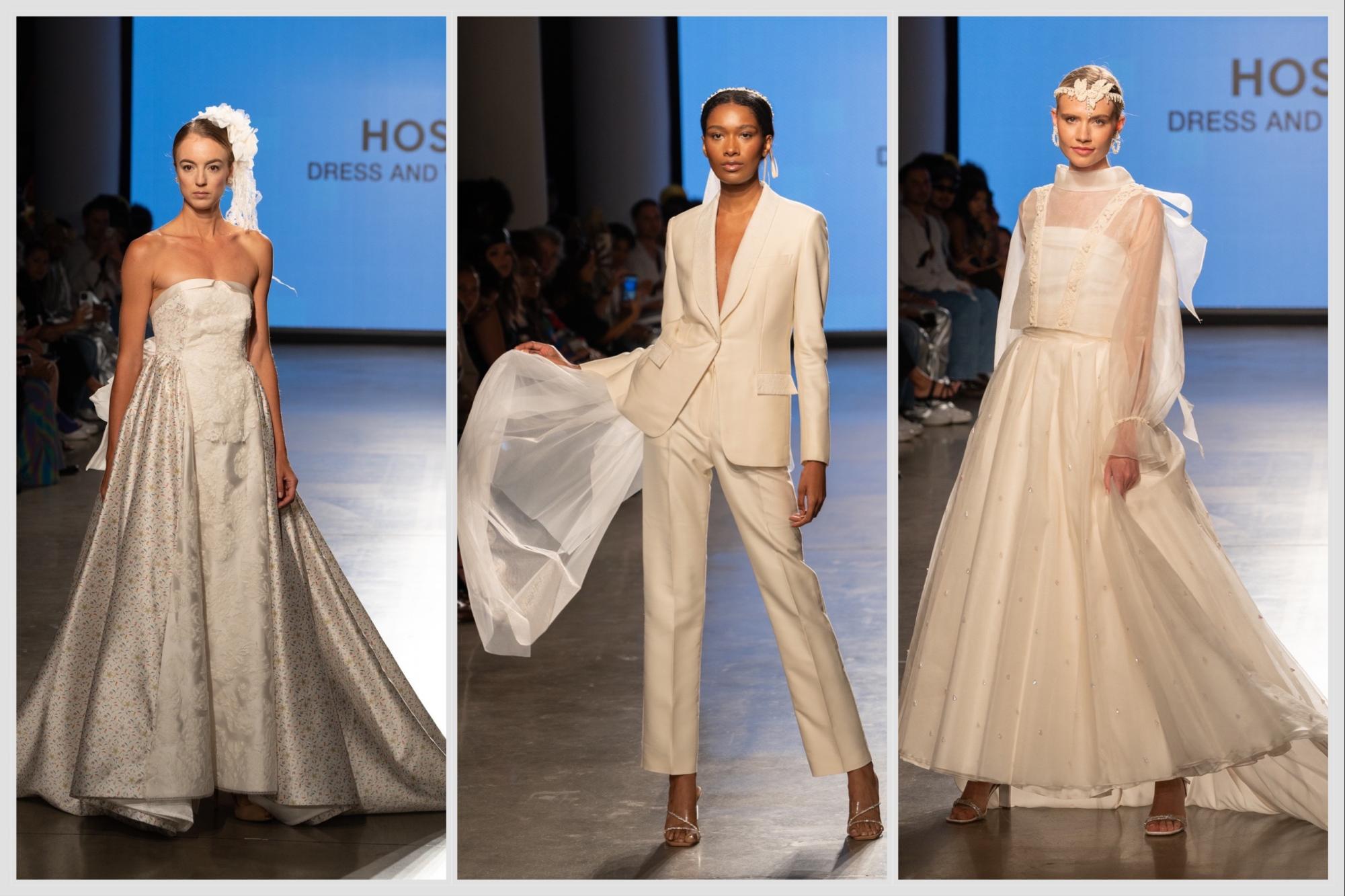 HOSHI delivered timeless pieces for the elegant and classic bride. The bridal brand, which launched in 2008, embraces traditionalism with a twist, and opened its Spring/Summer 2024 show with a modern white silk pantsuit. The brand utilizes natural materials and sustainable fabrics to create an earthy feeling, evident in the gowns. While the pieces demonstrated the designer's attentive stitchwork, the use of lace headbands and cloth ribbons felt derived from a 2014 bohemian aesthetic, and not necessarily in a good way. However, the collection ended with a bold black gown with blunt bowed detailings — a juxtaposition to the more traditional bridal aesthetics that made up most of the 2024 collection.  
Evaro Italia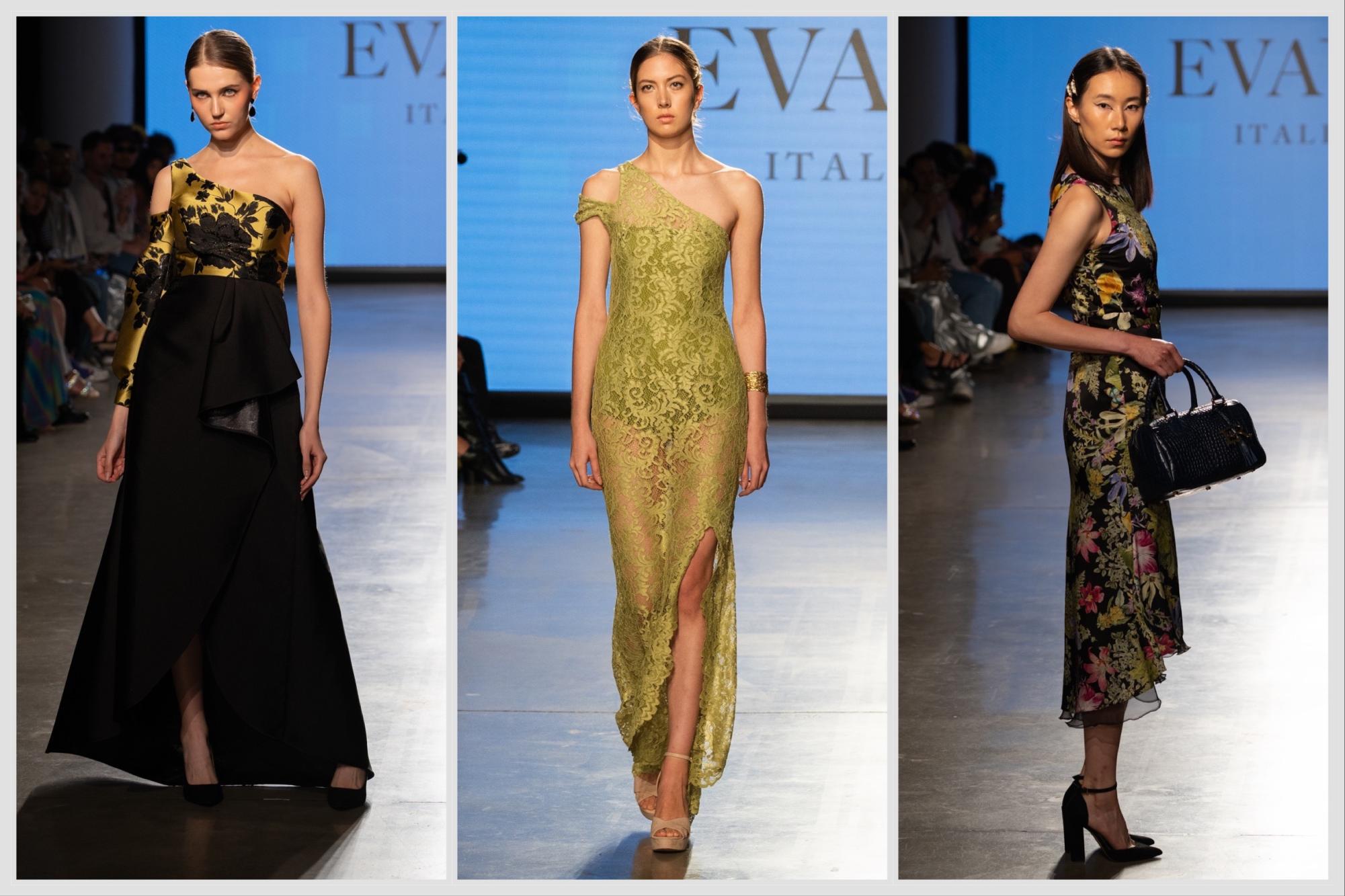 Eva Rorandelli, designer of the eponymous brand Evaro Italia, is renowned for her mastery of Italian fashion design. Having grown up in Florence, Italy, Rorandelli showcased her understanding of the fundamentals of Italian design in this collection. Immaculate tailoring, vivid floral motifs and artisanal fabrics grounded Evaro Italia's SS24 collection, drawing from regional Italian designs to take audiences on what Rorandelli described as a "safari of all the beautiful areas of Italy." 
The eighth look of the collection, a sheer lime-green lace gown, elicited audible "oohs" and "ahhs" from the audience. The lace was handmade in Florence, paying homage to Rorandelli's upbringing in the historic San Lorenzo shopping district and the city's rich fashion history. While some of the prints felt predictable, her unique attention to accessories and craftsmanship added an exceptional singularity to the collection. 
MÄKIRA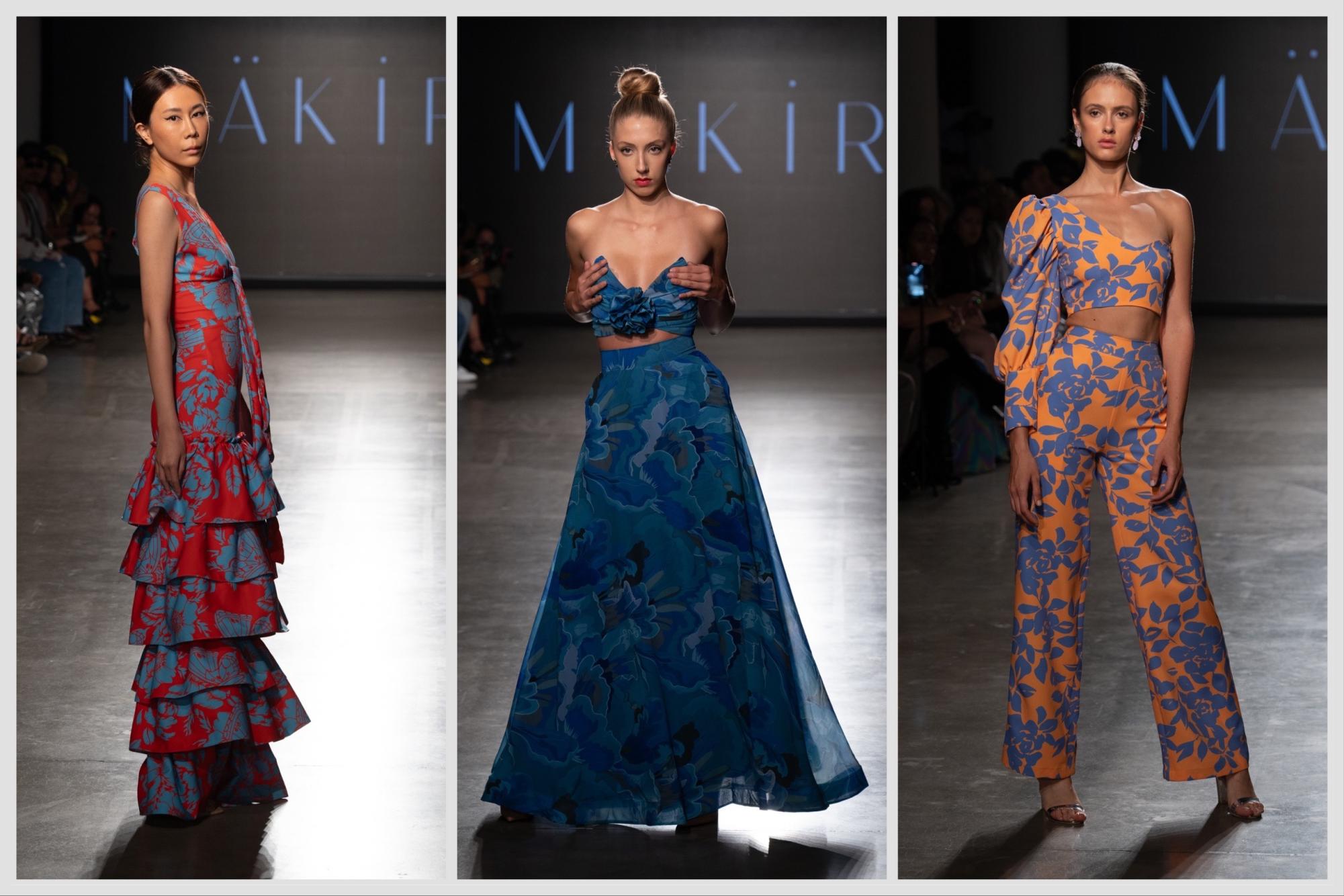 Founded in 2015, MÄKIRA quickly became known for its effervescent evening gowns. This season, however, designer Itzel Caballero played with layering and silhouettes, effectively moving beyond MÄKIRA's established line of sleek designs. 
Gowns featured multi-layered ruffles in vibrant color combinations, referencing her Mexican heritage and showcasing her talent for attentive stitching. While some of the orange, pink, red and purple color combinations clashed at times, fashion designer Jason Christopher Peters felt her approach to color "brightened the mood" of Monday evening's runway.
Nuance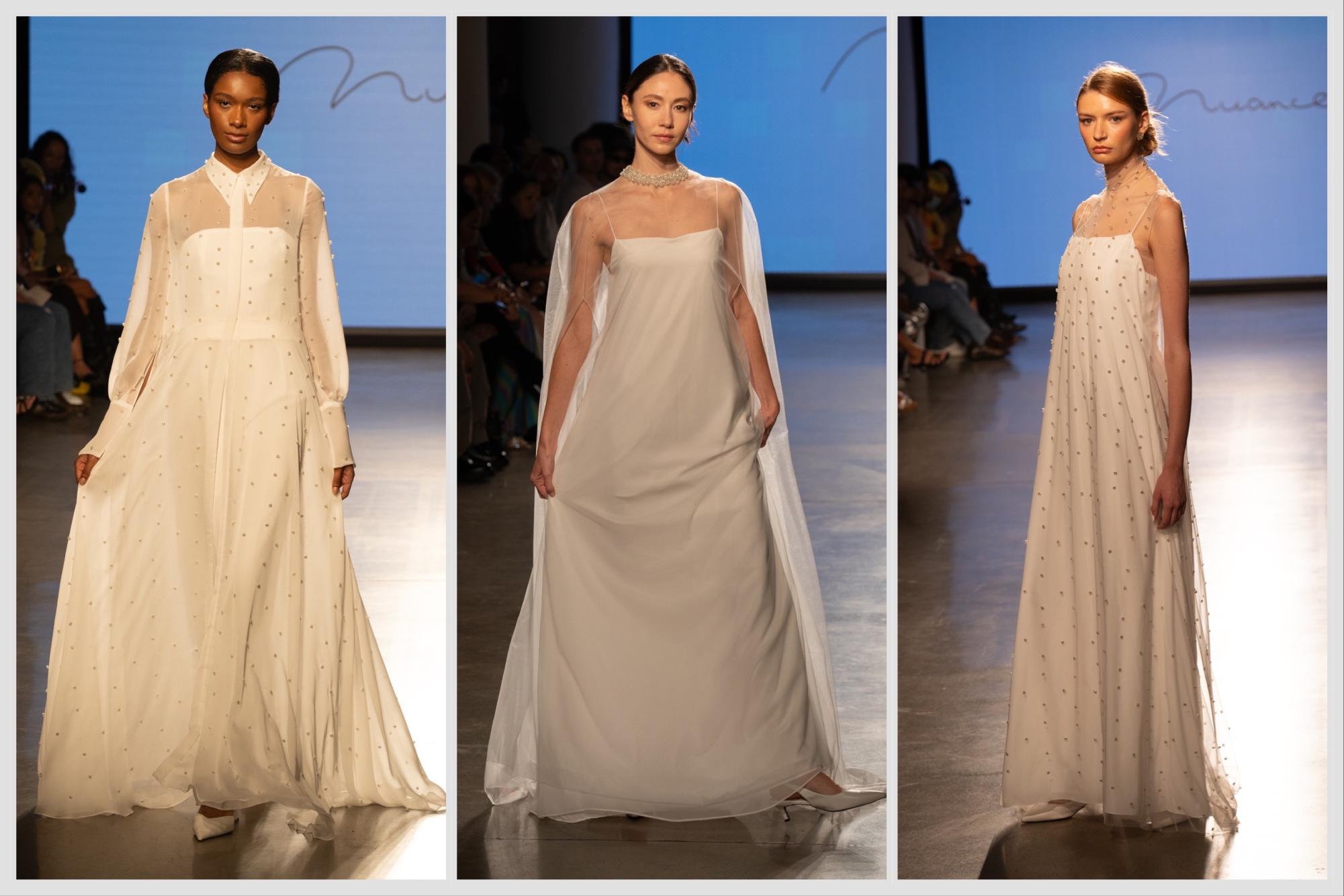 Yuri Otsuka said she chose to "lean deeper into 'Okuyukasi,'" the Japanese term for elegant modesty, in her SS24 collection. While the pieces were markedly minimalist, it was evident that they were precisely and thoughtfully crafted. The neutral and earthy color palette, sheer drapings and subtle cutouts all evoked an effortless elegance. 
———————————
SHOW IV
———————————
PATRYCJA PLESIAK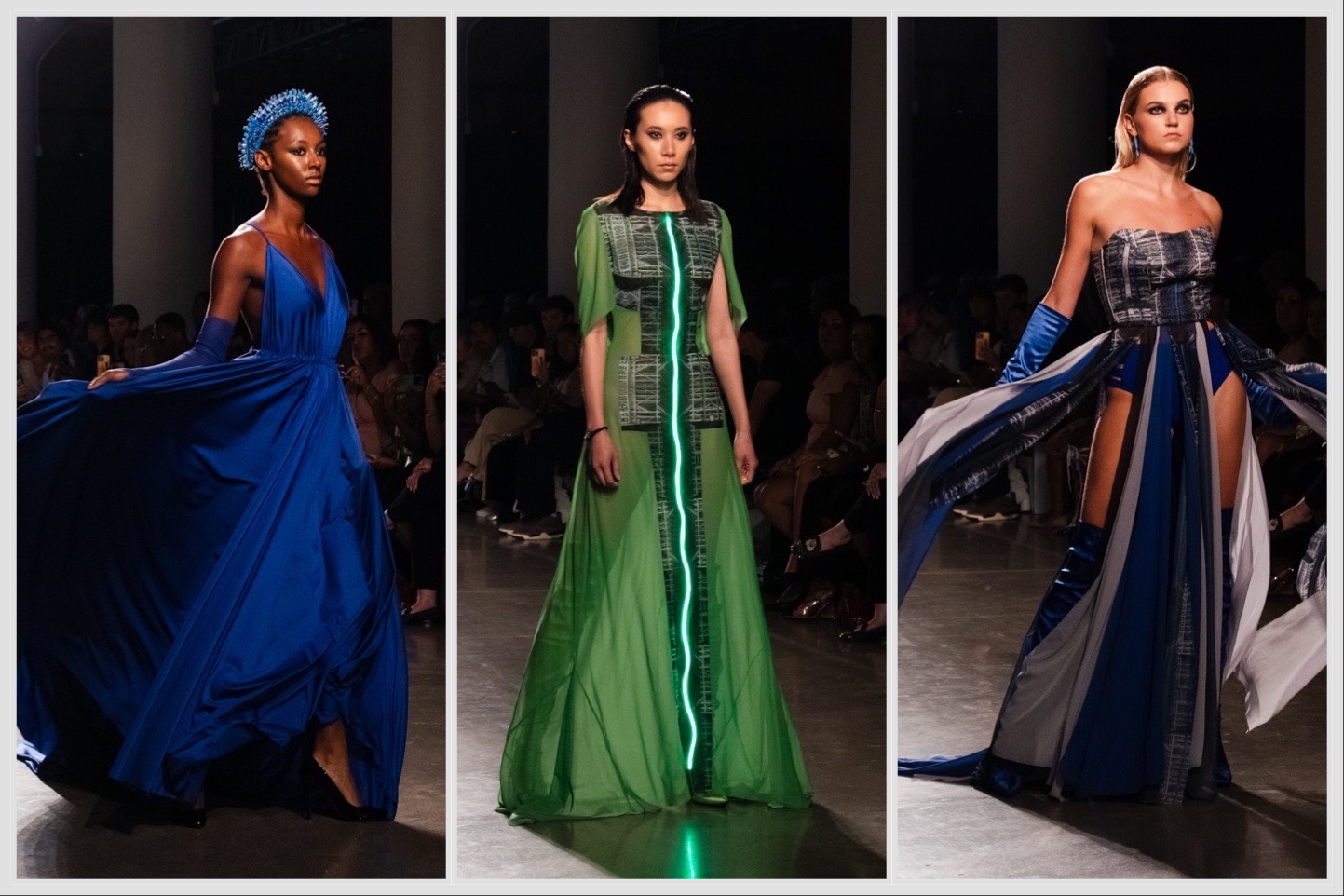 Designer Patrycja Plesiak's SS24 collection was a psychedelic technicolor display. Pieces incorporated LED lights and strobe-patterned fabrics, ushering in an emerging technological era of fashion. The models walked with confident strides, complimenting the boundary-pushing elements of Plesiak's designs. 
The blue gown and headdress stood out among the looks — its classic frame was elegantly juxtaposed with a spacey crown-like headdress. This bold interrogation of innovative fashion felt almost hypermodern when it came to the full-masked gowns, a trend that has become slightly overplayed. Despite this, the designer resembled a science-fiction regent as she descended down the runway wearing one of the collection's most phenomenal designs marching alongside models in a range of avant-garde pieces. 
SAQULAI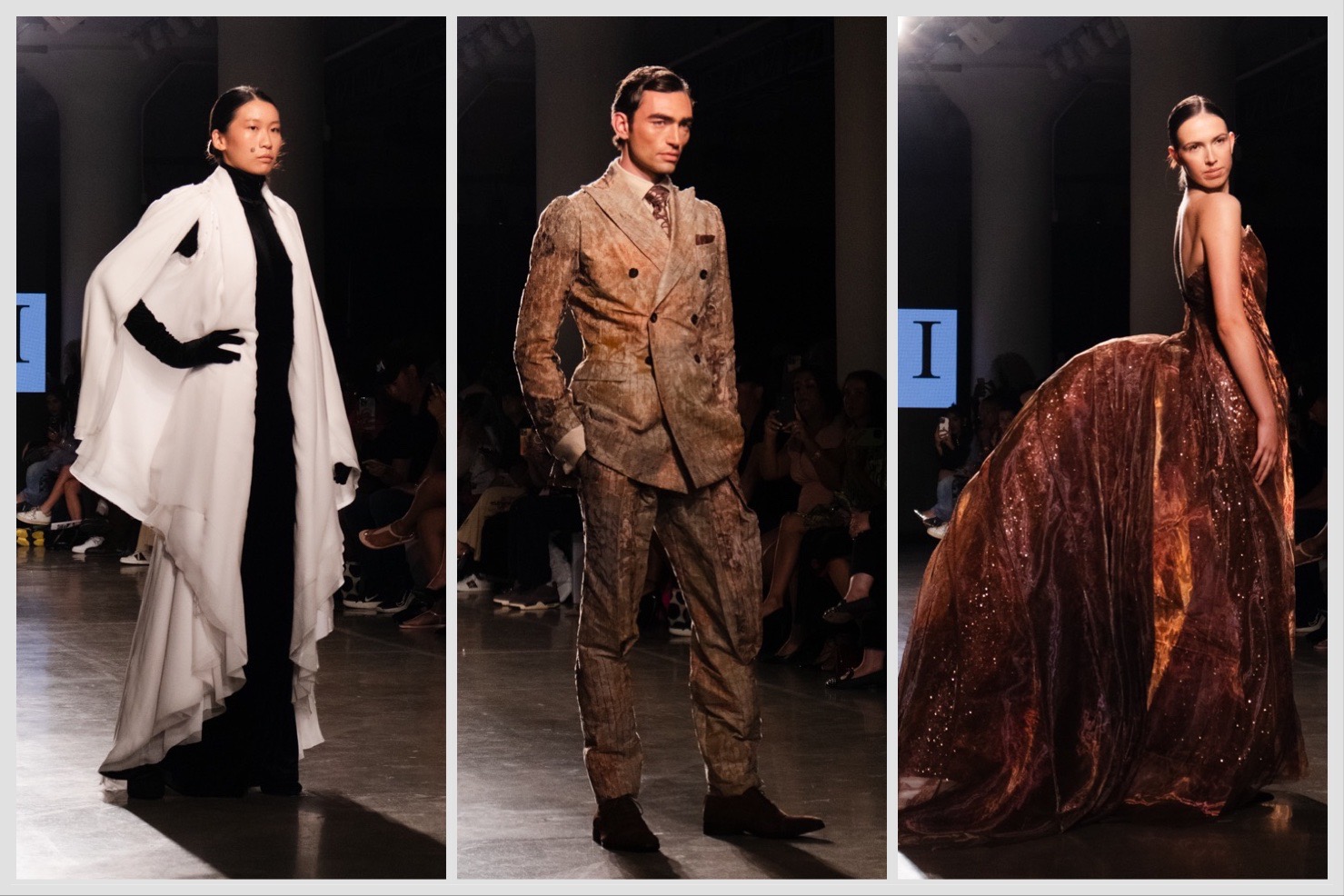 Designer Toshihiko Sakurai unveiled a radical and one-of-a-kind collection that he said "explores the boundaries of time and space." He said his mission was to provide a lens into the joy of aging and the passage of time, as things that are aged are not usually thought of as objectively beautiful. 
The upbeat music was merged with the background sound of a steady metronome that was reminiscent of the ticking of a clock. The models walked in unity yet out of sync with time, a detail that underscored Sakurai's artistic mastery.
Sakurai's mission was to rediscover timeless textiles and present them in a modern context. In the first piece, a female model wore a masculine Victorian-era coat made with an aged textile, demonstrating a blend of antique traditions and innovative techniques. The designer handcrafts his own fabrics using stainless materials layered over one another, creating unmatched detail in his work. Sakurai's collection was a transient journey across history with a striking presence.
SISIO 
SISIO founder Charlotte Shao is known for her surrealist fantasy approach. She said her newest collection is intended to "break down the coldness of technology." 
Shao incorporated the use of faces in her designs, like hanging doll heads as accessories or using a tilted mask as a headdress. This seems to play with the Chinese tradition of face-changing in operatic performances, hinting at the power of masks to influence social perspectives. The faces serve as a larger commentary about the perils of a digitized social connection and the essentiality of authentic expression. 
The final piece in her collection was a masterfully stitched, blue chiffon ensemble, one of the most complex designs in the show. Mariya Solodar, Ukrainian influencer and founder of the Ukrainian relief fund Peace of Mine, described the collection as "cultural music," and says that SISIO presented the most impressive work of the evening. 
Contact Nikkala Kovacevic, Julia Diorio and Payton Selby at [email protected].