Q&A: Samantha Harper on breaking into the fashion industry
WSN spoke to designer Samantha Harper about her celebrity-loved brand Harper Collective and the challenges of running a business in a changing digital landscape.
Harper Collective, designer Samantha Harper's latest venture into made-to-order garments, has made a name for itself as an "it girl" brand. Harper's designs are lush, sexy and sheer — and have been seen everywhere, from the Instagrams of Kylie Jenner and Addison Rae to Charlotte D'Alessio in Galore magazine.
Harper began her foray into fashion by selling comfort — her leisurewear brand Sweats by Sam began selling handmade tie-dye sweatsuits in the midst of the pandemic — and later expanded her business with personalized name stitching and aura-matching color questionnaires. In her latest collection, "Superbloom," Harper experiments with unique, childhood-inspired flower appliques that attach to each of her garments.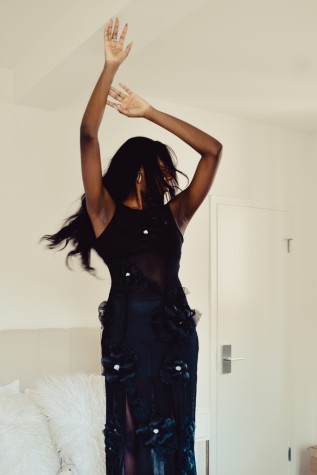 The flowers that garnish the ensembles are just as playful as Harper, who sat down with WSN to discuss how she built her brand online, in between her college classes.
This interview has been edited for length and clarity.
WSN: What inspired you to start your first fashion endeavor, Sweats by Sam?
Harper: I started off interning at this company called Rosemilk, which was started by two founders that eventually went their separate ways. One founder started Mirror Palais, and the other started Heavy Manners. I learned a lot from them — it was an amazing time — but I didn't feel as fulfilled because you're just helping to execute that brand's vision as an intern.
So when I came back from the summer internship and came back home to Cleveland, I started tie-dyeing different tops and bottoms. My dad said to just start selling them at that point, because they were all I was wearing around the house. I created the Depop in October of 2019, and I had a photoshoot with my friend Alex in the art school bathroom, because they wouldn't let us use the photo studio.
WSN: How did you grow your brand in the digital realm? 
Harper: I shipped it out to my friend Kallie Kaiser first. We became internet friends in high school, and she had a pretty large following on her YouTube. She posted the set, and then things just kind of took off from there. My Depop was doing pretty well, and I realized I needed to make a website. Shortly after I made the website in June of 2020, Addison Rae found my brand.
I was working with an influencer named Genelle Selden, and decided to send her something that I had never seen before — my same shorts and zip-ups, but in tie-dye. I really wanted to be the first to pioneer it, and then Genelle posted a picture of her wearing both a top from LIVINCOOL, which I had been a fan of all throughout high school, and my brand's shorts. She tagged both of us and I was so excited because it was one of the first times I started getting real exposure.
LIVINCOOL reposted it, but people started commenting asking where the tie-dye shorts were from, and the brand responded to the comments telling them they were coming soon. I thought it was over — I remember running to my mom and telling her they were going to kill my brand because they could remake my shorts and make content in such a short amount of time. It was something I would never be able to do as a small brand. Then, Addison Rae found Genelle's post. She reached out to me, posted in my outfit, and helped set the record straight. It really helped Sweats by Sam survive and grow.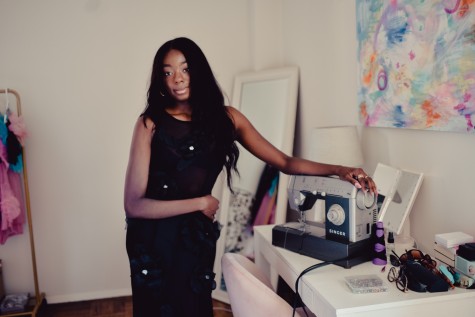 WSN: How did you make the decision to transition from leisurewear into the handmade dresses and delicate silhouettes that you make now?
Harper: I would say a real turning point was when I created the Aura Collection at the end of 2021, beginning of 2022. I realized I wanted to be more refined as a designer, and Sweats by Sam no longer felt like me. I changed the name in 2022, and then I decided to take a break from everything because it was too much work with school.
I shut down the website for six months to focus on my senior thesis at Drexel University. We had to do a texture or a fabric study, and I made these delicate flowers as my fabric study. I never thought I would sell it, but I still made all of the sketches. Everything just aligned perfectly. Flowers were just becoming part of the trend cycle, but we weren't really there yet, so I decided to hold on to the idea and use it later. I put it into production last summer. The whole process was a lot slower than what I thought it would be, but I'm so happy I'm in a place where I feel like I truly like what I design.
WSN: What was the inspiration behind the two collections you've produced for Harper Collective? 
Harper: The flowers were really inspired by my childhood — I used to wear these little flower hair clips when I was little, and they were made of plastic. I wanted to recreate them but have them instilled within a garment instead. It took a lot of trial and error, but I blended the idea of the flower hair clips with these hair bows that I used to wear as a child, and it became this sturdy flower that I put on all my clothing. 
For the Aura Collection, I made a quiz that people could take to find out the color of the aura. I wanted the website to be structured so that you could only access the colorways of your aura, but a bunch of customers still wanted to see the other colors. I just wanted it to be interactive. I love when things feel personal, and this was just an extension of that. Right now, I'm really into blush and a baby pink, but I've found inspiration in colors everywhere.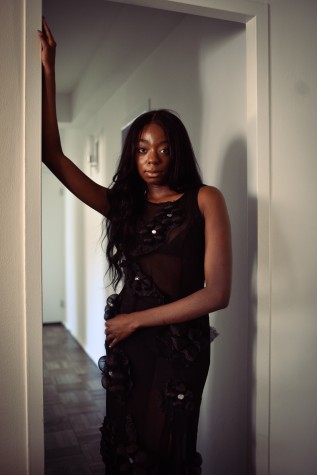 WSN: What does a typical working day look like for you now?
Harper: I try to wake up every day at 7:30 or 8 a.m. It depends on my schedule, but I get up and I pretty much work all day. Sometimes I'll just work on making the flowers, because they're the most important thing right now. They go on all the garments. I go through orders, answer customer emails, or update the website. If there's a custom order, I like to send a sketch or have a Zoom call with them. Then I'll go on a fabric sourcing trip and run around Midtown. 
It's just me on my team. I love doing all the PR stuff myself, I think that's the most fun part. I love sending cold emails, and I'll try to send at least 10 a week that have the same pitch with my lookbook and website. I'll also do a lot of research — I love finding new stylists that I find really cool. I'll reach out and ask if they want to pull anything for loans or anything like that. Sometimes it'll get me into trouble, because one might respond and say they want a garment for a specific time, but I'll already have promised it to another stylist at the same time. But I love the chaos of it, and seeing what the stylists choose to do with the pieces is so exciting.
WSN: Your brand blew up when stylist Tabitha Sanchez put a model in your dress who was later featured in a Dazed article — how did you make that connection as an emerging designer? 
Harper: I didn't even know it was going to happen. I emailed Tabitha at the end of November, and she was one of the first people to answer for the new lookbook. I told her I loved her work, and she said she loved one piece, so I sent it to her, went home for Christmas, and didn't think anything of it.
She reached back out to me and told me she was going to put one of her "it" girls in the dress for fun and see what would happen. I told her to do whatever she wanted since I wasn't even in town. I thought it would be so difficult to get in touch with her, since she's represented under The Only Agency, but she really responds to her personal emails. It was the best.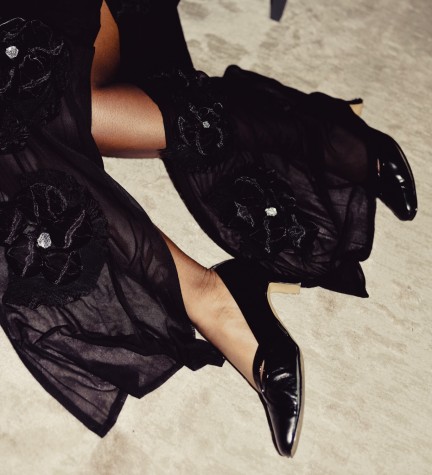 WSN: What should fans of the brand look forward to seeing from you in the future? 
Harper: I'm working on a swimwear line, but it's not really traditional swim because it's a very unique silhouette. The whole premise is built around its durability. You can wear it in the water, but you'll want to take pictures in it. I'm also doing a bag collaboration with a brand called West 78. She's incredible. She makes all these bags herself, so we're working on accessories together. I'm hoping to do a show or a pop up in the future, so I'm just working on building each collection as best as I can. 
WSN: What advice would you give to aspiring designers?
Harper: I would say be careful not to define yourself too early — don't say you're this type of designer or that type of designer. Be open-minded to what people want from you, because sometimes you have to go in a different direction when things aren't working out, and that's okay. Try to not always seek validation. The period of time when it feels like there's not a lot going on is the best time to start creating something real, and it's so beautiful to see what you're able to put out there into the world.
Contact Olivia Liu at [email protected].