How South American vegetable ivory jewelry ended up in Brooklyn
Brooklyn's Front Street features a handmade jewelry store selling a sustainable South American treasure.
In the verdant hills of Colombia, Daniel Neisa spent his childhood surrounded by a crop called tagua. This species is in the genus Phytelephas, which translates literally to "elephant plant," and produces a walnut-sized nut that, when mature, hardens into a carvable material similar to ivory. Long used by Aboriginal people for food and jewelry and adopted by European explorers for buttons and knife handles, this tree nut has become the inspiration for The Tagua, Neisa's jewelry store in the picturesque, touristy Brooklyn neighborhood of Dumbo.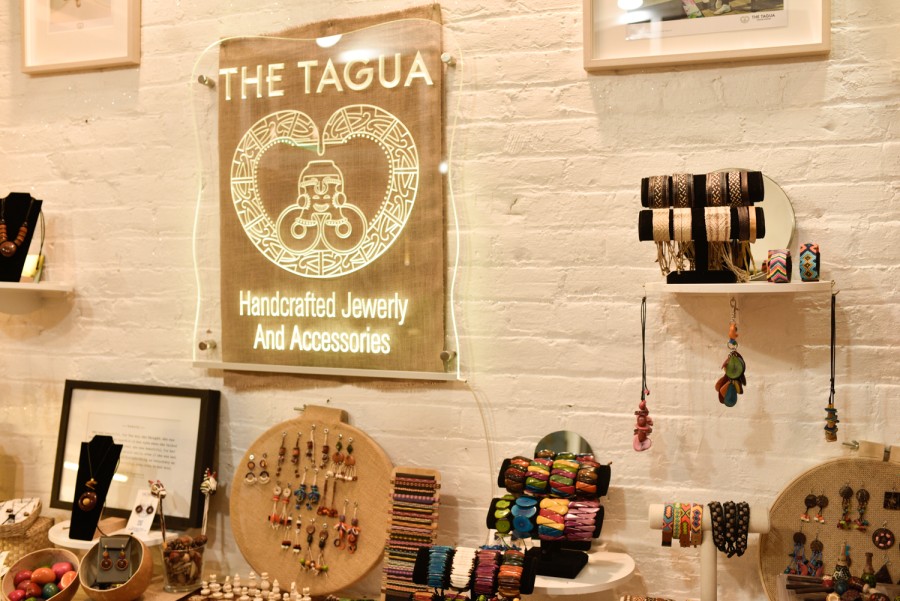 Opened in October 2020 at 145 Front St., The Tagua's vibrant jewelry stands in the middle of a small business enclave, selling rings, necklaces, earrings and other accessories made from natural products like tagua nuts, cherry seeds, coconut and anything else Neisa can find in nature.
"When I found this [acorn] down in the park, I said, 'Well, we need to make something,'" Neisa, who now lives in Midwood, said. "And now I'm working on it. Like I say, everything is a process."
Seven days a week, for six hours a day from 1-7 p.m., Neisa, 53, crafts at his work bench in a small corner of the shop. With tagua pieces and strings aplenty, he cranes his neck up to beckon any passersby to his store, where he shares the virtues of this versatile plant.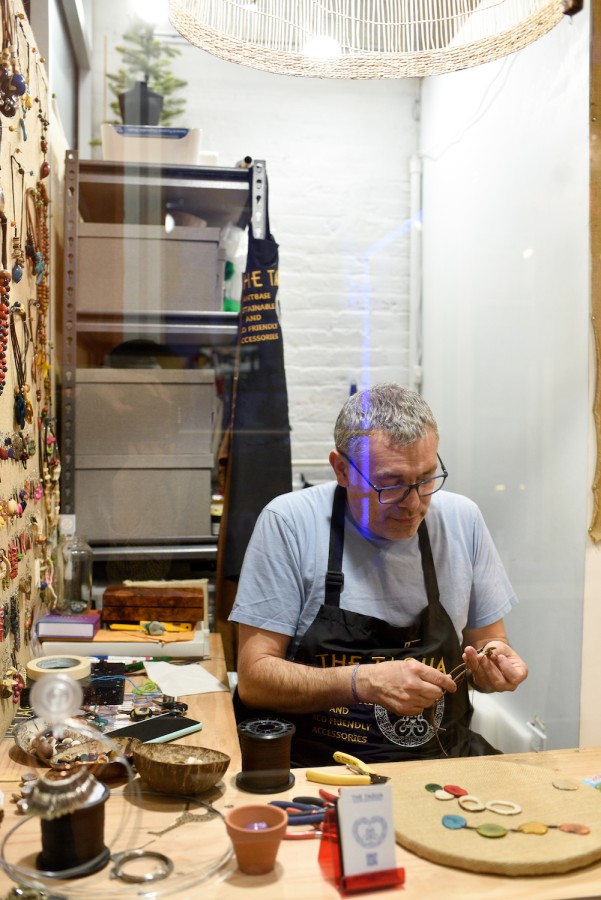 As salsa music plays in the background, Neisa welcomes customers by placing two versions of the tagua nut in their palm — one brown and textured, one white and smooth — as he explains the process of refinement that scrubs away the hard shell of the nut, revealing the ivory-like core used for jewelry. Dressed in a neon green jacket and apron embroidered with the store's insignia, Neisa appears more like a craftsman than a businessman, but he explains that this store in Dumbo isn't his first tagua business.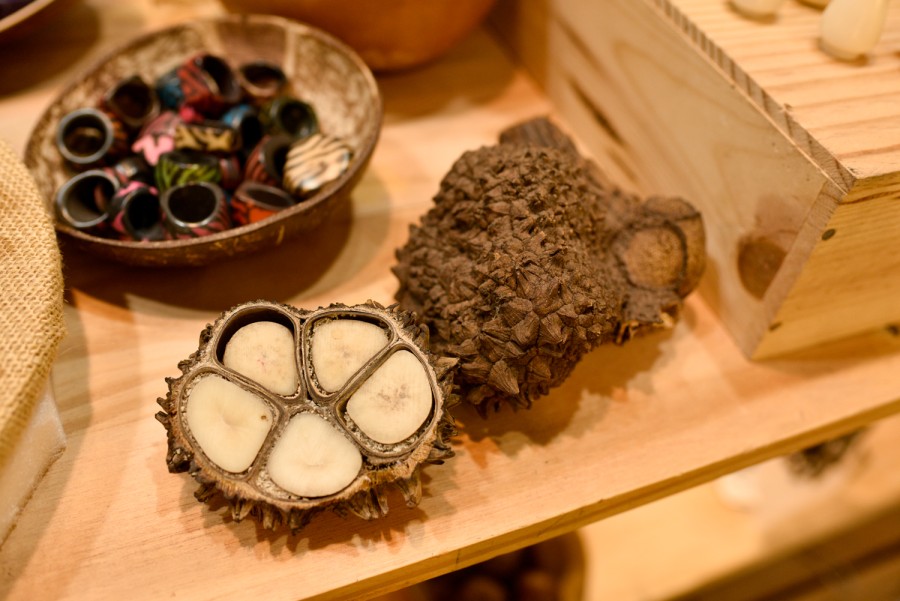 "My business in Colombia was to make parts for people who make jewelry," Neisa said, walking around the store and highlighting the intricate pieces of tagua that come together to form his necklaces, earrings and bracelets.
He pointed to purple and green-dyed tagua earrings that he called "papa frites," because their shape resembles potato chips. For 25 years in Colombia, Neisa sold nuts used to make individual jewelry pieces like these to larger businesses. With whole tagua nuts being sold for 40 to 60 cents, it seemed impossible to make a living producing them. His wife, Carla, agreed.
After getting married, Carla told her husband, "We made a mistake. We send all the material out, why don't we go into making the jewelry?"
Neisa and his family later moved from Colombia to the United States, and began selling jewelry. At his Brooklyn business, Neisa's daughter assists in marketing the store on Instagram, which he says helped draw in more customers. His customers, he says, are a mix of tourists walking through the area as well as newer residents of housing developments in Brooklyn. Prior to making jewelry, he was also a photographer, and he now captures photos of customers in his store wearing his jewelry to upload to the Instagram account. 
One of the products he's been working on is earrings made from the tops of acorns. Embellished with blue and green resin, the once-brown shell swirls with a deep symphony of colors that makes it hard to believe the original material was sourced organically. It is with this sustainable approach that Neisa both crafts his jewelry and leads his life.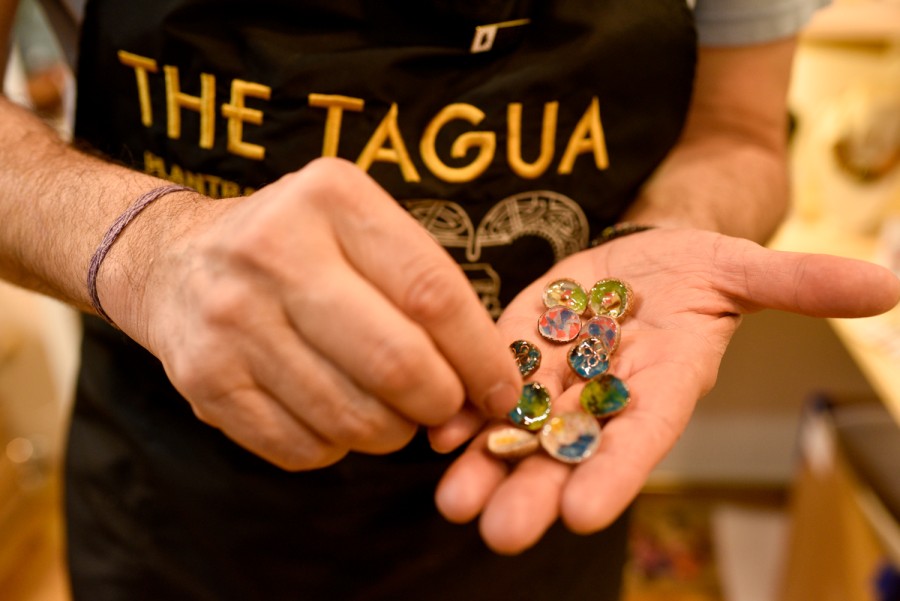 He pointed to a tree growing in his shop. At its trunk were the broken pieces of tagua jewelry from the workbench: "When I break some pieces, I put them in here and they become disintegrated."
Prices range from $20 for smaller pieces of jewelry to $100 for larger pieces. His most expensive item, a chess set made from brown and ivory pieces of tagua nut, glistens with a thin coat of resin. Along with Neisa's handmade jewelry, The Tagua also sells accessories created by Indigenous South Americans, and stocks a coffee brand that helps restore wildlife populations in the region.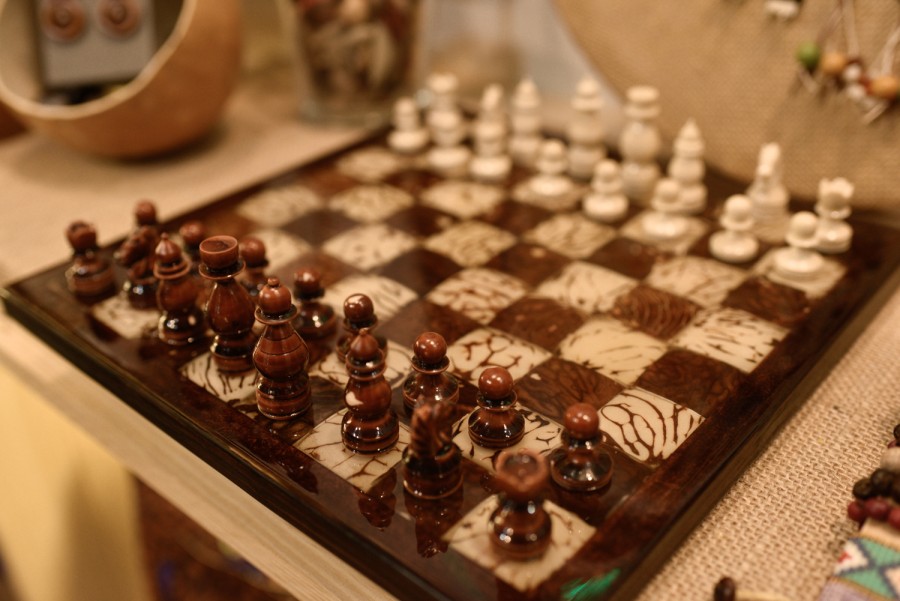 Neisa was lucky enough to grow up in a community where a crop like tagua grew, but it was his own acumen that turned the resource into a sustainable fortune.
Despite his success, Neisa said that running a business in Dumbo is not simple.
"This business is not an easy way," Neisa said. "When you put a store here like this one, you need to take patience for it to grow."
Neisa leaves every customer with a bookmark of the New York City skyline and a link to the shop's webpage. He pointed to a pin on his apron, featuring a heart within a palm and an inscription: "Always Making Things."
"That's the beauty here," Neisa said, "I can create something every day."
Contact Derek Kamakanaaloha Soong at [email protected].