What Village residents really think about NYU's Paulson Center
NYU's mammoth new facility at 181 Mercer St. garnered a warm welcome from its student body. The building's neighbors are less excited.
After almost six years of construction, the Paulson Center — NYU's gigantic new center for academic and student life — opened its doors to students and faculty late last month, just in time for the start of the university's spring semester. Many students and faculty have a generally positive impression of the building, but the vast majority of local business owners and residents on Mercer Street that WSN spoke to were less than thrilled.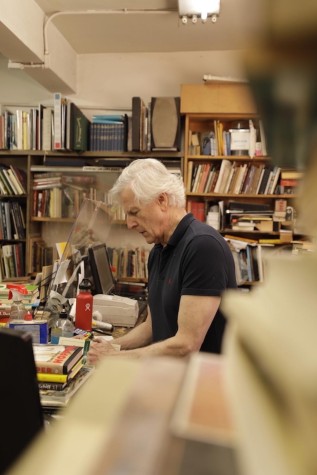 Wayne Conti, who opened Mercer Street Books & Records 33 years ago, despises it. The cozy yet sprawling shop sits directly opposite the new building.
"We fought against it like crazy — we hate it," Conti said. "It's very inappropriate for a historic neighborhood. They're basically turning universities into theme parks, but they are justifying it by charging a lot for all these services [some NYU students] would probably never use."
One local resident, who has lived in an apartment building adjacent to the new Paulson Center for 50 years, had similar thoughts. Jane, who requested to be identified by just her first name, received a master's degree in counseling from NYU, and her husband was once a distinguished professor at the university. Nevertheless, she said she believes the new facility and NYU as a whole are invading Greenwich Village.
"Go and look at this building," Jane said. "I consider it a monstrosity. I understand NYU needs the room, but it just seems to be engulfing us." 
NYU plans to continue to invest billions into more facilities, a move that will likely continue to affect local neighborhoods. The Morton Williams supermarket located at the intersection of Bleecker Street and LaGuardia Place was supposed to be replaced with a public school back in 2021. Many Greenwich Village residents protested the move, though, arguing that the supermarket was the only one in the area. 
"If they got rid of the Morton Williams, we [wouldn't] have a supermarket within a reasonable distance," said English professor Ernest Gilman, who has lived in Greenwich Village since 1982. "What are we gonna do? Walk all the way down to Whole Foods?" 
In the past decade, rent prices have skyrocketed in Greenwich Village, and new developments like the Paulson Center have raised property value even further. This trend, which has been compounded by the COVID-19 pandemic, hit small businesses especially hard.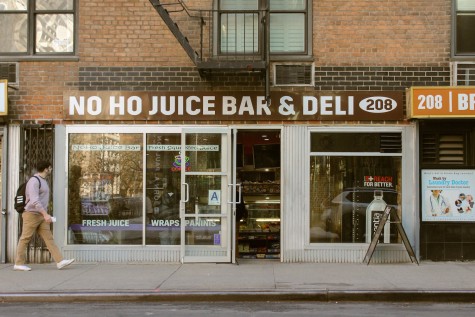 Saeed David, the owner of NoHo Juice Bar & Deli, felt the impact of this when it came time to renew his lease two years ago.
"[Buildings like the Paulson Center] do definitely increase the price in the neighborhood," David said. "The value of the neighborhood went up, and the landlord kept this in mind. He raised the price much higher than what I expected, but I had no choice. I just want to stay in business." 
Some Greenwich Village residents, on the other hand, are less concerned about the Paulson Center's effect on their community. The Washington Square Village apartment complex, which is owned by NYU, houses many faculty members. The housing is subsidized, so rent prices don't fluctuate as dramatically from year to year.
Tony Slover, whose wife works as a professor in NYU's School of Global Public Health, has been living in NYU's subsidized housing since 2019, and isn't worried that high rent prices will drive his family out of the neighborhood. 
"The way our rent is structured, it's pretty cost-prohibitive to even think about moving because there is no way we can afford to live anywhere else right outside of subsidized housing," Slover said.
Gilman explained that while his rent increases a certain amount every couple of years or so, he does not expect it to skyrocket due to the Paulson Center's construction. 
"Unless rent suddenly skyrockets in order to pay off the mortgage on this building, I don't think that is going to wash people away,"  Gilman said. 
Even though some of the Paulson Center's facilities have yet to open, the foot traffic of NYU students in the area, which may soon increase, has already posed concerns for some residents as well.
"My kids are young," Slover said. "They just like to go screaming down the streets. That obviously has some concerns — especially if I can't see him." 
The Paulson Center was merely the first step in NYU's larger expansion plan. While the university claims to be committed to its surrounding communities' wellbeing as it continues to develop its own spaces, the constantly changing circumstances and surroundings it has imposed have proven to be a difficult adjustment for long-term residents. 
Contact Liz Lindain at [email protected].