Since the release of his debut solo album "Wild Heart" in 2013, Nick Rattigan — also known as Current Joys — has cemented himself in the hearts and playlists of angsty, brooding teenagers everywhere. Originally from Reno, Nevada, Rattigan is also the drummer and lead singer of Surf Curse, a band that achieved mainstream success for tracks like "Freaks" that experienced TikTok virality during the COVID-19 pandemic. Rattigan's love for cinema plays a massive role in his creative process, leading much of his music in the past few years to have a distinct, lo-fi, indie-rock sound with evocative sonic imagery.
A decade later, with the release of his solo project "LOVE + POP" this summer, Rattigan's music still has the same cinematic quality but with an entirely different musical style. His new, highly collaborative album experiments with a manic fusion of trap, hip-hop and hyperpop, inspired by the likes of 100 gecs, Lil Peep and Drain Gang.
WSN sat down with Rattigan before his show at (Le) Poisson Rouge on Nov. 8 to talk about his upcoming slew of international shows, the inspiration behind "LOVE + POP" and projects in the works that fans can look forward to, including a possible rock opera.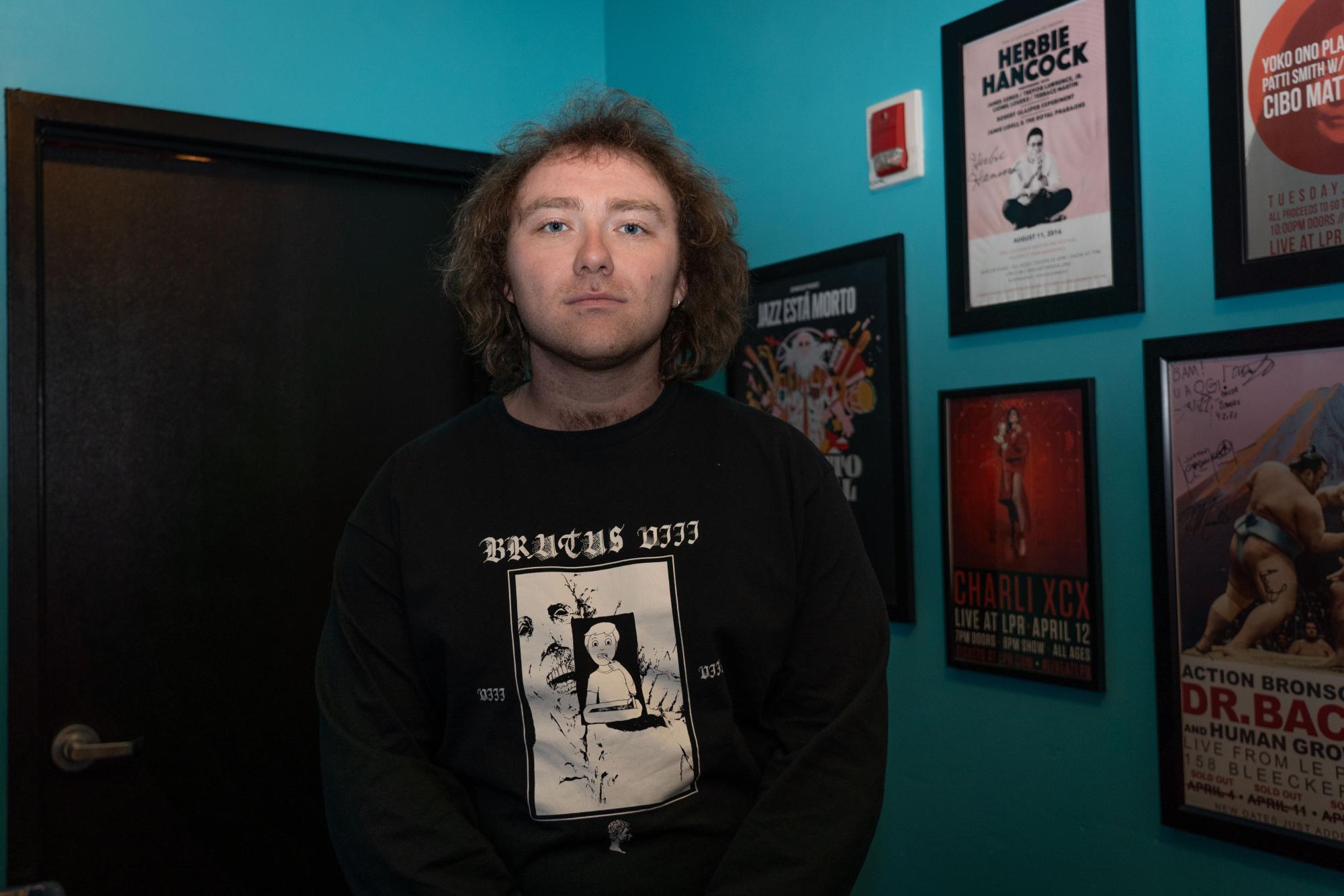 This interview has been edited for length and clarity.
WSN: So, it's your second show in New York City. How was your show last night?
Rattigan: It was amazing. This club, (Le) Poisson Rouge, is really cool. The first time I was at this venue, I saw Skrillex and Fred again.. DJ here, and it was one of the coolest nights ever. So when it came up that we could play here, I was like, "Oh my God, that's the Skrillex place." Like, that'd be incredible. The speaker system is really good. I love the West Village, but it's kind of weird to be playing a show here — seeing as it's not, like, the Comedy Cellar or something.
WSN: Is there any location that you're particularly looking forward to playing at on your current tour?
Rattigan: I was really looking forward to tonight's show. I think the shows in Europe — Berlin, Paris and London — will be cool too. I've never had a band over there. These will all definitely be weird shows because I'll be playing "LOVE + POP" for the first time. Most of the set uses backing tracks, and we're just playing on top of it, Death Grips-style. I think I'm just looking forward to bringing it to these different places and just being like, "Here's something that isn't your typical, run-of-the-mill Current Joys show."
WSN: Speaking of "LOVE + POP," what are three words that you would use to describe the album?
Rattigan: I'll say green. Neon green — that's two words. Damn it.
WSN: Don't worry, we can hyphenate it.
Rattigan: Neon-green, insanity and hip-hop.
WSN: How do you think "LOVE + POP" fits into the rest of your body of work? Is it something completely independent, or a continuation of something touched on in your previous work?
Rattigan: I think it's a continuation for sure. I did it in the same way I do all my other records, which is at home in my studio, just sort of fishing around and using the tools that I have at hand. When I made "Wild Heart" 10 years ago, I just had a bunch of shitty tools and I didn't know how to produce anything. Now, with "LOVE + POP," I'm making music with all these tools like Ableton, Omnisphere and all these crazy sorts of things where I can do lots of weird stuff with the production. But I still think "LOVE + POP" was very organic. To me, it feels like it fits the book, but maybe not to other people.
There's one song, "I feel truth inside of u," that I wanted to make super reminiscent of Current Joys back in 2018. My friend sent me some demos that we recorded in that time period, so I decided to sample one of my old demos, slow it down and put drums on top of it. The whole work feels like it's in conversation with my past work. It's just much more abrasive.
WSN: At what point during the conception of "LOVE + POP" did you decide to make such a drastic stylistic shift? I remember reading that the Lil Peep documentary, "Everybody's Everything," had a massive influence on you.
Rattigan: Yes — the documentary is just incredible. First off, it's produced by Terrence Malick, which is the craziest credit that you'd never expect. I didn't know anything about Lil Peep before seeing it. My friend told me to watch it, so I watched the documentary, and I ended up watching it three times in one day. I became obsessed with Lil Peep — I think he's our Kurt Cobain.
I knew that I wanted to make music inspired by him and see what it would be like. I was also listening to a lot of Drain Gang and all these other modern artists where the production style is so different and out there. I feel like that's why people like it, because it's refreshing and new. I've gotten tired over my years of just doing a specific genre, like indie rock. It was just fun to make that shift. I don't even think it was a conscious thing. It just all happened so naturally and organically — which, ironically, resulted in me making something that sounds very inorganic.
WSN: Do you have any dream collaborations that you want to put into motion?
Rattigan: Yes. Oh my God, definitely. Skrillex, please remix one of my songs. Oh my God. Sample something. He's the best.
WSN: Do you have any projects in the works right now that you can tell us about? You mentioned once on Reddit that you were working on a rock opera.
Rattigan: I'm working on a rock opera, but it's very much in the works. It's probably my least developed project that I have right now. I have a folk-country album that I made two years ago. That's actually what I was working on and planning on releasing until, very randomly, "LOVE + POP," just came out of me. I even had like a total of 32 songs for "LOVE + POP" that I cut down to 12, so I have a whole other second part that I could release. There's a lot of stuff floating around. But the rock opera is definitely the one that's the most ambitious.
WSN: What can you tell us about your rock opera? When did you start developing it?
Rattigan: Back in 2021, I think. I have 10 songs right now that are super theatrical — I was listening to a lot of Meat Loaf at the time. I just still need to connect all the songs together. Right now, they're all in their own universe. I can say that the name of the musical is "All of Falling October." That part is definite.
WSN: Last question — since you mention Deftones on "LOVE + POP," what's your favorite Deftones song?
Rattigan: On tour with Surf Curse a few years ago, Jacob Rubeck was throwing on all these Deftones live videos. They were so intense. He goes so hard, gets in the crowd and screams in people's faces. There's one live video for "My Own Summer (Shove It)" that was so good, I would listen to it all the time. That's probably my favorite.
"LOVE + POP" is available for streaming on all platforms, and Current Joys is touring until Dec. 10.
Contact Stephanie Wong at [email protected].