Independent bookstores that are better than the Strand
Celebrate Independent Bookstore Day on April 29 with some of our favorite local stores.
With the rise of Booktok, interest in reading is at an all-time high among young adults. Whether you're an avid reader already or are looking to start a new habit, buying books is exciting, and finding the right bookstore can transform your reading experience. The best spots offer a good place to sit down and dive into your new finds.
The Strand is the largest independent bookstore in New York City and has been around for almost a century, but some of its more recent business practices have brought its indie bookstore image into question. The owners solicited donations in 2020 without mentioning their pandemic support loans, issued a mass layoff, and have directly invested hundreds of thousands of dollars in Amazon — the principal threat to independent booksellers. Aside from that shady behavior, shoving yourself through the crowded aisles of the Strand feels about as tiring and mundane as going to Barnes & Noble. It's time to give smaller, more interesting bookstores a chance.
In celebration of Independent Bookstore Day, here are some of our favorite local bookstores in Manhattan and Brooklyn.
Manhattan
Albertine Books 
972 Fifth Ave.
Housed in the historic Payne Whitney House on the Upper East Side, Albertine Books is the only bookstore in New York City that has a wide selection of books from 30 French-speaking countries. The bookstore is part of the cultural services department of France's embassy in New York, fostering intellectual and cultural exchange. Albertine Books also partners with many independent bookstores across the United States, curating "French Corners," wherein shops highlight their favorite French books. If you don't speak French, don't be discouraged — Albertine Books also has French books translated into English. While visiting, don't forget to look up, as the building's ceiling is a hand-painted mural of constellations and planets modeled after the ceiling of the music room at the Villa Stuck in Munich, Germany. Bonne visite!
Bluestockings Cooperative
116 Suffolk St.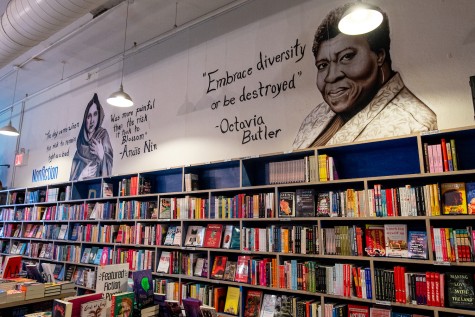 Bluestockings Cooperative is an employee-owned, social justice-focused independent bookstore, where you'll find everything from bestselling memoirs to independent graphic novels. Bluestockings also puts its social justice ethos into action, providing a wide set of resources for harm reduction and uplifting the LGBTQ+ community. This bookstore is all about community care and takes pandemic safety seriously by still requiring masks for shoppers, as well as a negative COVID-19 test to enter any book signing or event. Bluestockings also allows non-customers to use its bathroom, near the store's cafe in the back, for free. Apart from providing coffee, the café acts as a literary hub around which book signings and talks are organized. Zine submissions are open to all in July, November and March. The shop's workers accept submissions based on their political resonance, keeping the shop's spirit of resistance alive.
Book Club
197 E. Third St.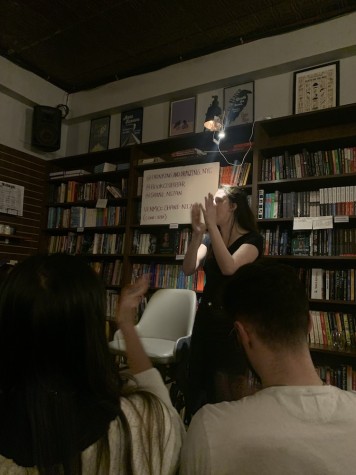 Located in the East Village, Book Club is a cozy, independent bookstore that features a bar. It has a selection of wine, local craft beer, coffee and tea. The ambient lighting offers a warm atmosphere, and you feel transported back to your living room, making it a more creative destination than your average bookstore. The shop hosts various events throughout the year, like "Drinking & Drawing," game nights, trivia and poetry nights. You can register on the store's website to host your own book club meetings there, or you can join the Book Club book club and read along. From 8 a.m. to 6 p.m., feel free to bring your laptop and work at the Book Club, but after 7 p.m., laptops are banned, so be ready to swap out your homework for a good book and get reading!
Mercer Street Books & Records
206 Mercer St.
This Greenwich Village staple is situated in front of NYU's new Paulson Center. Focusing on used and out-of-print books, Mercer Books is ideal for finding rare issues and collectible magazines at an affordable price. This bookstore's mission is to promote the legacy of Greenwich Village as a cultural hub of writers and readers alike. If you are looking to find some esoteric books, this bookstore is ideal for you.
Printed Matter, Inc.
38 St. Marks Place
While Printed Matter's main store in Chelsea features a wider array of books, zines and, quite literally, printed matter, the store's smaller St. Marks location is not only closer to campus, but also offers a more curated, artistic selection. Housed in the Swiss Institute, this tiny bookstore is also connected to a gallery that features a new exhibition each season. The gallery and the collection of mainly independent artist books (which anyone can submit to) makes for an inspiring, art-focused experience.
P&T Knitwear
180 Orchard St.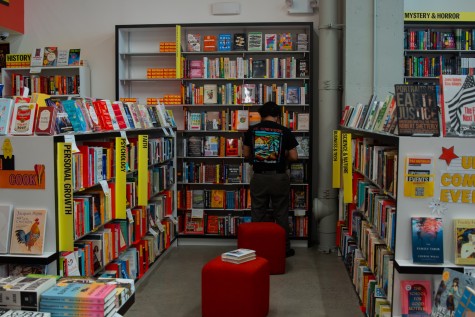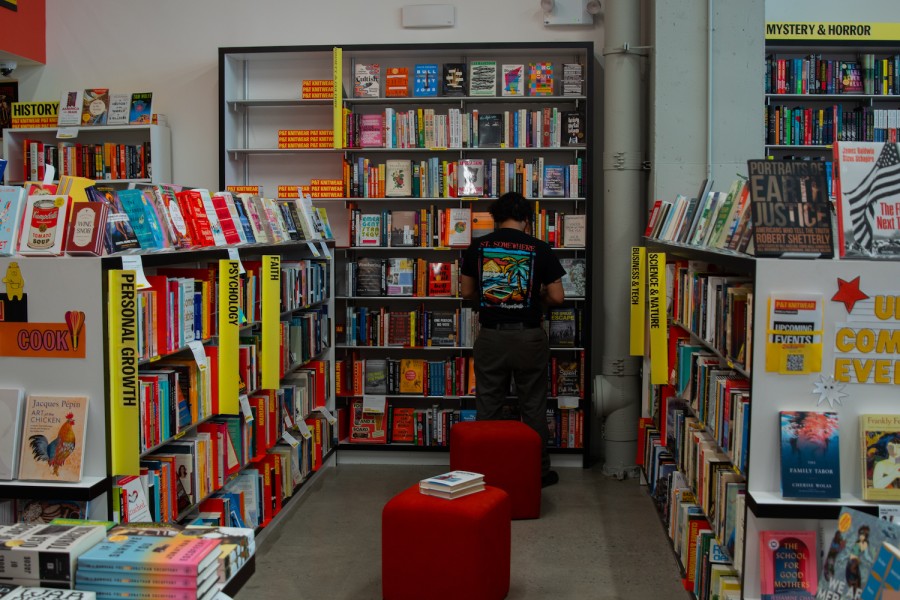 Although this bookstore's name is a bit puzzling, it references the founder's grandfather, who was a Holocaust survivor and co-founded a clothing store in the Lower East Side with the same name. It has a highly curated selection organized by topic by its knowledgeable and enthusiastic staff. P&T Knitwear also features a large reading area and cafe and a professional podcast studio that is free to use. The store also accepts submissions for independently published books. Signing up for the newsletter gets you a free drip coffee and a list of free or low-cost events in your inbox.
Sweet Pickle Books
47 Orchard St.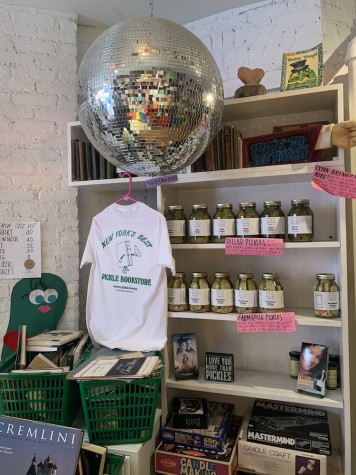 This bookstore is a rare find that carries all sorts of books, Spanish literature and philosophy to political and children's books. There is certainly a book for everyone and at a good price, with a $1 books cart and the occasional "buy one get one free book" offer. You also might also be interested in the store's extensive selection of pickles. This local shop provides a homey feel full of funky decorations, including disco balls, handwritten signs and, yes, pickle merch. It embodies the spirit of the hip Dimes Square "neighborhood" and encourages book donations with a trade-in of a jar of pickles.
Brooklyn
dear friend books
343A Tompkins Ave.
Located on the trendy Tompkins Avenue in Bed-Stuy, dear friend books offers a warm atmosphere and a beautifully curated space. With a wide selection of rare books, first editions, and extensive art magazines and publications, this bookstore provides a great selection of vintage and rare finds. The beautiful interior and friendly staff make this bookstore a staple for many in the community, as it not only provides a wide variety of unique books but also offers a great selection of food and drinks. If you are looking for somewhere to relax, drink some tea and read your favorite book, I would recommend trying their backyard or their indoor bar.
Molasses Books
770 Hart St.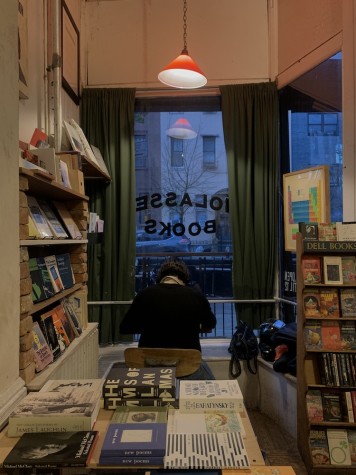 This small bookstore in Bushwick offers a curated selection of used books and a cozy vibe. Doubling as a coffee shop and bar, Molasses is open until midnight. This neighborhood store has become a favorite spot for many, as it offers a niche catalog of books and delicious drinks in a welcoming environment. It's the perfect place for a date, offering some of the best coffee in the area and a charming vibe. While the store may look small, it has a wide collection of rare finds, with books stacked from floor to ceiling.
Troubled Sleep
129 Sixth Ave., Brooklyn
Located in Park Slope, Troubled Sleep is a relatively new store that provides a wide range of used and new books at an affordable price. Beautifully organized, with thoughtful curation from the staff, each section is full of wonders. Though the shop focuses mostly on used books, the small selection of new books focuses on highlighting titles that are not always easy to acquire in bigger bookstores. The $1 books at the front of the store are popular for harboring hidden treasures. 
Contact the writers at [email protected].