Students filled around 80 seats and overflowed out of Kimball Hall on Wednesday to listen to an analysis of NYU's Being@NYU survey released earlier this year to measure the university's climate and its impact on students, faculty and staff.
The panel included NYU President Andrew Hamilton, Chief Diversity Officer Lisa Coleman, Student Government Chair Hüsniye Çöğür, Student Senators Council Vice Chair Anesu Nyatanga and was moderated by President's Council Vice Chair Ismael Khoufaify.
The town hall started with a presentation about the Being@NYU results by Coleman, followed by a short segment in which questions submitted online prior to the event were read and answered, touching on topics like financial aid and diversity at NYU. Afterwards, students both online and in person posed questions to the panel concerning everything from NYU's investment in Aramark to sexual misconduct at NYU.
Highlighting Being@NYU Statistics
Coleman began with particular statistics from the Being@NYU survey that she found concerning. Among them were that 17 percent of students experienced exclusionary behavior and 27 percent of students witnessed exclusionary behavior.
"We have much work to do because 17 percent is simply too much of our community," Coleman said.
In addition, 42 percent of faculty and 55 percent of staff and administrators considered leaving NYU.
"[The number one reason was] interests in positions at other institutions," Coleman said.
Key concerns were opportunities for promotion and competitive salaries, which Coleman highlighted as improvements the university should make. The survey results revealed that a lack of affordability was less often the reason behind students considering leaving the institution, as Coleman said that rather than an inability to pay, "the number one reason [for leaving] is a lack of a sense of belonging."
Thirty three percent of students had considered leaving NYU, with 63.2 percent citing a lack of belonging as their reason.
When asked what concrete changes NYU has made in response to these statistics, Hamilton said that anything more than what had been covered would have to wait for data to be categorized at the school level.
"The Being@NYU assessment is very new, we are still working on 600 pages without yet having the data at the school level," Hamilton said. "Once we get that data at the school level that will allow us to really compare and see are there particular areas that need focus that need changes in our policy that need changes in the way we do things."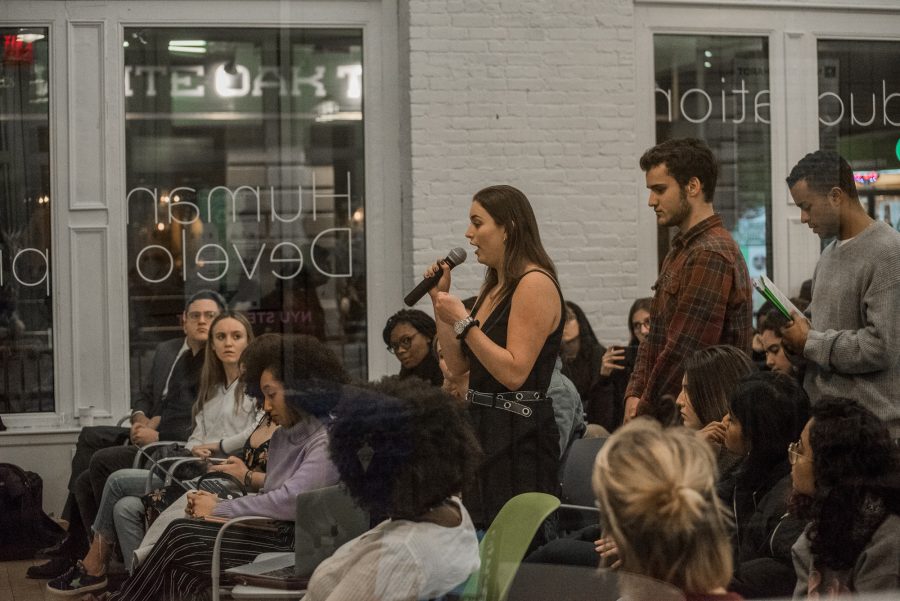 Recruiting More Diverse Faculty
When asked about what he has done to increase diversity, inclusion and equity at NYU, Hamilton pointed to the incoming class's diversity as proof of his efforts.
"We have raised the issue and we are seeing really positive change at NYU," Hamilton said. "But that challenge also comes in the very diversity of our community and I am very proud that this year the incoming first-year class is the most diverse in history."
Proceeding to rattle off statistics concerning the racial makeup of the class, Hamilton did say that when it comes to diversity among faculty, it's "a tougher area to make progress in."
Between 2013 and 2016, 55 percent of tenured or tenure-track and 65 percent of continuing track new hires were white, according to a report by the Equity, Diversion and Inclusion taskforce published in 2017.
Hamilton said that NYU is actively making efforts to increase diversity among faculty, with 58 percent of the Steinhardt School of Culture, Education and Human Development's new faculty recruitment this year coming from underrepresented minorities. Additionally, 33 percent of Tisch School of the Arts' and 16 percent of Faculty of Arts and Sciences' faculty recruitment this year came from underrepresented minorities. He said although FAS's number is low, it is up from 6 percent a few years ago.
New Sexual Misconduct Investigators
When asked why information concerning sexual misconduct was not as detailed as information on other topics in the Being@NYU survey, Coleman said this was due to the fact that there was an assessment on the topic in 2017 not long before Being@NYU was conducted, called a National Campus Climate Survey. However, she said that she imagines a new assessment would cover the topic in greater detail.
Addressing those issues, Coleman said, would be done through outreach programs, additional resources online and new sexual misconduct investigators hired by NYU. The Office of Equal Opportunity increased its staff from nine employees in February 2018 to 12. However, NYU's uptown neighbors at Columbia University — a university whose total undergraduate enrollment is roughly the size of NYU's first-year class — has 23 staffers with Title IX responsibilities.
Hamilton also announced that the online module about sexual misconduct that incoming students are required to take will be tweaked in the coming months.
"We will be improving the resources that we have, the online module that Lisa referred to, sexual misconduct training, that will be enhanced and improved in the coming months," Hamilton said. "There will be increased commitment to outreach."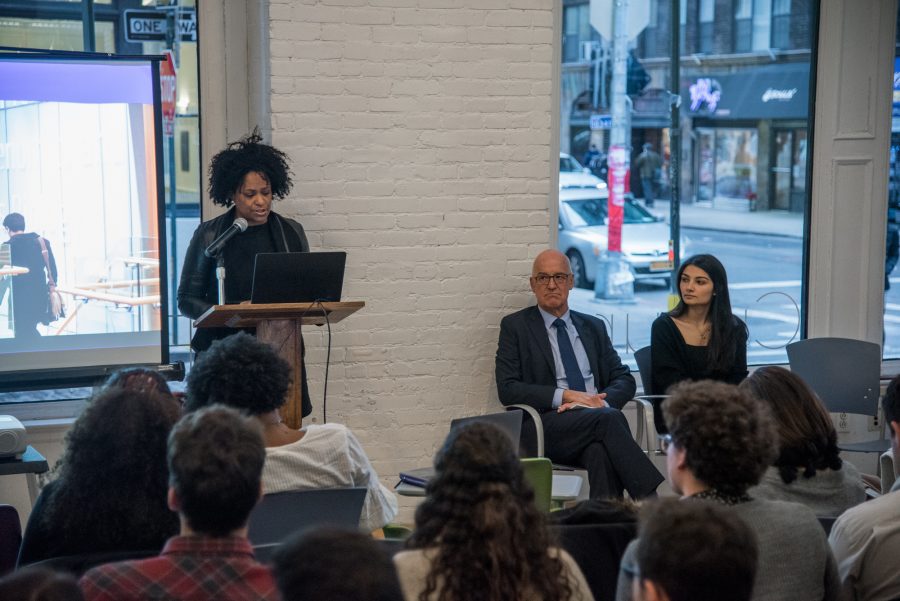 Confrontation By the Incarceration to Education Coalition
Political Action Chair for the Black Student Union Dylan Brown spoke for the Incarceration to Education Coalition about its request for NYU to end involvement with food service providers invested in the prison industrial complex, saying that it essentially funds mass incarceration. Brown stated that as mass incarceration disproportionately affects African-Americans, NYU's investment in Aramark, its current food service provider, is inherently discriminatory.
"As you mentioned earlier tonight, NYU proudly boasts that 10 percent of its newest class identifies as black, but it chooses to fund an organization that is pro-mass incarceration, which disproportionately impacts the black community," Brown said.
Aramark has had a controversial history at NYU, with anger peaking after Weinstein Passport Dining served a meal that played into racist stereotypes during Black History Month last semester. Now, the IEC, with the support of 43 student groups, has been pressuring NYU to end involvement with the company. In early November, student government passed a resolution requesting that NYU not invest in any company associated with private prisons, which includes Aramark's main competitor at this time, Compass Group.
Brown mentioned that other campuses provide their own food, such as Pennsylvania State University and Rutgers University. As they are of comparable size, he believes this shows that there is no reason NYU should not do the same.
In his response, Hamilton did say that these factors would be considered when making the decision, but that other factors, such as the large number of meals needed to feed NYU's vast population, would have to be considered as well.
"A critical [issue], and I won't pretend that this isn't vital, is that we produce something like 50,00 meals a day," Hamilton said. "It requires an efficient, well-run and affordable dining service."
Affordability is another aspect of dining that Hamilton said was important to consider. With the cost of living in New York City and attending NYU already high and a source of student discontent, the president explained that NYU providing its own food would be a less feasible option.
"You talk about universities that do their own dining, I was at one at [Yale University] and as the provost of Yale, it is a very expensive option," Hamilton said.
Hamilton Comments on WSN's "Exaggerated Coverage"
After one student asked how Hamilton could justify putting money toward opening a campus in Los Angeles while students struggle to pay for tuition, Hamilton said that NYU is not opening a campus in Los Angeles and that WSN "exaggerated" in its coverage.
In Hamilton's talk at an Administrative Management Council Fireside Chat on Nov. 6, he alluded to an expansion of NYU's — mainly Tisch's — current presence in Los Angeles. NYU spokesperson John Beckman confirmed to WSN in an email that the university planned to look for "spaces for an academic hub — which could also serve as a locus for alumni activity — and for student residences."
In a more recent press release sent to WSN, Beckman further alluded to student dormitories, classrooms and a "hub" for student activity.
"NYU is renting space for both an academic center and nearby student housing in the La Brea area of Los Angeles," the press release says. "The main facility, in addition to being the location for classes, will serve as a center for student programming and a hub for NYU alumni/ae in the Southern California region."
Email Victor Porcelli at [email protected].