Vigil Held in Remembrance of Stephon Clark
A vigil was held in the Kimmel Center for University Life on April 2 in honor of Stephon Clark. Sacramento police killed the 22-year-old African-American man after firing 20 rounds at Clark in his grandmother's backyard on March 18 while he was holding a cell phone, which authorities initially claimed was a tool bar.
An independent autopsy came out on March 30 which showed that eight of the 20 shots fired by two Sacramento Police Department officers struck Clark, primarily in his back.
In a vigil organized by several university organizations, including the Center for Multicultural Education and Programs, the Office of Global Spiritual Life and the Black Student Union, a crowd of nearly 100 students and community members gathered to remember Clark and speak out against the shooting of unarmed people of color.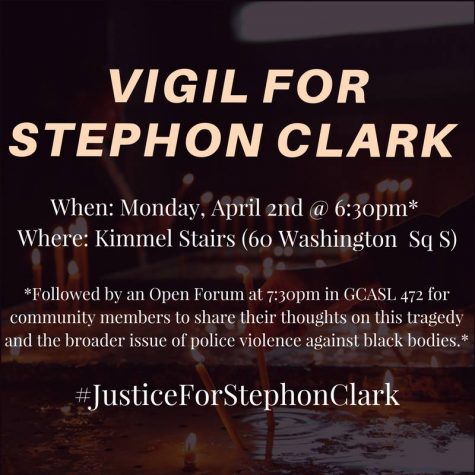 The vigil was followed by an open forum in the prayer room in the Global Center for Academic and Spiritual Life, where students were encouraged to join in solidarity and share their thoughts.
Steinhardt junior and Black Student Union member Aminata Kebbeh began the event by calling for audience members to push for the same level of accountability that hundreds of thousands of people demanded last month in nationwide March for Our Lives demonstrations.
"When 17 people were murdered in Parkland, Florida, we did not blame the victim," Kebbeh said. "We advocated for the NRA being tougher on gun violence and holding the shooter accountable. Well, guess what? I want the same to be done when unarmed black people are killed by police officers."
Steinhardt senior and Black Student Union president Zaria Watkins, who attended high school just one mile away from Stephon Clark, acknowledged how easy it is to remain unaffected by the police shootings, especially when news broke the week after Clark's death that Baton Rouge police would not face charges for the death of Alton Sterling in 2016.
"It's easy to become numb or desensitized to these deaths that seem to come one after another," Watkins said. "But we cannot allow this modern-day lynching to become the new normal."
On the contrary, she says the shooting of the father of two has had a drastic impact on her hometown, even if it has been difficult to see.
"The damage Stephon Clark's death has left in Sacramento is similar to a nuclear blast: My city is broken," Watkins continued. "The anti-blackness that rested just below the surface in the capital of one of the most liberal states in America has now been brought to life."
One of the students in attendance, CAS senior Terzel Ron, said the need for another vigil is disheartening.
"Unfortunately, we have way too many of them for the same exact situation," Ron said. "It's sort of difficult to measure progress according to the numerous ceremonies that we've had."
After others had taken the podium to speak and lead the audience in a moment of silence for Clark, CAS senior and vice president of the Muslim Students Association Mariyamou Drammeh ended the vigil with a wish for Clark to be remembered as a person, not a statistic.
"He was not just a black body," Drammeh said. "He was a black father. He was a black brother. A black son."
Email Sarah Jackson at [email protected]