Taking Burgers to the Next Level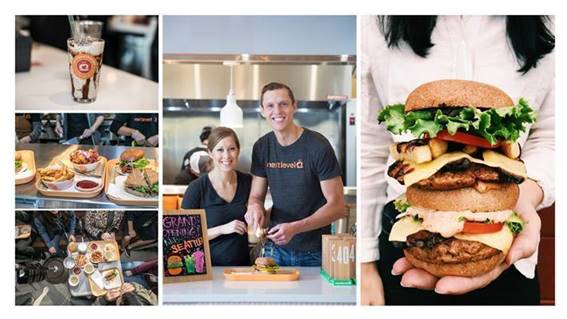 The first burger in the history of America was believed to be created by brothers, Charles and Frank Menches, in Hamburg, New York in 1885 when the pair ran out of food to sell. The brothers improvised, customizing a patty to make a sandwich. Although many other hamburger-makers around America have claimed that they invented the burger, making it extremely hard to pinpoint the origins of a food so popular all around the world, there is no denying that the burger evolved from the meat and bun combo back in the 19th century.
Fast-food chains, like Burger King and McDonald's, changed the way customers perceived burgers by pairing burgers with fries in a more fast, casual dining experience rather than the typical sit-down restaurant. Places, such as Shake Shack, showed the versatility of a burger with vegetarian options and endless toppings. Now, another burger joint is completely changing the way we see burgers once again.
The Oregon-based burger chain, Next Level Burgers is opening their first East Coast location in New York City on Jan. 31 in the Fort Greene Whole Foods 365 market at 300 Ashland Pl. The chain is taking burgers to the next level by using only plant-based ingredients like tempeh — deep fried fermented soy beans — and beet juice.
According to its online menu, all of its burgers are served with green leaf lettuce, roma tomatoes and red onions on a sprouted whole grain bun. After this base is covered, there is a variety of burgers available like 'The Signature' with a house-made umami mushroom and quinoa patty topped with avocado, cheddar-style cheese and roasted garlic thyme mayo or 'The Mexicali' with a house-made black bean and veggie patty topped with creamy guacamole and jalapeno mayo. The chain also offers three different type of fries — crinkled, tots and sweet potato, shakes and chilli peppers.
The chain is the child of of Matt and Cierra de Gruyter, who wants healthy, sustainable and delicious food for their family and for everyone else. Next Level Burger prides itself on being eco-friendly with its compostable packaging and reclaimed wood tables. If you want to redefine the classic American burger experience and have a guilt-free, healthy burger, make sure you keep an eye out for Next Level Burger in these upcoming weeks.
Email Yasmin Gulec at [email protected]