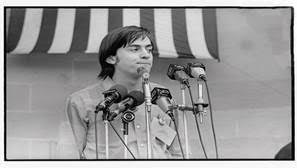 A metropolis of eight million diverse inhabitants, New York City is a city of stories — some told over and over, some erased out of memory and some left neglected. Such is the story of Mayer Vishner, a New York City native whose dreams of a revolution for personal liberty and political independence withered in a dilapidated apartment on Macdougal Street.
In Justin Schein's intimate 2015 documentary "Left on Purpose," we meet the former activist and counter-culture aficionado now struggling with depression and alcoholism. In his youth, Vishner was a propagator of the Vietnam War protests who wrote anti-war manifestos and organized meetings and rallies. Later, he joined the Youth International Party — also known as The Yippies — and he labored diligently behind the scenes to promote their anti-establishment agenda.
If it wasn't for Schein's personal interest in the Yippie movement, Vishner's story would probably have remained unknown. Digging through archives and years of neglect, Schein recovers a man eager to speak about his past, but who is less willing to live in the present. When we first encounter Vishner through Schein's handheld camera, he proudly tells of his early activism, despite taking little care of its physical remains — flyers and mementos that remain stashed in messy piles, stuffed into unopenable drawers and stored away in a warehouse.
Although there is undeniable legacy in Vishner's work, he doesn't see a way — or even the point — of making it visible. As the political climate shifted gears after the war and the Yippies disintegrated, Vishner was left adrift. He continued spreading his political agenda, but the reception and impact were diminished. The feelings of uselessness and separation from current social consciousness took its toll on the man whose actions used to matter.
When Schein first comes to Vishner with the intent of making a biographical documentary, the latter is shackled by his depression. About one-third of the way into the film, he reveals his plan to commit suicide.
From that point on, the documentary ceases to be a straightforward biography and Schein steps into the picture with a feeling of urgency. In the ongoing dialogue between the filmmaker and his subject, we learn the difficulties of maintaining a relationship where boundaries between the professional and the personal are blurred. Schein is forced to walk a tightrope between maintaining his initial promise about the film and realizing that he may be unable to do so given that Vishner could use it as a way to make his suicide public.
As a warning to Schein, Vishnu states "You said this was a two or three-year project, and it may be for you, but it can't be for me."
Later the filmmaker wonders, "Where does that leave me?"
By staying open about their intentions, the two men make the documentation of their tense friendship honest, although not easy to watch.
What makes "Left on Purpose" interesting is precisely its candid address of moral ambiguities. The longer Schein films, the more his film focuses on the ethics of an on-screen relationship along with Vishner's struggle with depression. Instead of flaunting the filmmaker's moral query, the constant question of turning the camera off is a real issue. Nonetheless, we are not left with a black screen as Schein realizes that the camera might serve as a tool in fostering the much needed connection between Vishner and the outside world.
The stakes for this film are high: we are no longer faced simply with a story but a man's life. While Schein tries to convince Vishner not to commit suicide, the audience needs to remain sensitive to Schein's unwanted responsibility while simultaneously questioning the documentation of these moments, especially when its subject may not live to see the finished product. Schein succeeds in maintaining a sense of intimacy and respect for the neglected life Vishner makes public.
"Left On Purpose" will premiere in New York on Friday, Feb. 10 at Cinema Theaters.
Email Zuzia Czemier-Wolonciej at [email protected]