"Becoming Warren Buffett," an Inspiring Story about an Inspiring Man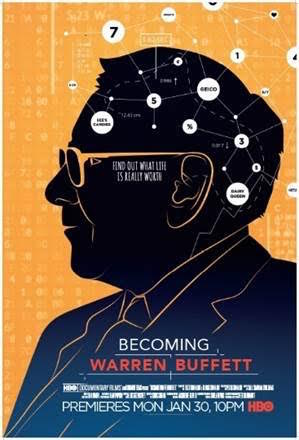 Warren Buffett is to the finance world what Roger Federer is to tennis, what Cecil B. DeMille is to film, what Albert Einstein is to physics. Buffett is someone that every business person aspires to be. His legacy is far-reaching. HBO's documentary "Becoming Warren Buffett" details how this extraordinary man became one of the leading figures in business and stayed there for 50 years and counting.
Though the film highlights successes in Buffett's career, it also delves deep into his personal life, beginning with his childhood in Omaha, NE and the family he started later in his life. The personal portions of the documentary reveal the man behind the image and provide viewers with a moving portrayal of a figure who often seems too surreal to be understood.
Viewers first meet Warren Buffett in his Cadillac, mid-drive on his five-minute commute to work. Every morning, his wife gives him one of three amounts: $2.61, $2.95 or $3.17. Depending on which he receives, he buys a particular breakfast sandwich from McDonald's. On the days when the market is down, he opts for a cheaper alternative from the menu. This is a small moment in the film, but it demonstrates Buffett's practical nature: he doesn't require much to be happy, especially not money. He is inherently fascinated with the workings of investment and the stock market.
In the film, Buffett's most surprising quality is his humility. Most billionaires do not receive words of high praise in present times, but Buffet is an exception — for good reason. Through interviews with Buffett and his family members and accompanied by old photos and home videos, the documentary makes it clear that Buffett is a remarkable individual. From his days as an 11-year-old entrepreneur to his current status as CEO of Berkshire Hathaway, his conquests have never been about the money. As the film says, money was a way of keeping score, like points in a basketball game.
To further support this sentiment, in 2006 Buffett donated more than $30 billion to the Bill and Melinda Gates Foundation, to fulfill the wishes of his late wife, Susan Buffett. Although stock investment stocks might not seem like the most charitable pursuit, "Becoming Warren Buffett" proclaims that Buffett has changed — and continues to change — the world. Buffett says himself, "The other 99% [of what I make] will go to others because it has no utility to me."
Through interviews with Buffett, audiences learn that he is a normal man with a normal life: raising children, driving to the office, cracking jokes. Yet, behind all of that is an exceptional mind that functions at a level most cannot comprehend. At 86 years old, Buffett is still healthy and always ahead of the times.
"Becoming Warren Buffett" shines when it focuses on Buffett's qualities as a human being, and how those qualities shaped him, ultimately leading him to great success. By the end of the documentary, we can't help but feel a deep admiration for Buffett — a man who devotes himself to bettering the lives of those around him.
Email Daniella Nichinson at [email protected].