A Cause That Will Stick With You: Street Art Project Raises Refugee Awareness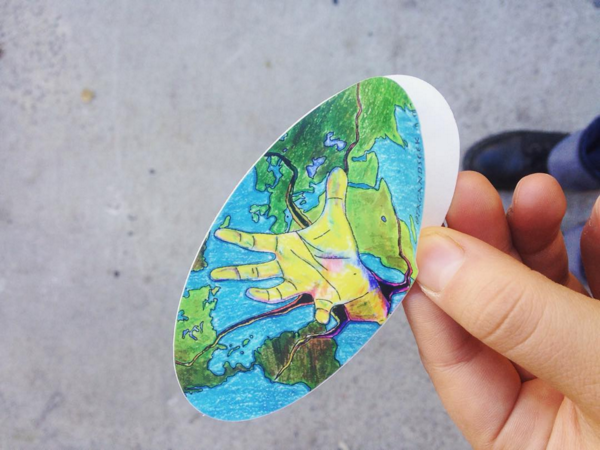 NYU students gathered at Jolie's, a nightclub in East Village, on Thursday night to raise money for humanitarian aid for the Syrian refugee crisis. "Tag and Seek,"a street art project started by GLS senior Madison McCormick, aims to raise awareness of the Syrian refugee crisis.
McCormick started the project as a part of her senior thesis on street art. When she looked into how people used public space to reflect and foster dialogues on social issues, she realized she could practice street art to gain a better understanding of street art's usage as a channel of expression.  
The Syrian refugee crisis began making headlines in 2015, but McCormick said she felt the coverage of the crisis from media outlets in the U.S. failed to provoke a reaction from the audience. It was then that she decided to focus her street art on raising awareness of the human toll of the Syrian refugee crisis.
McCormick's medium of choice is the sticker, which she said is easy to distribute but not harmful to its surroundings. Stickers are also easily replicable, McCormick said, so the design can be placed on walls all over the city.
Her sticker design is an oval-shaped sticker with hands ripping through a cracked, fragmented world map.
"This is playing with the idea that refugees and immigrants disrupt previously established borders," McCormick said. "The hand reaching shows a sense of hopelessness, but also the hope for a new chapter."
On Tuesday, McCormick received a Social Impact Grant from NYU to help her continue the project. However, she said was not worried about money. She is more concerned with how to keep people engaged with the project's development.
"I don't want 10,000 followers who are not engaged in what is going on," McCormick said. "I think the hardest part is to get the right people interested in this project."  
McCormick said she hopes people the project would start a conversation about the crisis and people would raise awareness by sharing and distributing stickers.
Last semester, McCormick got involved with the Syrian Refugee Awareness Week at NYU and sold her stickers during the week. The sale raised around $200 and proceeds went directly to the International Rescue Committee and the United Nations High Commissioner for Refugees. McCormick said she trusted the major organization to bring refugees the relief they need to succeed.
Gallatin senior Kate DeYoung said she anticipated McCormick's use of the medium of street art would provoke interest in the crisis.
"I think it's different," DeYoung said. "It's not something that has been done before, especially on the refugee crisis. It's innovative and unique."
Stern senior Michael Catenacci said that before knowing "Tag and Seek," he only knew about the refugee crisis from news headlines.
"It opened my mind how powerful this age is," Catenacci said. "We can affect people through what we do. Raising awareness is essential to any effective changes to start."
Email Yulin Lou at [email protected].