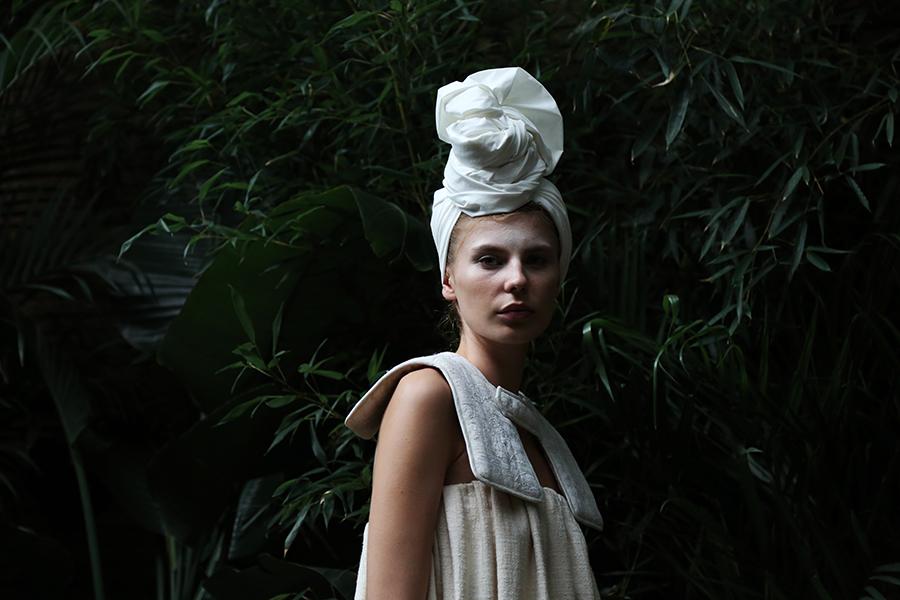 TiA CiBANi's Spring/Summer 2016 presentation felt much more like a tropical paradise than a quaint Chelsea venue. Decorated with lush greenery, colorful woven planters and hanging ceramic ornaments, the space provided the perfect backdrop for the designer's collection.
Tia Cibani cited the people of Bahia, Brazil as an inspiration behind her latest designs. Drawn to the region's juxtaposition of festivity and serenity, Cibani incorporated elements of both the colorful and the calm within her presentation. Models sported minimalist makeup, wearing only a delicately painted white veil over the top halves of their faces. Their hair was braided in intricate, yet not overly ornate updos. Some donned bright headscarves; others wore nature-inspired decorative hairpieces. All wore foam slides by Birkenstock.
The collection hosted a range of both colorful and monochromatic looks. A particularly stunning piece was a cotton circle skirt with a multicolored print. The brushstroke design achieved the perfect balance of whimsicality and wearability. To pull the look together, the skirt was paired with a simple billow-sleeved tunic.
Other looks included crisp cotton linens in shades of ecru and black, while one outfit incorporated a unique silk collar featuring hand embroidery. Cibani noted how this collar was directly inspired by Bahia, as the women there often wear almost Victorian-looking collars. The designer maintained a subtler aesthetic by allowing the collar to rest along the wearer's decolletage, rather than reach towards the neck.
Overall, TiA CiBANi's Spring/Summer 2016 collection radiated a relaxed and tropical spirit. Her designs achieved a refreshing harmony of both liveliness and tranquility.
Katherine Halpern is a contributing writer. Email her at [email protected]