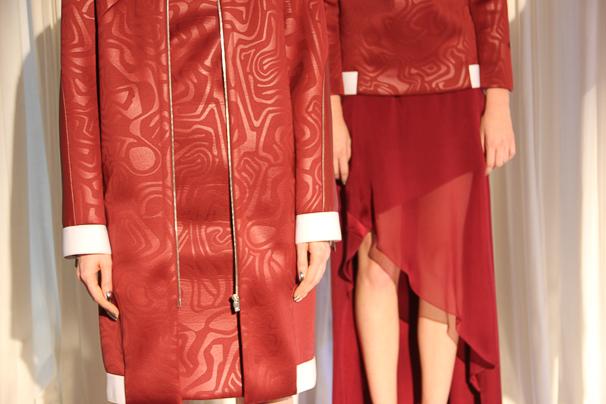 Emerging Israeli designer Daniel Silverstain transported spectators to Brazil with a Spring/Summer 2015 presentation set in his private Chelsea-Garment District atelier.  Each of his stylish looks modernly bridged the cultural gap between the 1960s and the future.
Silverstain's previous designs encompass the same futuristic theme but with rigid lines and abstract geometric shapes. In this presentation, he explored more languid materials with silks and mesh, which sat loosely and shaped accordingly to the models' bodies.  While some designs boasted curvaceous patterns as opposed to the usual stark linearity, the designer maintained his A-line cuts, shifts, and chinos.  Metallic accents have yet again found their way into this collection, forming the edging of trousers and dresses while remaining the main material for vests and blouses.
The minimalist, white studio space and relaxed 1960s retro music allowed the looks to be the central focus, especially with neutral pales and dark blues washed away by vibrantly rich crimsons and deep rusts.  Brazil, according to Silverstain, is "bursting with color."
Although he wanted to travel there, he could not and instead strove to portray a shift in the prevalent mindset from one that focused on a good life to one that anticipated the future.  These themes and ideas set up the basis for his juxtaposition of deep, earthy colors and textures with the more futuristic microfibers and metallic sheens.  And as for the silver accents?
"I love silver because it's in my name! I always put silver in my collections," Silverstain said.
The most eye-catching look of the night was a suggestive, silky white blouse paired with a translucent white nylon parka and white grid-lace tuxedo sweatpants.  Daniel Silverstain is certainly one to watch out for as he adds his own twist to styles of the past.
Email Anjali Jain at [email protected]