Lady Gaga performs intimate set at Roseland Ballroom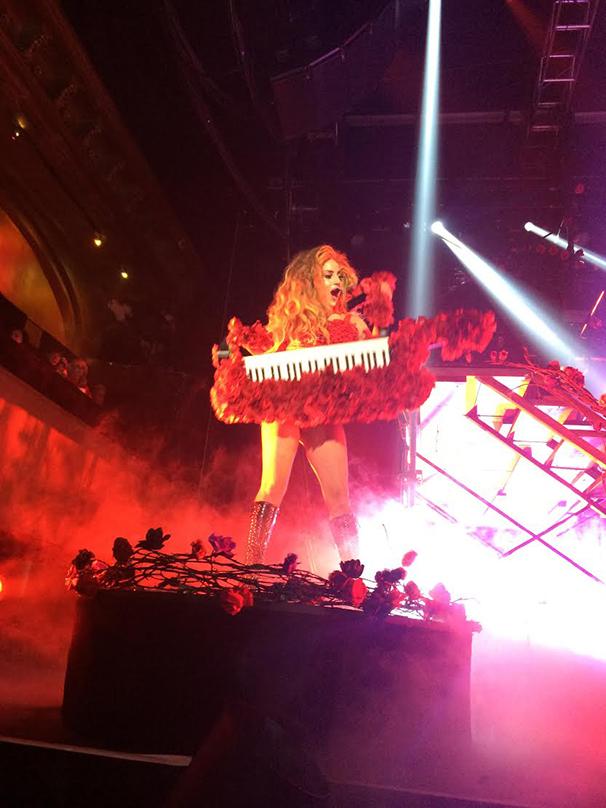 Lady Gaga took the stage for her first of seven shows at the Roseland Ballroom, a residency that will last until the closing of the venue, on March 28.
The promotional media for the residency features a photograph of Gaga before she became famous, establishing the theme of a celebration of Gaga's journey, which began in Lower East Side bars and clubs after she left NYU. Her ability to take the stage at Roseland can be seen as a chance to look back at her successful career.
Gaga's entrance was, as expected, theatrical and unique. From the top of her scaffolding-style set — accompanied by two staircases, a piano and a walkway on top — a cabaret-inspired spotlight shone on a white door, which slowly opened to reveal Gaga. As she began the set with an acoustic version of her anthem "Born This Way," the crowd erupted with energy, reciprocating Gaga's emotional enthusiasm.
This performance was not about promoting her latest album, "ARTPOP," which is what many audience members may have been expecting. In fact, only four of the 11 songs performed were from the singer's latest album. It seemed as though Gaga chose songs to lead the audience on a journey through her career.
Older tracks, like longtime fan favorites "Black Jesus + Amen Fashion" and "Monster," were also performed. Gaga selected songs to make a careful combination of the old and new, including performances of "Just Dance" and the piano version of "Poker Face," popularized during her first "Fame Ball" tour.
Halfway through the performance, Gaga moved to a side stage, which was equipped with a piano positioned in front of an F train subway car. Surrounded by fans who purchased this special seating area, Gaga performed two ballads, "Yoü and I" and "Dope." She dedicated the songs to her Little Monsters, who sang along and witnessed a moment that was clearly special for Gaga.
Her costumes were as bold and outrageous as fans have come to anticipate. Sporting a mermaid-style brown wig with neon green streaks, Gaga debuted outfits that ranged from a red rose bustier to a disco bra paired with a yellow, '80s-style suit. Though evolving her look and sound, Gaga took the time to return to her roots with older material, bringing a strong sense of nostalgia to the performance.
For Gaga, the show was a perfect New York City comeback, and the opening date landing on her birthday was truly fitting. For the audience, it was a happy celebration of art, music, freedom and fans. In honor of a venue with such historical significance to New York, Gaga's intimate set left her Little Monsters awed and appreciative.
A version of this article appeared in the Wednesday, April 2 print edition. Dana Reszutek is beauty/style editor. Email her at [email protected]