NYU community mourns alumnus Philip Seymour Hoffman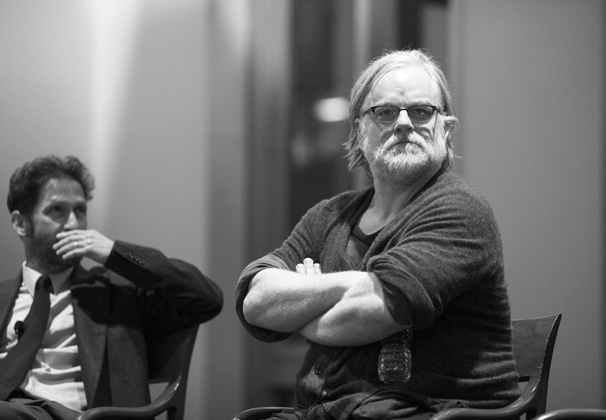 The Academy Award-winning actor Philip Seymour Hoffman died in his New York City apartment yesterday around 11:30 a.m. The cause of death appears to be a drug overdose as Hoffman, 46, was discovered with a hypodermic needle in his arm.
Hoffman had a history of substance abuse, reaching as far back as his days at NYU — he graduated from the Tisch School of the Arts in 1989. Soon after finishing his studies, Hoffman checked into rehab and had been sober until a relapse in 2013, which he discussed in an interview with TMZ.
Before his death, Hoffman was working on several projects, including the final installments of "The Hunger Games" film saga, "Mockingjay" parts one and two. In addition, two films starring Hoffman, "God's Pocket" and "A Much Wanted Man," recently premiered at the Sundance Film Festival.
Highly respected for his skills as a character actor, Hoffman has given profound performances throughout his career. A prolific actor on both stage and screen, Hoffman won an Oscar in 2006 for his leading performance as the titular character in Bennett Miller's "Capote."
The actor also received three Oscar nominations for Best Supporting Actor and three Tony Award nominations for various productions on Broadway. He was most recently seen on stage in Arthur Miller's masterpiece of modern tragedy, "Death of A Salesman," and was nominated for the Best Leading Actor Tony Award in 2012.
Steinhardt sophomore Delaney Parker said she was particularly moved by Hoffman's performance.
"It was shocking and deeply painful to hear the news about Hoffman this afternoon," Parker said. "It's surreal being in the neighborhood where this tragedy took place. He was a tremendous talent that will be sorely missed by not only the performing arts community, but the New York community as well. Seeing his Willy Loman on Broadway was chilling. His riveting performance inspired me and reinforced my love for live theater in New York."
Hoffman has long been praised as one of the greatest actors of his generation. Perhaps what most distinguished the man from his colleagues was his impeccable judgment in choosing projects.
"He's just one of the best actors," Tisch junior Gabriel Cuzzillo said. "He was in consistently good stuff for 20 years, which is hard to say about anybody else."
Mary Schmidt Campbell, dean of the Tisch School of the Arts, issued a statement after his death, sending condolences to Hoffman's family.
"We at NYU Tisch are shocked and saddened to learn of the death of Philip Seymour Hoffman," Campbell said. "Phil was not only one of the great actors of his generation, but was also committed to inspiring the next generation of artists.
"As his career blossomed Phil maintained a close relationship with his alma mater. Just a couple of weeks ago he met with a group of Tisch faculty to learn more about the school's plans for the Institute of Performing Arts Center."
Hoffman is an inspiration to both NYU and the larger artistic community, and he will be greatly missed. He is survived by his long-time partner Mimi O'Donnell and their three children, Cooper Alexander, Tallulah and Willa.
Clio McConnell is arts editor. Ife Olujobi is film editor. Email them at [email protected].