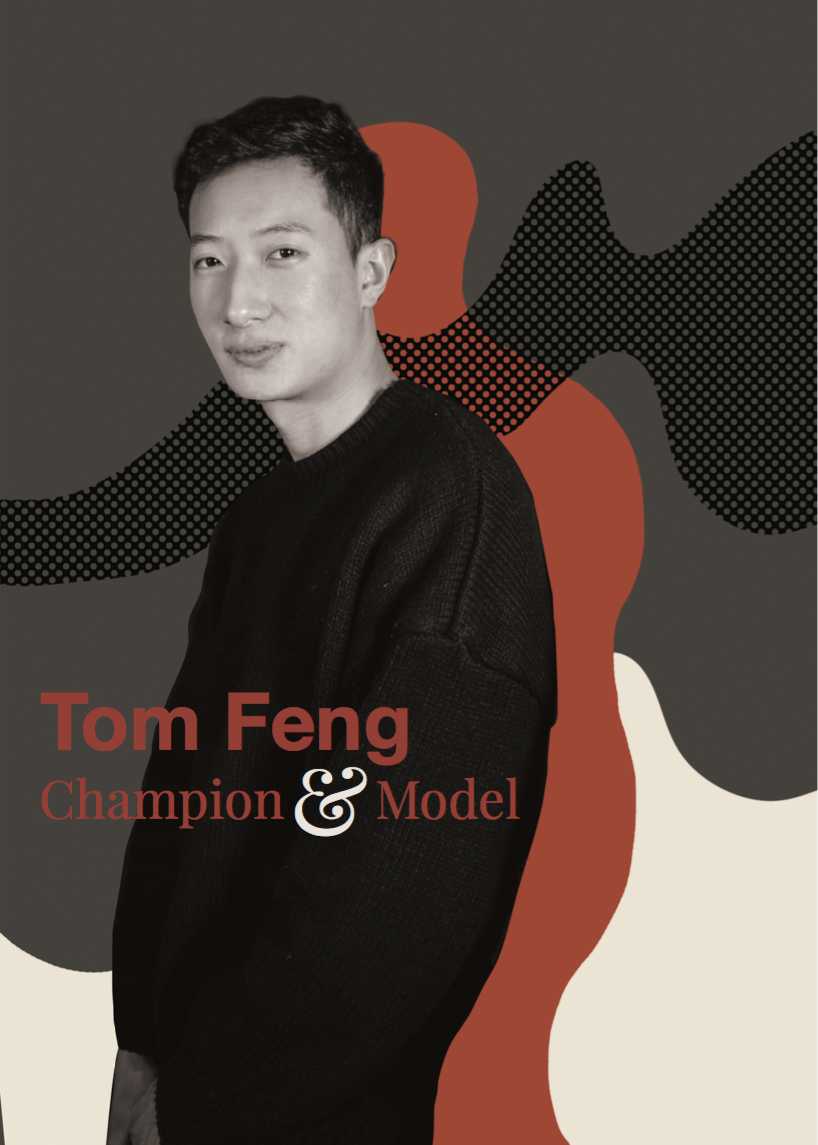 The Soft-Spoken Olympian
By Bela Kirpalani, Deputy Managing Editor
Whatever you do, don't challenge Tom Feng at table tennis. Trust me.
Under the dimmed lights of Spin New York, a table tennis bar in Gramercy Park, Feng casually whipped a ball across the table, using a miniature paddle, not even glancing down as he served it to me. Effortless swag.
He remained remarkably calm the entire time. But when you've been to the Olympics, I guess a little game of ping pong against a nobody in a bar doesn't really faze you.
Later, as lo-fi beats blared in the background and balls flew in every direction, the 22-year-old floated effortlessly through the crowd of drunk corporate employees at Spin, where he works with various patrons, organizing games and managing private events. At 6 feet 1 inch tall, it's easy to pick him out in his gray sweater embroidered with the Olympic rings on the chest. Clipboard in tow, he tallies scores, chats with clients and watches on, slightly amused, as the amateurs struggle to keep a rally going.
As the SPS junior stood calmly beside me, a man approached and joked, "I played this guy earlier," gesturing to Feng. "He beat me, but I was holding back." As the man chuckled and walked away, Feng flashed me a wry smile. "That's what they always say," he said.
Feng — who has also worked as a model — seems to revel in the spotlight. At first, he politely obliges whenever someone wants to challenge him, before gradually turning up his game and pulling out some neat party tricks. He hit the ball between his legs, generated wicked topspin on some strokes and even eventually pulled out his iPhone from his pocket and used it as a paddle, sparking "oohs" and "ahhs" from onlookers and flustering his bewildered opponents. After the fun is over, though, Feng always shakes the hand of his opponent before fading back into the background — well, as much as someone at his height can fade away.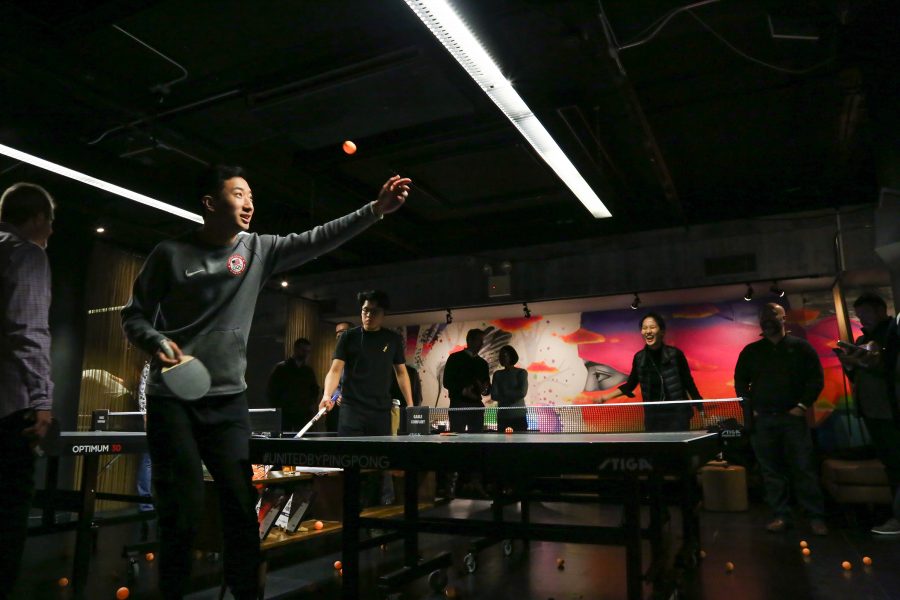 From an early age, Feng's dream was to make it to the Olympics. In the run-up to the U.S. Olympic qualification, Feng trained six days a week, eight hours a day, broken down into three sessions per day. Even on his day off, he would still get in a light workout. The countless years spent practicing, day after day, hour after hour, hitting ball after ball until he was past the point of exhaustion were not for naught. In fact, to Feng, they were just par for the course.
"If I didn't play in the Olympics, I would think that my 15 years of playing was a waste," he said. "It doesn't matter if you became a national champion or something. That happens every year. The Olympics happen every four years, and in four years, things [can] change so much."
But before the Olympics, before the National Championships, before he left China for the United States, Feng got his beginnings in table tennis on an old table in his dad's office. When he was just six years old — about the height of a ping-pong table — he would tag along to work with his dad, Jinhai Feng, who would serve him the ball, only to have it bounce off his little head.
The six-year-old was hooked.
"At first it was just a hobby, but then I got good," Feng said. "And when you get good, you want to be better."
A shy boy, Feng grew up an only child, and as a result, became very close to his parents, whom he considers his biggest supporters. When he was a young and upcoming player, they would take road trips together to different tournaments across the United States. Feng shuttled back and forth from China, a difficult experience for any child — constantly jetting off to a foreign land just when he was making friends and settling in at home.
The U.S. wasn't always a kind place to Feng — when he was 8 years old, a group of parents from Dallas started a petition to prevent him from competing against their children because he was not a U.S. citizen, nor did he attend school in the country.
After becoming a U.S. citizen when he turned 18 in February 2015, he was eligible to compete in the U.S. Nationals competition in Las Vegas. He showed out, winning the under-21 men's singles, adult men's singles, men's doubles and mixed doubles titles.
"I stopped playing in tournaments because of that petition for six or seven years," he said. "That time was really hard for me. I thought about quitting, but I didn't quit. And then when I won my first U.S. Nationals [in 2015], it was kind of like a revenge thing for me."
After the tournament, he became the number-one ranked U.S. men's player, and competed in the North American Olympic Qualification tournament in April 2016.
Feng picked up his paddle and stepped up to the table. The pressure was immense. His lifelong dream was on the line. Then, on the first day of competition, Feng lost.
His confidence was shot — it felt like someone poked a needle into a balloon, and his hope was leaking out. After all, he was only 19 years old. That night, Feng couldn't sleep. He tossed and turned, stressed about his future in the tournament, but also giddy at the prospect of fulfilling his dream of qualifying for the Olympics.
"It's hard to describe the feeling," he said. "I was half-sleeping and also dreaming about possibly qualifying."
Feng knew there was no point thinking about the loss and woke up the next day fully charged, raring to go. With only one objective in his mind and his parents looking on, he swiftly defeated his next three opponents to help the U.S. win the North American Olympic Qualification, sealing his spot at the 2016 Olympics in Rio de Janeiro.
He launched his paddle into the air, looked up to the sky with tears in his eyes and leaped over the barrier to embrace his parents.
It was over. His dream was complete.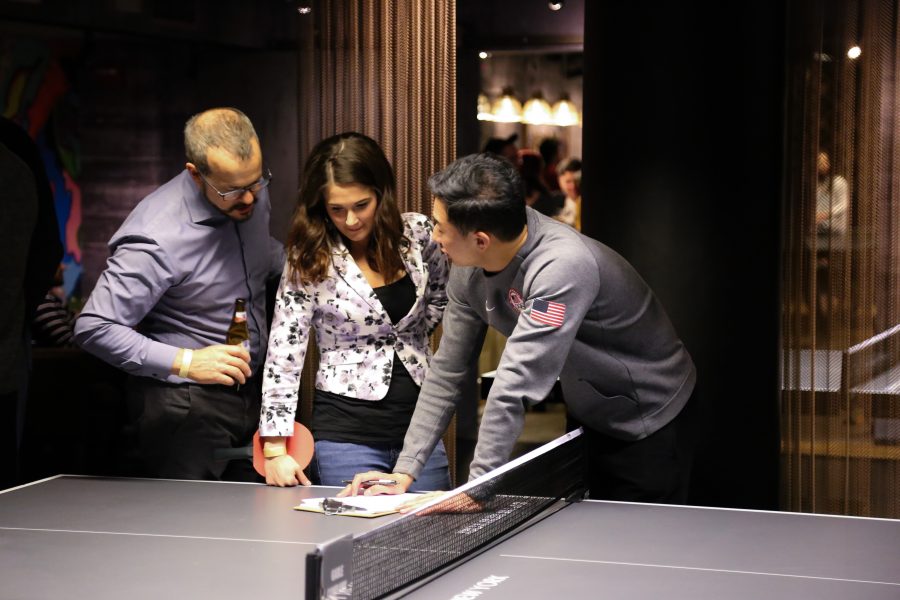 The six-year-old who first fell in love with table tennis when he could barely see over the table now towers over his parents, but he never outgrew his dedication. Thirteen years of training, pain and an everlasting hope had led up to this moment.
"That was my proudest moment of Tom," his dad said.
A few months later, Feng made his way to Brazil for the Olympics. On the journey over, he was surprisingly relaxed, even managing to fall asleep on the plane.
However, once he attended the opening ceremony, he was in awe of the immense athletic prowess that surrounded him.
Feng was suddenly face-to-face with icons he had grown up watching and hearing about. "Michael Phelps, Kevin Durant, Simone Biles," he said, just to name a few.
Through it all, Feng remained steadfast, never wavering because he knew how much his success would mean to his parents who had sacrificed everything for him.
"I could see how proud they were in the [Olympic] village," he said. "They smiled like never before."
Olympian, U.S. Nationals champion, former top-ranked ranked U.S. men's player, runway model at New York's and China's Fashion Weeks — Feng's list of accomplishments goes on. But as I sat across from him at an East Village coffee shop, he talked to me about how he spends his free time; playing "League of Legends," working out at the gym, watching movies in his Long Island City apartment and spending time with his girlfriend.
'He's just like us,' I thought.
But he is not just like us.
During his sophomore spring semester, Feng began to play table tennis professionally while simultaneously attending NYU. He signed with an Austrian Club, TTC Wiener Neustadt, to play in the Austrian Division I League. During this time, Feng balanced school, professional table tennis, NYU's table tennis team and the U.S. team in international competitions.
"Basically, after recitation on Fridays, I would go to JFK [John F. Kennedy International Airport], fly 16 hours, land in Austria and then take a train to Vienna to go and play," he said. "Then the next week, I [would] come back from Sweden at midnight, take an Uber from JFK to my apartment and then pull an all-nighter to study for my economics final."
Talk about an exhausting way of life. Suddenly turning serious, Feng spoke with a sense of clarity and maturity.
"If you don't understand yourself or what you want, you won't succeed," he said.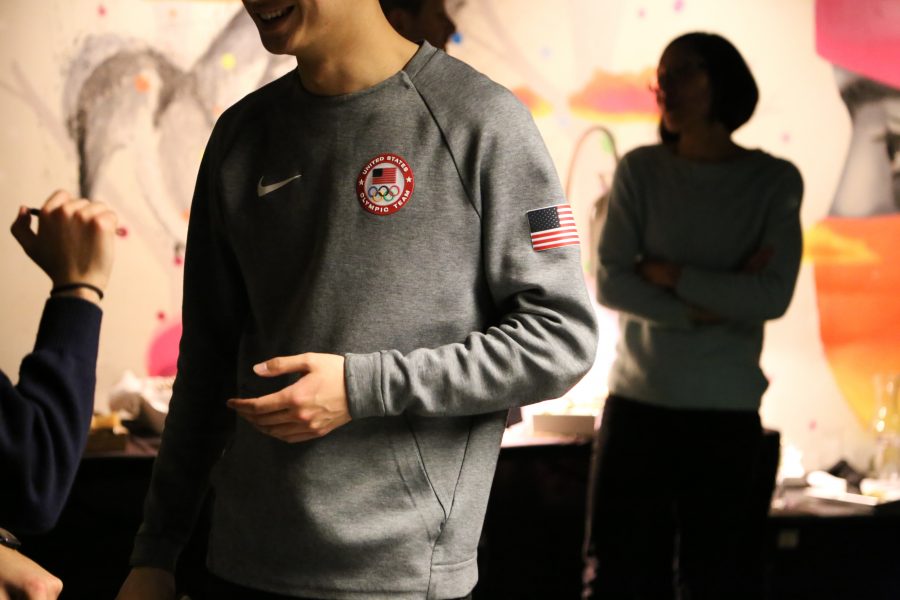 Feng led NYU's table tennis team to its first College Table Tennis National Championship in August 2018, motivating his teammates, who subsequently improved thanks to his commanding presence. Feng's passion for the game runs deep — when he plays a match, his inner child comes out to play as well.
"I remember after the last point in [the] championship, he threw his paddle [up] and jumped up and down together with us," NYU Table Tennis Head Coach Yan Gao said. "He was so excited. I've never seen him like that."
Despite experiencing triumphs on the world stage and attaining international recognition, Feng still finds comfort in being a part of NYU's table tennis team.
"Representing NYU feels different," he explained. "You belong to a team here, and when I compete outside [of NYU] I'm always either representing the U.S. or myself."
Looking back on his career, filled with exhausting 10-hour days of training, flying all over the world and time spent away from his friends and family, Feng wouldn't change a thing.
Before we went our separate ways, I asked Feng what lies ahead for him. He took a moment to respond, breathing in the frigid February air.
"After you've just fulfilled one of your dreams, it's hard to figure out what's next."
For now, Feng hopes to take a breath and be a normal college kid for once. But this college kid just won NYU the Northeast Regionals — for the second straight year.
Email Bela Kirpalani at [email protected]. A version of this article appears in the Thursday, March 14, 2019, print edition on Pages 16 and 17. Read more from Washington Square News' "Up-and-Comers 2019."