With T-minus three hours until prom, Lindsay Karchin had a daunting task ahead: her sister's prom makeup. The clock was ticking. They debated the pros and cons of having her hair up versus leaving it down. Then, they had to make sure the makeup would match the color scheme of her light orange and blue floral dress. After serious debate, Karchin finally came to a decision — she wanted her sister to go big and bold with a smokey eye.
The bedroom transformed into a studio. Karchin, who wears minimal makeup on her poreless and freckled skin, hardly looks like the type to be skilled at the ever elusive smokey eye. Her drawers of eyeshadows, creams and glitters emptied as she emerged with a brush and product in hand. She applied black eyeshadow along her sister's lash line, blending the pigment out toward her crease to create a gloomy, sky-like gradient. To add dimension and a pop of color, she packed a bit of shimmer on the center of her eyelid.
"She has beautiful hazel eyes," Karchin said of her sister. "I wanted to bring out the green so I had a metallic-y purple to highlight that and even a little bit of copper as well."
While she is an artist with her hands, her vision and many Urban Decay palettes, Karchin got her start in makeup through another art form — dancing. Beginning at the New Jersey School of Ballet at the age of three, she went from baby bunhead to serious student when the American Ballet Theatre accepted her into its Jacqueline Kennedy Onassis Pre-Professional Division when she was 12 years old. Karchin worked her way through the ranks of the school and studio company and finally achieved the status of apprentice. She then transferred to Tulsa Ballet's studio company and eventually moved to Germany as a company member with the Stuttgart Ballet.
Backstage in the dressing rooms, underneath the vanity lights and behind racks of tulle costumes, Karchin first learned the art of stage makeup. The basic looks include a pancaked face, bold red lips and thick false eyelashes to ensure the dancer's facial features can be seen under harsh fluorescent lighting and from the nosebleed seats in the balcony. Before each performance, dancers paint their faces with layers of liquids and powders that can endure the hours of sweat and possible tears — it's a bonding experience, to say the least. Karchin remembers feeling lost when she sat down with the slew of brushes and products. She knew what stage makeup was supposed to look like but was confused about the mechanics of creating a look specific to her face.
"You're on your own about how to accentuate your own features," Karchin said about applying makeup for the first time. "You gain an intimate knowledge of the cosmetic industry in that way."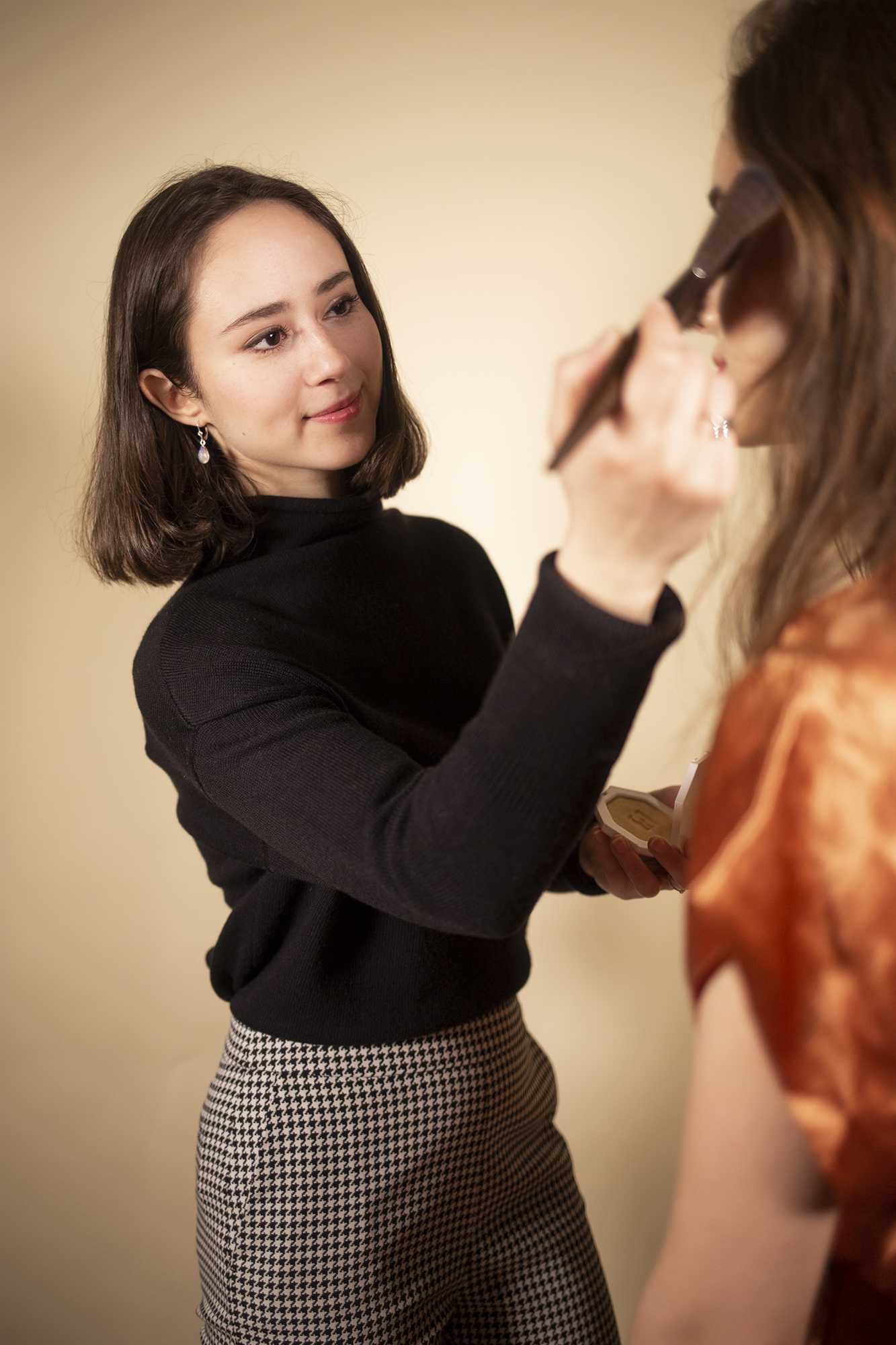 A Gallatin senior, Karchin first came to NYU knowing she eventually wanted to break into the beauty business. Her concentration in Marketing and Social and Cultural Analysis and minor in Gender and Sexuality Studies have allowed her to dive deep into the social, economic and psychological aspects of cosmetics — she brags about how one of her class assignments consisted of going into Sephora and talking to customers.
However, Karchin craved more concrete classes in makeup education and application. In 2014, she completed a brief certification program with Make Up For Ever that launched her freelance job. Her work and studies brought Karchin to a summer internship with Amazon, which later offered her a job after graduation. However, after learning about an opening with The Estée Lauder Companies and going through a few rounds of interviews, she knew she had found her dream job. In September, she'll join the company as a Presidential Associate, working on its digital team where she'll learn about different brands under the Estée Lauder umbrella.
Karchin's journey wasn't free of imperfections. She learned the importance of thinking on her feet — or with her hands  — on the first day of her first job working for Tisch alumnus David Chasmar on his film thesis, "A Mormon Story." Karchin arrived on set prepared to do clown makeup — which she thought was required. She was thrown a curveball when told that the female lead required natural makeup, as she had filled her kit with white foundation, bright rouge and graphic eyeliner. But with her talent and calm demeanor, she turned the neon into something natural.
"[It's about] learning to work with what you have," Karchin said. "Learning how to take an incredibly pigmented eyeshadow and diffuse it and blend it with other things to make it a beautiful shimmer [and a] natural glow."
Karchin looks back on her first project with amusement. She now arrives at every job prepared with a kit that boasts 20-plus brands. As a freelance makeup artist, she is part of both editorial and experimental projects. Her work varies, allowing her to partner with designers like Iva Pfeiffer and Gallatin junior Selly Djap and dance photographer Rachel Neville, paying homage to her ballet roots. The fluidity in her job allows her to break boundaries instead of prioritizing being on-brand.
"Experimental [work] can push the bounds of what we want this person to look like and kind of redefining beauty in that sense," Karchin said. "That notion of what is ideal and what is valued is very fluid in experimental work."
Karchin plays it safe when she works on her closest clients — her friends and family. To ensure they are comfortable, she typically works only one or two steps beyond their typical makeup routine to enhance instead of obscure their facial features.
When she is home in New Jersey, however, Karchin uses her own face as a blank canvas. She is free to play; experimenting with techniques and product combinations is easy in her makeup mecca. She brings the looks she created back with her to the city but leaves behind the numerous makeup products that would otherwise fill her suitcase.
From her inventory of Urban Decay eyeshadows, Bite Beauty lipsticks, Bourjois and Fenty Beauty foundations, Anastasia Beverly Hills brow pencils and Sephora Collection eyeliners to name a mere few, Karchin may appear to be a maximalist. However, she doesn't wear makeup on a daily basis. Maybe she is too busy running around Manhattan and Long Island City for work, or maybe she is making the conscious choice to let her skin breathe; whatever the case, with her classic features reminiscent of brunette beauties like Disney Princess Belle and Audrey Hepburn, she certainly doesn't need it.
Karchin's belief is that no one really needs makeup. From being a rite of passage as a young girl to a memory of friendship backstage, makeup for her today is a means of empowerment through enhancement.
"[Your face] is another aspect of yourself that is open to experimentation," Karchin said. "It's really powerful when you can use something to accentuate what you already have and feel that much more beautiful."
She also stresses that the simple can still be stunning — the trends of glitter and glam night looks will come and go, but "no-makeup makeup" will always be in style.
When Karchin talks about makeup, her brown eyes grow bigger and her smile widens. Her voice takes on a dreamy cadence when she says that makeup is "so subtle, but so impactful."
Lindsay Karchin herself — her modest features and soft voice, her extremely crafty hands and eclectic vision — is subtle yet impactful.
Among the bloggers, gurus and artists, Karchin is just one of the many who prove that makeup isn't a cage but a playground. Born into a society that pushed makeup as a prerequisite to facing the world, we now play in the mess of colors, textures, creams, powders and concoctions not out of necessity, but by choice.
Email Anna de la Rosa at [email protected]. A version of this article appeared in the Thursday, April 18, 2019, print edition. Read more from Washington Square News' "Fringe: One Last Dance."