Home is Where the Stomach Is
How culturally authentic food has become many students' primary token of home and a way for them to reconnect with their native cultures.
As Thanksgiving break nears, many NYU students will soon flock from their dorms to home, eagerly awaiting a weekend free of academic stress and filled with their parents' cooking. For students who call East Asia home, however, the prospect of a weekend away from university life feels largely impossible. When thousands of miles separate you and your home, family cooking and all its familiar, comforting tastes lie too far out of reach.
But, living in New York has its perks. NYU's Manhattan campus, surrounded by a dizzying array of restaurants and Asian markets, provides access to enough variety in cuisine that those who are plagued by homesickness don't have to look too far to find a meal from home.
WSN spoke with international East Asian students who have been able to reconnect with their native cultures by visiting food spots in Chinatown, as well as cooking authentic dishes for themselves.
For Liberal Studies first-year Jiaxin Luo, visits to Chinatown are the perfect remedy to homesickness. There, she can find numerous restaurants offering familiar specialties, including spring rolls, which she loved to eat in her home city, Xiamen, China. She also enjoys visiting restaurants that feature both her own and her Chinese friends' favorites, including Wah Fung No 1 Fast Food, which specializes in Guangzhou-style pork and chicken.
"Chinese restaurants help me connect best to home because, even according to science research, one's sense of taste is the faculty most connected with memory," Luo said. "Once I get the taste of home, I can still feel like I'm still in China."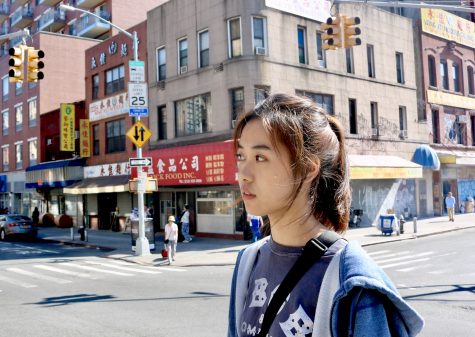 In Luo's case, food plays a significant role in connecting her to the Chinese community in New York. Her city is relatively less represented at NYU, with only three other students from there in Luo's year, so she has experienced difficulty bonding with other Chinese international students.
"I feel like I suck at connecting with other Chinese international students because if they are from large cities, they will have already formed their own pool of friends from their city," Luo said.
Having access to a diversity of Chinese food options means she can try food specialities from other cities and possibly bond with other Chinese students over them.
Other students also expressed appreciation for the opportunity to try cuisine from outside their own hometowns.
NYU Abu Dhabi senior Ross Jiang, who grew up in China, explained that blocks in New York City with clusters of international restaurants, such as St. Mark's Place, have given him the perfect opportunity to sample a more diverse array of options than the ones provided at his home campus.
"It took me a while to get used to the Arab or Indian spices used in the foods I had in Abu Dhabi, and even then, it got boring sometimes," Jiang said. "For trying different kinds of food in Abu Dhabi, you had to pay a lot of money, but after I got here it was a gateway to a new world."
Jiang, who began living abroad after middle school, said that being separated from China for so long has significantly lowered his bar for evaluating the quality of Chinese food. Because he is interested in reconnecting with the cuisine of his native culture, he feels a renewed appreciation for all the non-Westernized Chinese food he sees offered in New York.
"I'm surprised about the diversity of Chinese food here especially, since you can find food from almost every Chinese province if you look hard enough," Jiang admitted. "Though, after living abroad for so long, I now consider almost everything other than Panda Express and General Tso's chicken to be real Chinese food."
However, as dining halls and nearby restaurants burden some students with few options to choose from and too high a price, home-cooking has become the solution for many craving foreign food. For some students, cooking has even become a lucrative strategy for bonding with new university friends while avoiding even paying for ingredients. 
Steinhardt first-year Roy Shi decided to increase his otherwise limited food options by starting his own Saturday Kitchen, a weekly event where he prepares a variety of Asian dishes for himself and other friends who are Chinese international students. Attendees split the cost of ingredients in exchange for a taste of the familiar.
"It all started because I've been cooking for the past few years, and I've just missed the food from home," Shi explained. "I feel like there's no consistency in the quality of food they serve across dining halls, though the food tends to be the same in each one. For example, most of the sushi is not great, even at Kimmel."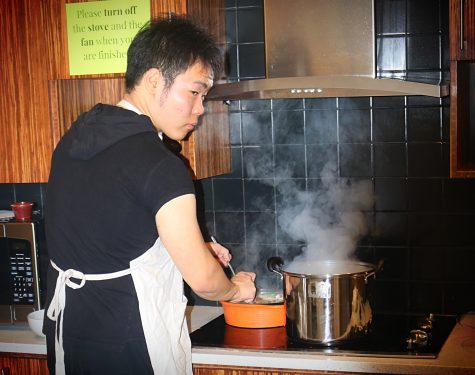 As his Saturday Kitchen has become more of a regular event for his friend group, Shi's motivations for continuing it have changed. While he has no intention of becoming a chef in the future, he values this hobby for bringing him satisfaction in two main ways: honing his cooking skills and preserving his ties with Xi'an food culture and friends at NYU.
"I like that feeling of accomplishment," Shi said. "I did it, and people come and like my food, so that's the most important part of doing this whole thing.
This sentiment rings true for many students who feel strongly rooted in their cultural backgrounds, as familiar food can ease fears about transitioning to college life and bridge the physical distance between them and their families.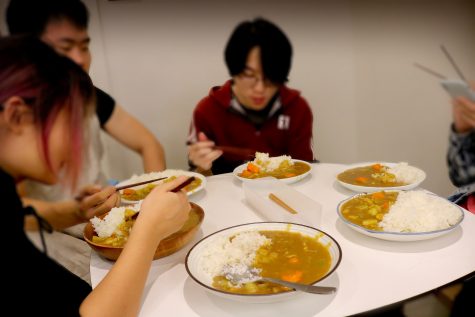 For half-Japanese, half-white Gallatin senior Lisa Sakaguchi Cooley, the transition seemed fairly manageable, given her close proximity to stores with Japanese ingredients and cooking appliances in New York.
"I'll call my mom and be like, 'Hey, I'm making tonjiru. Do you have any recommendations for what to do?'" Cooley said. "And, at Sunrise Mart — the Japanese market — they have a little cutlery section, that's where I got my chopsticks, and my ocha cups, and my soup bowls. It's like I pretty much have everything I need from home."
Many international students like Cooley appreciate this convenient access to traditional cooking materials as they gradually grow more independent from their families. These kinds of continuous cultural connections allow for independence without giving rise to a sense of distance between their adult lives and childhood homes.
After recounting her visit to Chinatown, Luo echoed this sentiment. She believes future authentic food experiences in New York may assist her in developing cultural bonds with other Chinese international students, even as she becomes more immersed in the American lifestyle.
"When you move to a city area, these things just get more convenient in a sense," Luo explained. "As long as you involve yourself in activities and go to restaurants or places that bring people together, I feel like you will have a chance to get to know people from where you come from and build many good relationships. I am here, but it's not like I'm alone."
Email Sammy at [email protected].