In a historic victory, the NYU women's cross country team won the University Athletic Association Championship race — the program's first postseason competition — this past Saturday. 
The No. 5 ranked team went up against Ohio's hills, mud, rain, and the No. 1 ranked University of Chicago to win their third meet in a row, with the five scoring Violets all finishing within the top 15 runners. The team amassed 34 points — 12 more than Chicago — and averaged a time of 22:03 over 6K. 
Leading the way was Ph.D. student Grace Richardson, who battled through the conditions to win the race in a course record time of 21:34, and was crowned conference champion. Before the race, Richardson was confident in herself and her team, and excited to run against tough competition.
"I just want to go out hard and put myself in a position where I can be competitive," Richardson said in an email to WSN. "I much prefer a race like this where there's no pressure on times and it's all about position."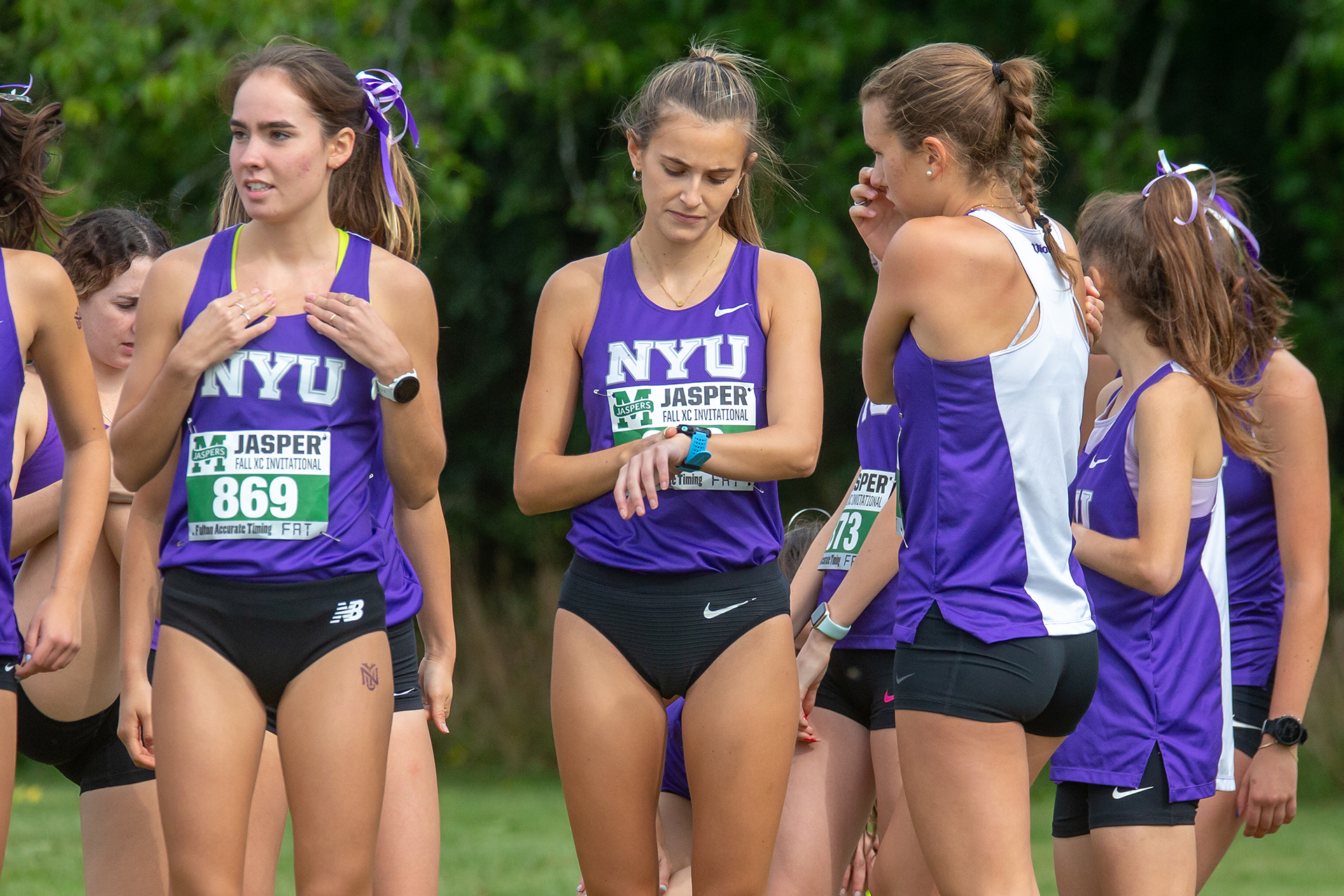 Close behind, first-year Morgan Uhlhorn was fourth to the finish, clocking in at 21:50. She was the only first-year runner to finish in the top 15 , and was awarded UAA Rookie of the Year after the race.
"I never like the spotlight being on me so I won't lie, I was pretty nervous when they called me up," Uhlhorn wrote to WSN.
In her first college season, Uhlhorn has made racing 6Ks look easy, finishing top 10 in every meet and running three sub-21:30 minute races.
Closing out the top Violet runners, both sophomore Vivian Kane and graduate student Kate Cochran got to the finish line before Chicago's third runner. Kane and Cochran placed sixth and ninth with times of 21:55 and 22:09, respectively.
Heading into the meet, sophomore Janie Cooper said she knew the team would need a strong fifth runner to beat Chicago. She said that leading up to the competition, the team focused on running in packs during workouts, attributing the team's success this year to this strategy.
After racing a personal record at Connecticut College on Oct. 14 with sophomore Lucy Gott by her side, Cooper told WSN in an email interview that running next to Gott brings her peace and confidence.
"If she can do it for me, then I can do it for her," Cooper said before the conference race.
It seemed to have paid off when first-year Olivia Jackson, Cooper and Gott ran in a pack through 5200m of the 6K. Cooper secured herself as the fifth Violet, and 14th overall to finish the race in 22:46. The chase pack of Jackson and Gott placed 18th and 21st, within a second of each other at 22:54 and 22:55.
In their third season working together, the Violets' coaching staff, headlined by Tyler Deck Shipley, and assistant coaches Joanna Thompson and John Trautmann won UAA Coaching Staff of the Year.
Shipley called it a "cool moment" to watch his team celebrate together. He noted that the conference was the third UAA meet for junior Katherine Cheng — who placed 36th in 23:35 — and the first UAA meet for three first-year runners including Virginia Nelson, who finished 38th in 23:41.
Shipley said he was also proud of the men's team's consistent improvement, as it placed 5th in the UAA meet — one position higher than last year. The depth toward the top improved, with three Violets finishing within the top 25 runners, compared to only one last year.
Even though the race didn't leave the team exhilarated, Shipley commended junior Ryan Tobin's and sophomore Shaurya Srivastava's efforts in the 8K. Tobin was the top Violet, ran a 25:37 and finished 11th for the second year in a row. Fighting through injury, Srivastava clocked a 26:51 and placed 53rd.
"We came up short of what we wanted, but it really changes nothing about our mindset," Tobin said in an email interview with WSN. "We are lucky enough to have another chance to race in two weeks… Our toughness will get us where we need to be."
Runners on the women's team said that they are also focused on the next steps.
"We're all doing well at blocking out the hype around rankings etc. and just focusing on each race as they come, enjoying the process," Richardson said.
Both the women's and men's teams are competing on Nov. 11 in Houghton, New York for the NCAA Niagara Regional Championship, as they look to chart a path to the national meet.
"We're just excited to fucking send it," Cooper said. 
Contact Ethan Rendon at [email protected].