The Secret Life of Emotional Support Animals
Puppies and bunnies and kitties, oh my! Getting emotional support animals approved to live in NYU housing is a lengthy process, but for these students, having an ESA at school makes all the difference on their mental health.
There are days when Noah DeFranceschi's anxiety runs so high that he struggles to leave his dorm room. But since getting an emotional support rabbit last July, he has a new reason to get dressed and go outside.
"I thought maybe if I had an animal it would help me because I would have to get up and take care of it, and then I'd have to get up to take care of myself, too," DeFranceschi, a GLS sophomore, explained.
As someone who deals with mental health challenges including anxiety and depression, DeFranceschi had a difficult first year at NYU. On top of the transition into college life, he felt lonely at school, especially without his two dogs and two cats back home in New Jersey. DeFranceschi's rabbit, Chai, forces him to wake up every morning to feed him, clean his litter or go to the store and buy some veggies.
"I still struggle with a lot of the same stuff," DeFranceschi said. "But at the same time, he just makes my day better."
DeFranceschi is one of many NYU students who have improved their college experience by getting a support animal and approving them to live in NYU housing. Emotional support animals, or ESAs, have become increasingly popular in the last few years. The controversies around them, especially centered around their necessity, are fueled by everything from reports of people registering alligators as ESAs to airlines restricting them.
ESAs are often confused with service animals, like guide dogs. While ESAs help ease the anxiety or depression of their owners through companionship, service animals are specifically trained to perform tasks for the disabled. Even DeFranceschi was confused about the difference before he got Chai.
"I had to do my own research," he said. "But for a person who it doesn't apply to, of course they're not going to do their own research for fun."
The main distinction is that they do not have the same rights — service animals are allowed in virtually any public space, whereas ESAs are not. At NYU, ESAs are confined to their owner's dorm room and do not have the same permission as service animals to enter academic buildings.
For their owners, ESAs are so much more than pets. They are a form of treatment for those who struggle with their mental health.
"I've been in and out of therapy my whole life," Tisch sophomore Megan Jeter said. "Talk therapy does work for me, but I just [felt] that having an emotional support animal in conjunction with that would be a good treatment plan for me."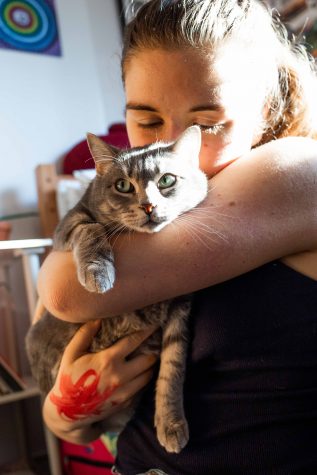 Jeter realized that a support animal would be beneficial to her after bonding with her suitemate's ESA last spring.
"I feel like she was emotionally supporting me more so than she was supporting my suitemate," Jeter said. "I was just like, 'Oh, this is perfect. This is exactly what I need.'"
Although Jeter has pets back home in upstate New York, she wanted to adopt a pet to specifically be her ESA. Over the summer, she found Phoebe, a grey tabby cat with green eyes and an independent personality. Once she got Phoebe, Jeter had to go through the tedious process of getting her approved to live in NYU housing.
Students who want to bring their ESAs to school are required to provide several documents for NYU, including a note from a medical professional confirming that an animal will help the student with their diagnosed disability and documentation of the animal's health from a veterinarian. After all the paperwork is gathered, students can apply for a housing accommodation, which allows their pet to live with them. In order for this to go through, all documents must be reviewed and approved by the Moses Center and NYU Housing.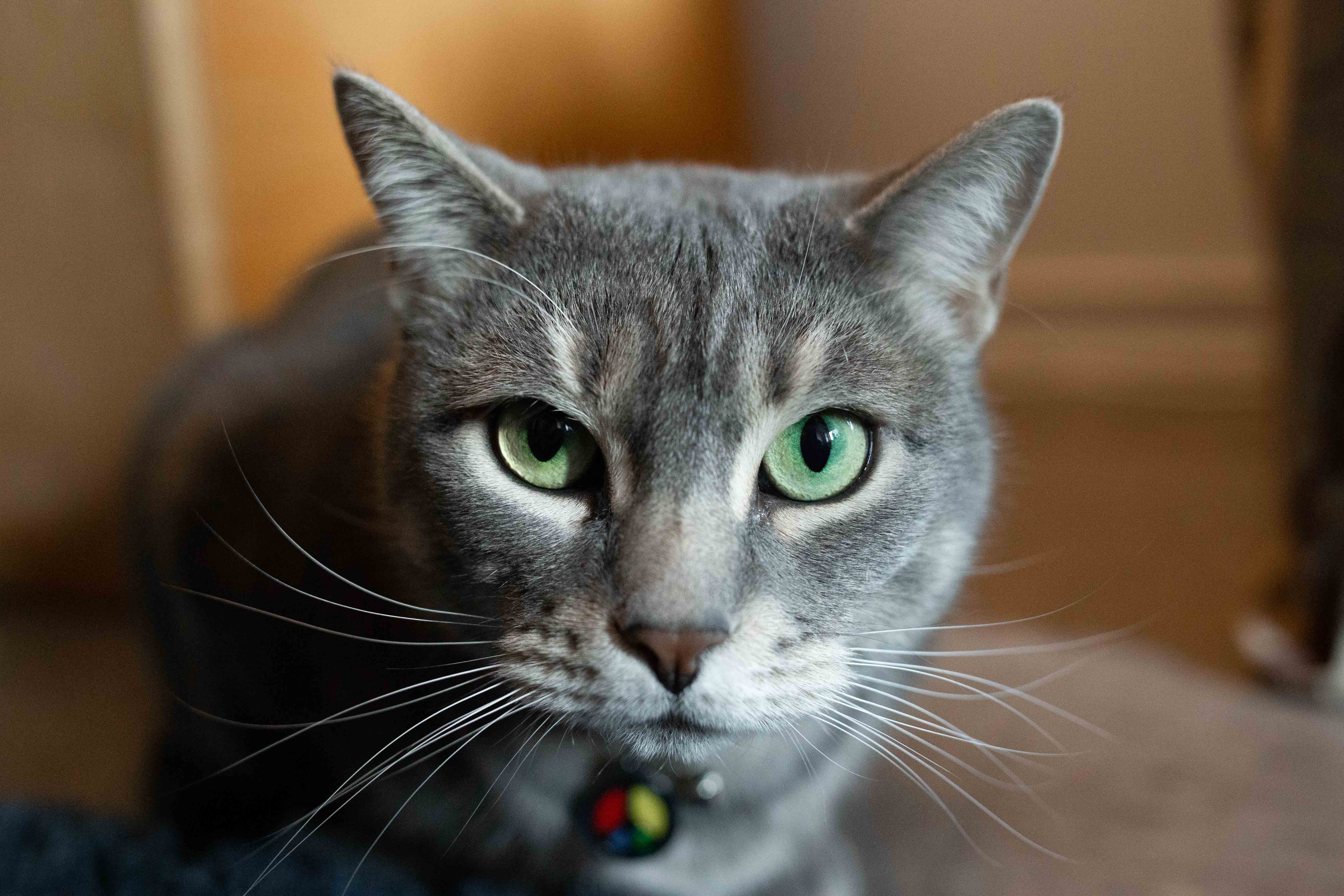 SPS first-year Rebecca Licht said the hardest part about this whole process was finding a roommate that was willing to live in the same room as her rabbit from home, Albert — named after the Florida Gators mascot, not NYU's founding father, Albert Gallatin. Licht went through three different random roommates before the school year started, each one eventually switching their room assignment for both rabbit-related concerns and health issues. She was certain that she wouldn't find a roommate and prepared herself to go to college without Albert.
But mere days before school started, NYU Housing notified Licht that it was going to go down the list of students not yet assigned to housing and ask if they'd be willing to live with a rabbit.
"They called me a week before school started," Gallatin first-year Siena Tipton, Licht's roommate, said. "They were like, 'Hey, listen, we have a room for you, but the caveat — you'd have to live with an animal.' I grew up on a farm, so I was like, 'Yes, I will take it. I love animals.'"
So far, Licht and Tipton's rooming arrangement has been a good match. Not only has Tipton bonded with Albert, but she has also developed an understanding for his relationship with Licht, who has anxiety and depression, as well as obsessive-compulsive disorder.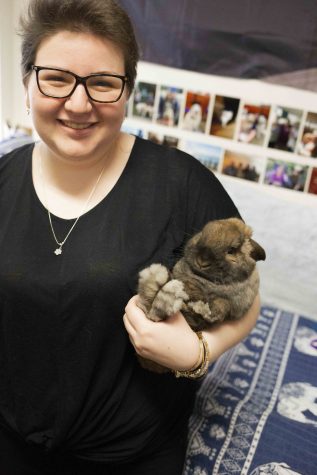 "If I'll start to have a really high-anxiety moment, [Siena will] legit take out my rabbit and put him on my lap because he calms me down," Licht said. "He helps me stop thinking about whatever I was thinking about."
Albert is also quite popular within their building, Goddard Residence Hall.
"There are people in our dorm that will just come by to see the rabbit," Licht said. "He did, especially in the beginning, help me meet people."
Unlike Licht, Jeter lives in a single room in a suite at Alumni. Even though she prefers to live alone, she likes having a constant positive energy around who she can look forward to coming home to.
"I like living alone because I don't like having to worry about my mannerisms affecting someone else — like how I want to study, how late I stay up — but still having a presence in the room, even though I'm alone, is good," Jeter said. "If I didn't have her, I would feel like I was even lonelier in New York than you [already] feel."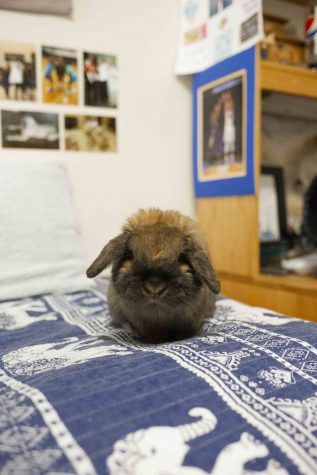 Jeter, Licht and DeFranceschi all have low-maintenance, litterbox-trained animals, which they all agree are best for students with busy schedules. CAS junior Kal Tadese, on the other hand, had to learn the hard way how much work it takes to care for a dog.
A first-time dog owner, Tadese adopted her emotional support puppy, Olive, right before the beginning of her sophomore year. While she no longer has him in New York City, Tadese warns others to carefully evaluate bringing a puppy to college. After all, dogs cannot easily be litterbox-trained or kept in a pen for most of the day.
"I remember climbing up 17 flights of stairs," Tadese said about a time Olive got loose in Gramercy Green Residence Hall. "He ran all the way up, and I kept calling for him, and he kept barking back at me."
While most of the other ESA owners can't relate to Tadese's experience raising a puppy in Gramercy, it doesn't mean they haven't had their own challenges with pets in the dorms. They've experienced everything from fire drills — Jeter's philosophy is "scoop her and go" — to explaining the concept of emotional support animals on move-in day.
However, maybe the biggest challenge about keeping an ESA is having to deal with people who are unaware of how serious mental illness and its effects on day-to-day functioning can be.
"I feel like a lot of people are like, 'Oh, I should just tell [NYU] I have anxiety and I should bring my dog next year,'" Licht said. "It's not quite that easy. You really do have to have a psychiatrist, a psychologist, that is willing to vouch for you."
These ESA owners want to help dispel misconceptions about support animals and how useful they are for people with disabilities and mental health challenges. However, DeFranceschi has some words of advice.
"If you know someone with an ESA, you can ask questions and try to learn more about what they are, but try not to ask [too many personal questions] with someone you're not close to," DeFranceschi said. "Because if someone has an ESA, it doesn't mean they're going to tell you all the details of their mental illnesses."
Although ESAs are cute and cuddly, it's important to remember that they are a part of their owner's treatment.
"Just know that, most likely, if the person was able to get [an ESA] approved, that they're struggling with something, and they have it for a purpose," Licht said.
Email Natalie Chinn at [email protected] A version of this article appeared in the Thursday, Feb. 21 print edition. Read more from Washington Square News' "Housing Guide 2019."