NYU students joined hundreds of demonstrators at Washington Square Park and Times Square Sunday afternoon in protest of the ongoing conflict between Palestinian militants and the Israeli military. 
On Saturday, the Palestinian militant group Hamas fired rockets, infiltrated towns and took civilians hostage in one of the largest strikes on Israel in decades, with over 900 reported dead and thousands wounded. In response, the Israeli military launched airstrikes and heavy artillery into the Gaza Strip, killing at least 830 Palestinians and injuring thousands.
Sophomores Benjamin Meppen and Omer Hortig, in partnership with The Israel Journal at NYU, organized a pro-Israel rally at Washington Square Park. They were joined by over 50 students, alumni and local supporters carrying signs and waving Israeli flags.
"I have a lot of friends from high school who sat alongside me in math class and are now in a tank in Gaza right now," Meppen said. "These are people who are just like you or I. They're 18, 19, 20 years old, and defending the Jewish homeland."
In a statement to the NYU community on Sunday, university president Linda Mills described Hamas' offensive as an "uncommonly intense" terrorist attack and said leadership at the university's study away program in Tel Aviv is working to ensure student safety.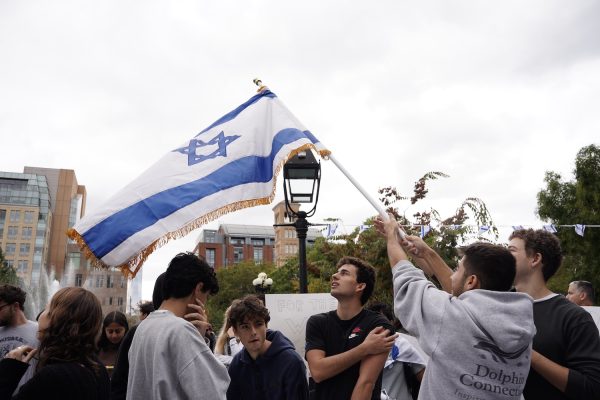 Over 2 million Palestinians suffer restricted freedoms in the "open-air prison" of the Gaza Strip, the densely populated area from which Hamas fighters launched their attacks and where Israel retaliated with airstrikes on civilian military targets. On Monday, Israel's defense minister made an announcement that the government will cut off electricity, food and fuel from Gaza, also describing its adversaries as "human animals."
Several tearful attendees at Washington Square Park shared personal stories of family and friends affected by the conflict and called for support of the country. Members of the group embraced one another and recited prayers, chants and songs in Hebrew and English.
"This is an existential crisis," Hortig said. "This is a crisis like the Yom Kippur War. It's a crisis like the Six-Day War. It's a crisis like the War of Independence in Israel."
Hortig and Meppen said they both have family and friends in the Israeli Defense Forces, the country's military. Hortig said he contributes by organizing and raising awareness in the NYU community.
"To the Jewish student body, now's the time to be vocal," Meppen said. "Stand up for Israel, stand up for the Jewish homeland. There's going to be nobody standing up for us, if not ourselves."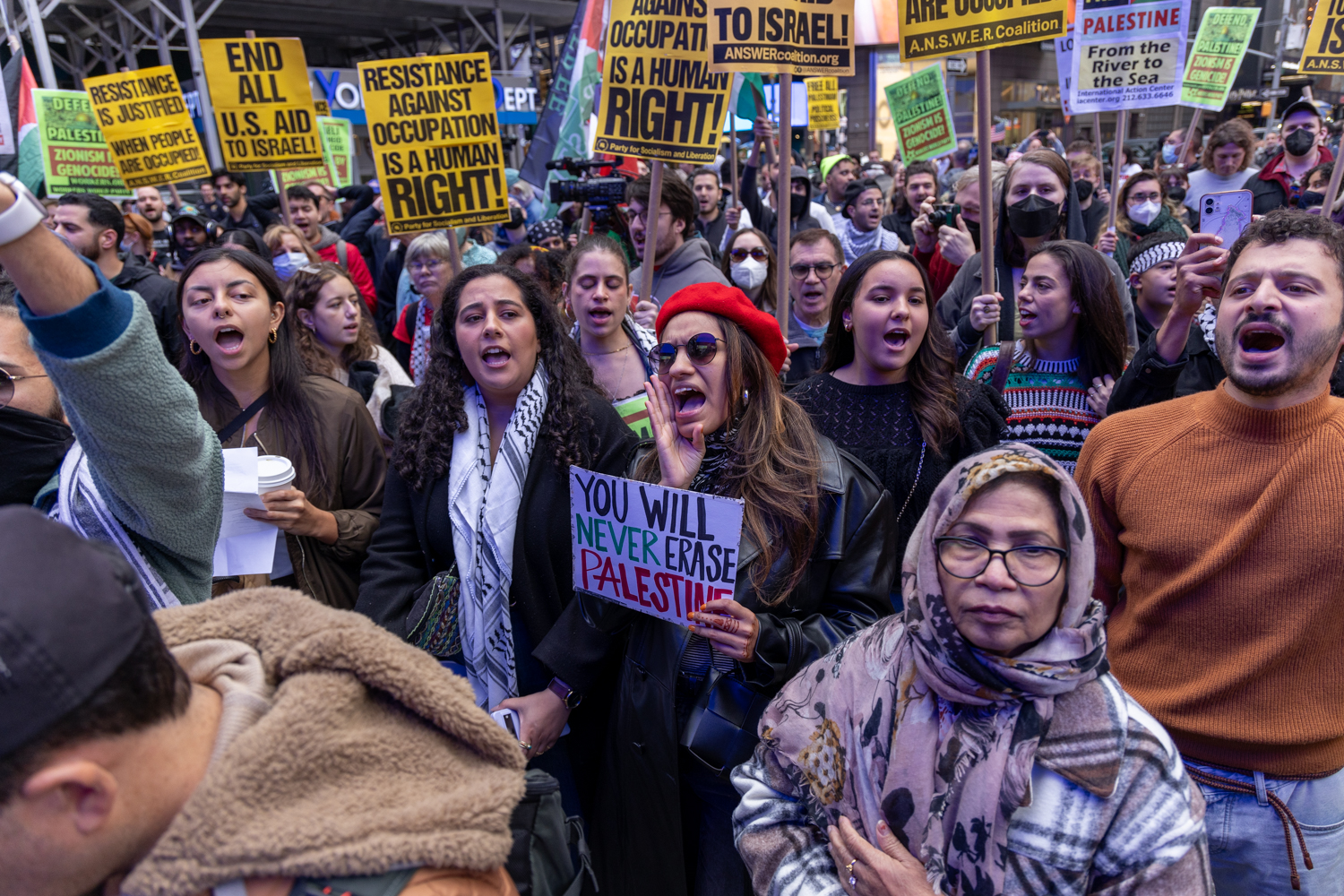 At a separate rally, members of the NYU student group Students for Justice in Palestine joined hundreds in Times Square in support of Palestinian liberation. A member of SJP, who requested anonymity due to safety concerns, said the recent escalation in Palestinian resistance is a direct response to decades of colonial violence and oppression. The student also criticized the university's continuation of its study away site in Tel Aviv.
"We can only hope for the liberation of the Palestinian people and rightful return of their land," the student said. "The continued program of NYU Tel Aviv is not lost on us at this time, and as it remains open is a glaring testament to complicity in the ongoing occupation. It demonstrates a profound disregard for the well-being and rights of NYU's Palestinian students and families."
The crowd gathered at Times Square starting at 1 p.m., growing to at least 600 before marching east to the Israeli consulate at Second Avenue and East 42nd Street. Protesters chanted and held signs in English and Arabic in support of resistance toward Israeli forces.
New York politicians condemned the demonstration, with Mayor Eric Adams denouncing the rally in a social media post and calling it "disgusting." Gov. Kathy Hochul also criticized the rally in a Sunday press release, describing it as "abhorrent and morally repugnant."
Protester Elspeth Macdonald wore pro-Palestine buttons on her coat and donned a Palestinian flag across her shoulders. Macdonald said her father worked in Lebanon in the 1950s and 1960s and that her ties to the region awakened her to the suffering faced by Arabs across the Middle East. Macdonald described herself as a longtime defender of Palestine.
"Israel needs to exist, clearly," Macdonald said. "But so do the Palestinians — with open borders, access, rights."
Outside the Israeli consulate, speakers called attention to the historic violence — including alleged war crimes and violations of international law — committed by the Israeli government against Palestinians. After speeches concluded, a dance circle formed in the crowd, with participants putting their arms around each other's shoulders.
The demonstration was met with a group of about 50 pro-Israel counterprotesters separated from the larger protest by police and barricades. Speakers at the pro-Palestine rally urged attendees to ignore any disruptions from the counterprotesters.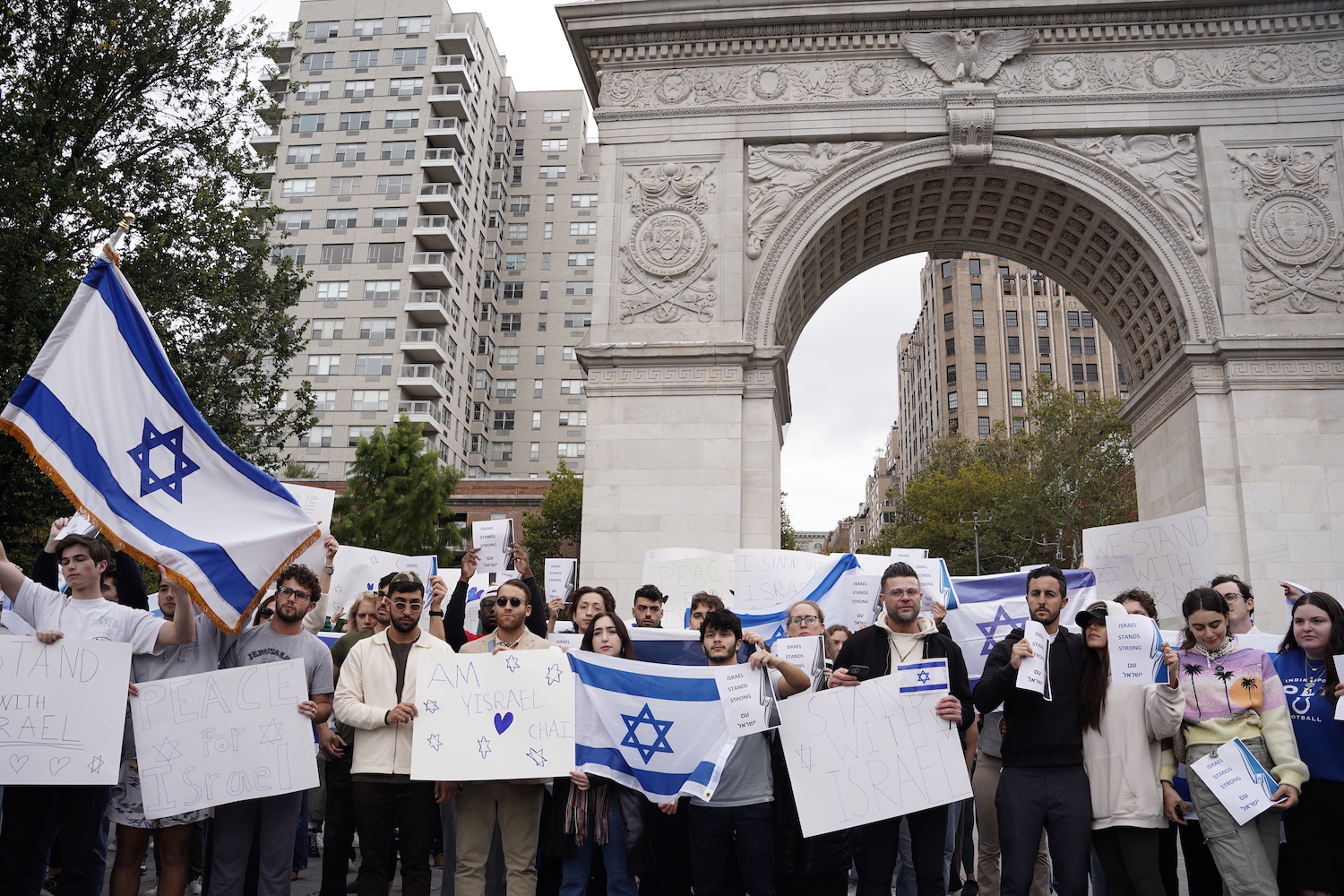 Jamelah, a young Palestinian woman who declined to provide her last name, said the loss of Israeli lives was tragic. She said she thought the Israeli state was ultimately responsible for the violence.
"As a Palestinian who constantly watches Palestinian civilians be slaughtered, I can empathize with the families," Jamelah said. "We should see the casualties as a product of Israel's occupation."
The crowd had started to disperse at roughly 4 p.m., when around five pro-Israel demonstrators leapt over police barricades into the area designated for the pro-Palestine protest. Protesters exchanged insults before police removed them from the area. Another SJP member who attended the protest, who also requested to remain anonymous, said the rally's turnout was reassuring for the Palestinian struggle.
"It's really encouraging to see the crowds of people from NYC and the surrounding area that come out to support," the student said. "It just signifies the strength in the resistance both in the city and across the sea in Palestine."
Yezen Saadah contributed reporting.
Contact Alex Tey and Sydney Barragan at [email protected].