Finland's prime minister talks war in Ukraine and gender equality at commencement
Prime Minister of Finland Sanna Marin gave a speech to graduates at NYU's 190th commencement ceremony, a month after her party lost the country's national election.
Finnish Prime Minister Sanna Marin addressed tens of thousands of graduates at NYU's 190th commencement ceremony on Wednesday after receiving an honorary Doctor of Humane Letters degree from the university.
Marin, whose party lost power after Finland's parliamentary election last month, spoke on behalf of this year's honorary degree recipients, which included American Ballet Theatre principal dancer Misty Copeland, Nobel laureate chemist at Stanford University Carolyn Bertozzi and former president of the University of Maryland, Baltimore County Freeman Hrabowski. 
In her speech, Marin said her passion for politics began in her early 20s, when she became more interested in issues such as climate change, human rights, the rights of minorities, social justice and gender equality. 
"Coming from Finland, a northern European country with extraordinary nature, I wanted to stop climate change and see societies become more sustainable," Marin said. "I wanted a society where everybody could have equal rights and opportunities, I wanted to strengthen the education system so that every child could pursue their dream."
Marin's Social Democratic Party secured 19.9% of votes in Finland's most recent parliamentary election, a tight three-way race that saw the country's conservative National Coalition Party win with 20.8% of the vote. She announced that she would step down as her party's leader in April, and said she will continue to serve as a regular member of Parliament in the newly elected government. 
While the NCP attempts to form a coalition in Parliament, Marin's government will remain in power in a caretaker role.
Marin became the youngest-ever government leader when she entered office in 2019, at the age of 34. Throughout her prime ministership, Marin has led Finland into joining NATO, guided the country through the pandemic and been a staunch critic of Russian President Vladimir Putin and Russia's war in Ukraine.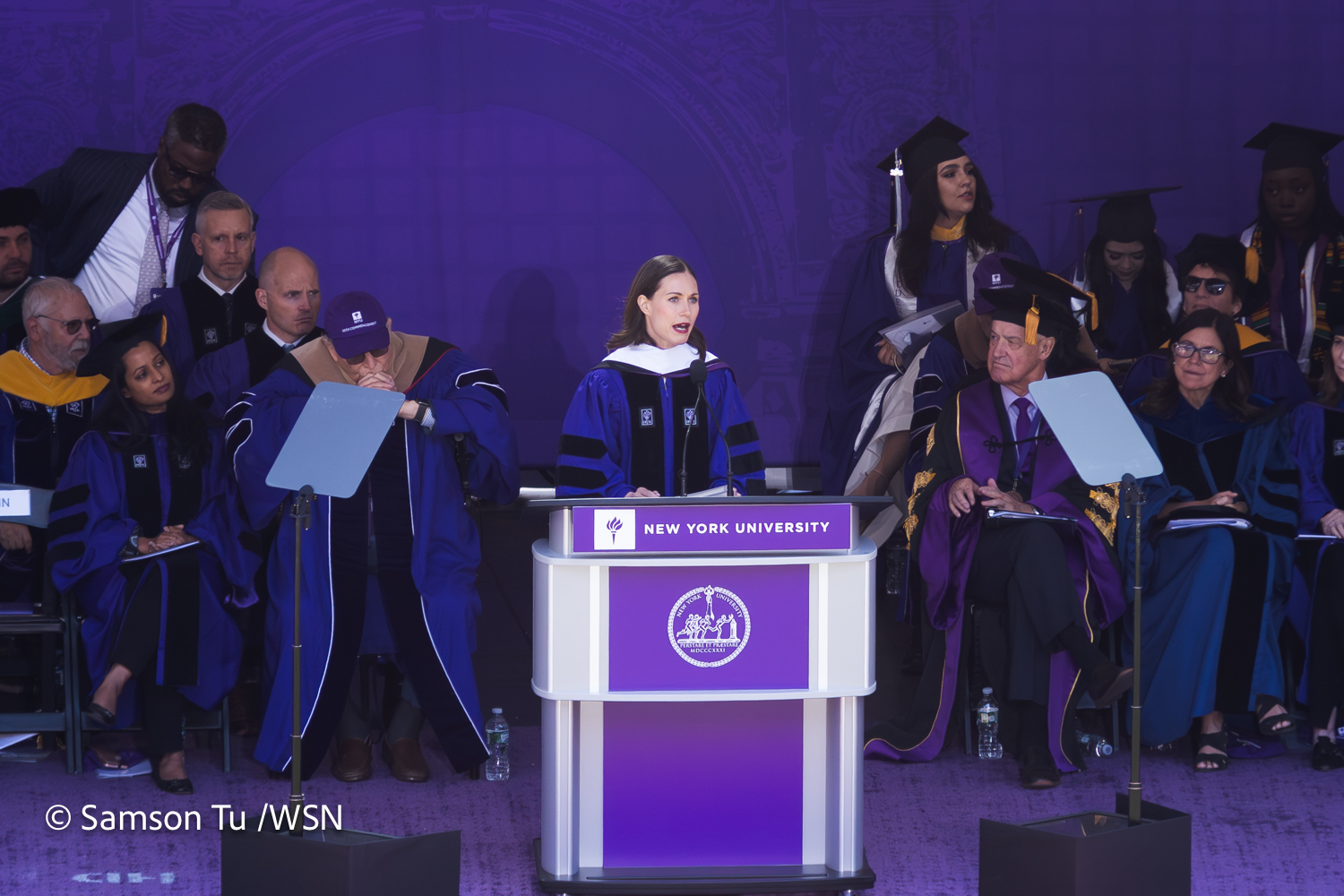 At the ceremony, Marin criticized Russia's invasion of Ukraine, saying that Russia has thrown the rules of international governance into question.
"The tip of the iceberg of all of these worrying developments is the return of war and heavy-power politics to the western sphere, to Europe," Marin said. "Russia has broken the rules of the international order we set up together after the world wars by brutally and illegally attacking Ukraine."
In 2022, Marin was criticized over leaked videos of an outing with friends, where she could be seen dancing and singing. The videos led to calls for her resignation and to opposition party members pressuring her to take a drug test, which came back negative. Many women around the world came to Marin's defense after the backlash, posting videos of their own of them dancing with the hashtag #solidaritywithsanna. 
Marin also faced scrutiny in December 2021 for going clubbing after being in close contact with someone who tested positive for COVID-19. She had missed a text message advising her to isolate before going out, and tested negative for the virus shortly after she saw the message.
Marin is also Finland's longest serving woman prime minister and has pushed for gender equality throughout her time in office. Most of Marin's government coalition and cabinet members are women.
In her speech, Marin said that gender equality is in decline around the world, noting recent policy challenges to abortion access and gender expression.
"Gender equality has taken leaps backward across the globe," Marin said. "The right to safe abortion is being limited also in Europe, different expressions of gender are being presented as a threat. This swollen amount of inequality and lack of social mobility are challenging our ideas about having the same possibilities and freedoms in life."
At the end of her address, Marin emphasized the need to fight discrimination and climate change, urging graduates to help build a more equal and sustainable future.
"I'm so happy to be here with you today in New York, one of the greatest and most progressive cities in the world," Marin said. "Congratulations to the magnificent graduating class of 2023 at New York University."
Contact Carmo Moniz at [email protected].