World's 'coolest prime minister' to speak at NYU commencement
Sanna Marin, the prime minister of Finland — dubbed the "coolest" by German news outlet Bild — will deliver the university's commencement address at Yankee Stadium this May.
Sanna Marin, the prime minister of Finland, will address graduates and receive an honorary degree at NYU's 2023 all-university commencement ceremony. Nobel laureate chemist from Stanford Carolyn Bertozzi, American Ballet Theatre principal ballerina Misty Copeland, and president emeritus of the University of Maryland Baltimore County, Freeman Hrabowski, will also receive honorary degrees at the 190th ceremony at Yankee Stadium.
May's commencement ceremony will be the last for NYU president Andrew Hamilton, who will step down this summer and cede his role to Linda Mills, who was announced as the university's president-designate this month. The graduation, scheduled for May 17, will honor undergraduate, graduate and Ph.D. students of the class of 2023 from all of NYU's schools.
"This year's honorees are an exceptional group of individuals, people at the forefront of their fields whose talents and successes in the arts, in education, in literature, in public service, and in the sciences exemplify the full range of human accomplishment," Hamilton wrote in the announcement. "They inspire us, and we are proud to recognize their achievements with NYU's highest distinctions when we gather together to honor this year's graduates."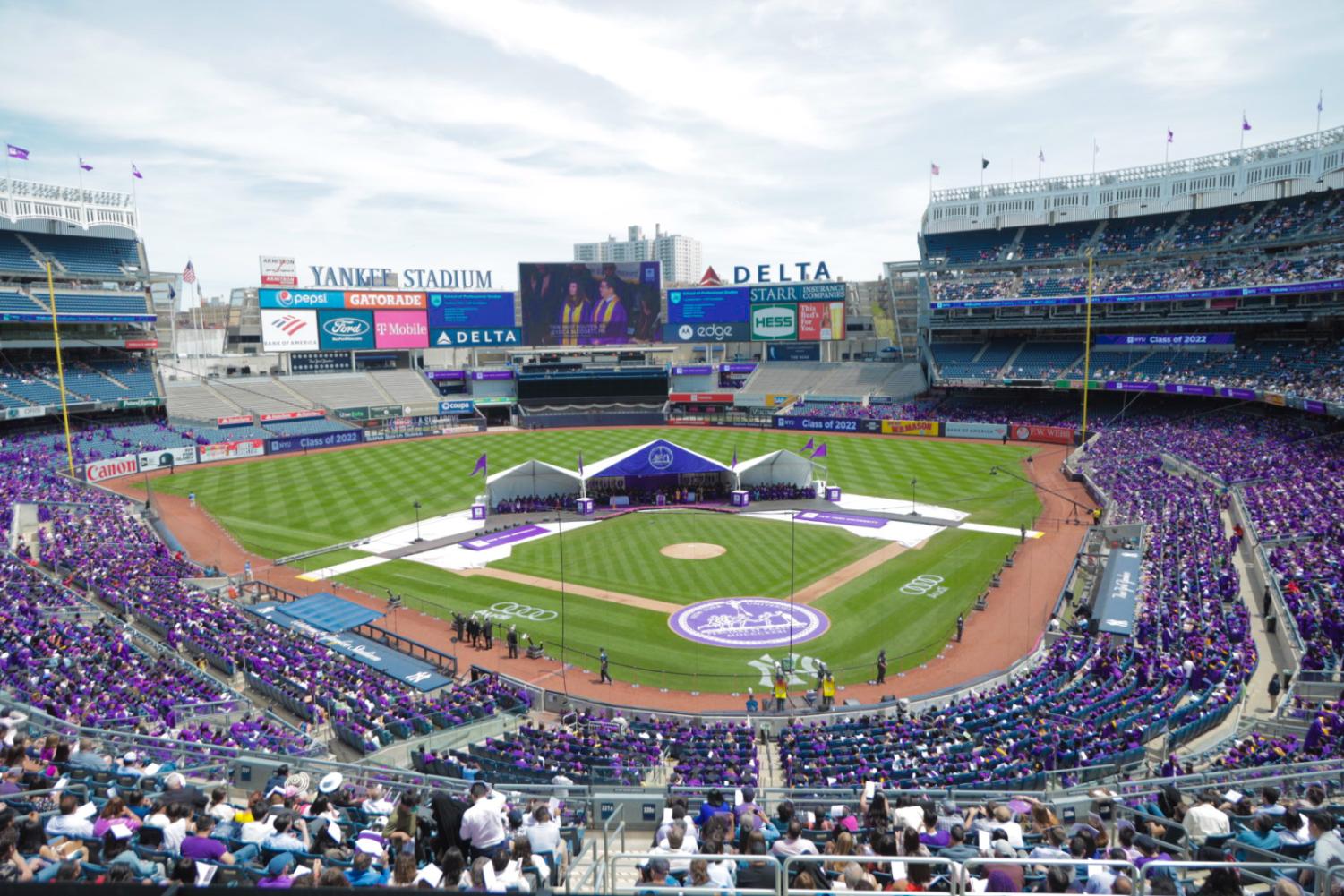 Before the ceremony, renowned novelist Salman Rushdie will receive the NYU Presidential Medal, president and CEO of the Queens Public Library Dennis Walcott will receive the Lewis Rudin Award for Exemplary Service to New York City, and chair of the Chailease Group and NYU trustee Andre Koo will receive the Albert Gallatin Medal for Outstanding Contributions to Society.
When Marin was appointed as prime minister in 2019, she was the youngest person to ever lead any government at 34, and has fought throughout her term for gender equality. She is the country's longest-serving woman prime minister, and her cabinet and parliamentary coalition is composed almost entirely of women. She previously served as a member of Parliament.
She is a member of the Social Democratic Party of Finland, and led the country through the pandemic. In recent years, the prime minister condemned China's treatment of Uyghurs in Xinjiang, as well as Russia's invasion of Ukraine. She also announced, alongside president Sauli Niinistö, that Finland would be applying for NATO membership.
Last year, leaked videos of her dancing and singing with friends prompted scrutiny, criticism and calls for her resignation, especially from opposition party members. She was pressured to take a drug test, which came back negative, though she claimed she had only consumed alcohol. She had been criticized in the past too, for clubbing after COVID-19 exposure and attending music festivals.
Women across the world showed their support for Marin in the aftermath of the footage leak though, posting videos of them dancing, and sharing #solidaritywithsanna on social media. Though she said she "resented" the fact that the videos became public, she maintained that she did nothing wrong. She was cleared of misconduct in November of last year.
"I won't change the way I behave," she told Yleisradio Oy, a Finnish broadcast network. "Of course, I have to be careful what I say because it can be represented as the whole government, but I'm still a person and I will be in the future also."
Bertozzi, who will receive an honorary Doctor of Science degree, won the Nobel Prize in Chemistry last year, and was named a MacArthur Fellow in 1999.  She runs her own lab, the Bertozzi Group, which studies the biology behind cancer, tuberculosis, COVID-19 and inflammation. She coined the term "bioorthogonal chemistry," which integrates drug administration and molecular imaging, and has made some of the procedures her lab developed available for commercial use. 
The cofounder of a handful of startups focused on biotechnology, Bertozzi was also elected to the Institute of Medicine, the National Academy of Sciences and the American Academy of Arts and Sciences. She is currently a professor at Stanford University and serves as the Baker Family Director of the school's Sarafan ChEM-H, a research institute.
In 2015, Copeland was the first African American woman to be promoted to principal dancer at the American Ballet Theatre, one of the country's most prominent ballet companies, in its 75 years of operation. She still holds the role today at age 40, and has played a number of lead roles including the Firebird in Alexei Ratmansky's "Firebird" and Odette and Odile in Pyotr Ilyich Tchaikovsky's "Swan Lake."
She was inducted into the Boys & Girls Club National Hall of Fame in 2021, and was named National Youth of the Year Ambassador for the organization the next year. Former U.S. president Barack Obama appointed her to the President's Council on Fitness, Sports, and Nutrition in 2014. She also appeared as the face of Under Armor's "I Will What I Want" advertising campaign the same year. Copeland also has an honorary degree from the University of Hartford for her contributions to the dance world. She will receive an honorary Doctor of Fine Arts degree from NYU this May.
Hrabowski, who will receive an honorary Doctor of Humane Letters degree alongside Marin, was the president emeritus of the University of Maryland Baltimore County from 1992 until last year. He was featured in a 1997 Spike Lee documentary for his role in the civil rights movement as a child. Hrabowski now conducts research and scholarship in the fields of science and mathematical education, and focuses on increasing inclusion of minorities in academia. In 2012, president Obama named Hrabowski to chair the President's Advisory Commission on Educational Excellence for African Americans. 
The Freeman Hrabowski Scholars Program, which aims to diversify the scientific workforce, received $1.5 million in funding from the Howard Hughes Medical Institute. The president emeritus was named one of America's Best Leaders by U.S. News & World Report 2008, and TIME Magazine designated him as one of the "100 Most Influential People in the World" in 2012 and one of America's 10 Best College Presidents in 2009.
On the evening before commencement, May 16, the Empire State Building will be lit in purple to commemorate this year's graduates.