2023 Commencement: Hamilton's goodbye, a speech from Finland's prime minister and more
Outgoing NYU president Andrew Hamilton gave his final send-off to the class of 2023 in his last commencement ceremony as the university's leader.
More than 20,000 students, along with their friends and family, packed the stands of Yankee Stadium in celebration of NYU's class of 2023 on May 17, the final commencement ceremony of university president Andrew Hamilton's tenure. 
The ceremony opened with processions to the center of the field led by students, faculty and administrators. Student and faculty representatives carried banners representing each school along the outer rim of the field. Katie Song-Yi Nam, a Steinhardt graduate, then sang the national anthem before the crowd.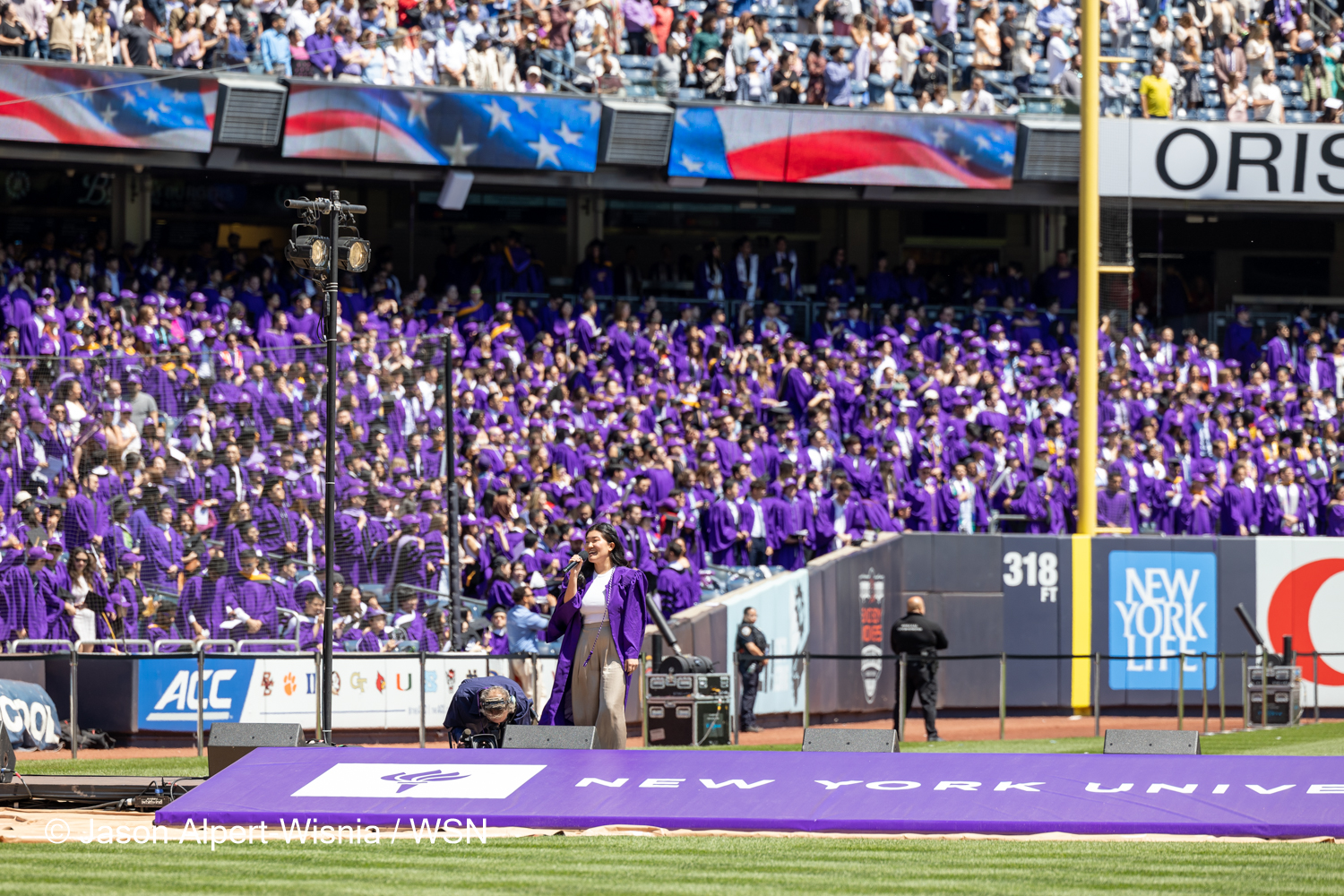 In his speech, Hamilton congratulated the graduates and reflected on his time as president. 
"This year is particularly special," Hamilton said. "You are graduating from NYU as I am stepping down from my presidency. Today marks a major transition for us both — the start of a different period in our lives.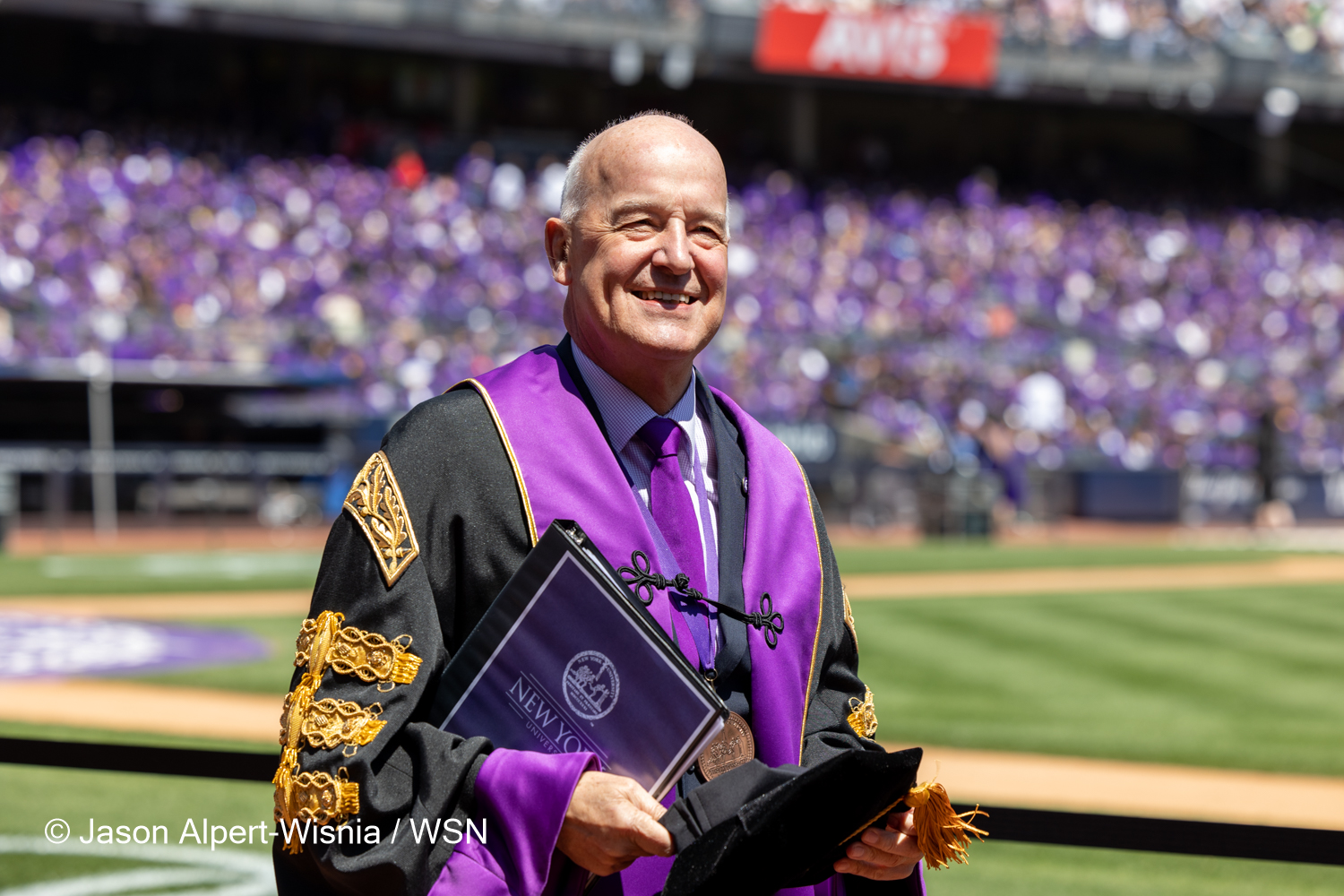 Hamilton, who will be succeeded by longtime university administrator Linda Mills in July, led NYU through the pandemic and a period of increased philanthropic support for the university. Under his leadership, NYU improved financial aid — it now meets 100% of students' demonstrated need — and its acceptance rate dropped from 35% to 8%. 
Following an opening address from Interim Provost Georgina Dopico, Hamilton presented an honorary Doctor of Science degree to Stanford University professor and Nobel laureate Carolyn Bertozzi and an honorary Doctor of Fine Arts degree to American Ballet Theatre principal dancer Misty Copeland. Freeman Hrabowski, president emeritus of the University of Maryland, Baltimore County, was then presented with an honorary Doctor of Humane Letters degree.
The ceremony's keynote speaker, Finnish Prime Minister Sanna Marin, also received an honorary Doctor of Humane Letters degree before addressing the graduating class on behalf of the 2023 honorary degree recipients. Marin spoke about her experience as Finland's youngest and longest-serving woman prime minister and gave advice to the new graduates about navigating their lives beyond NYU.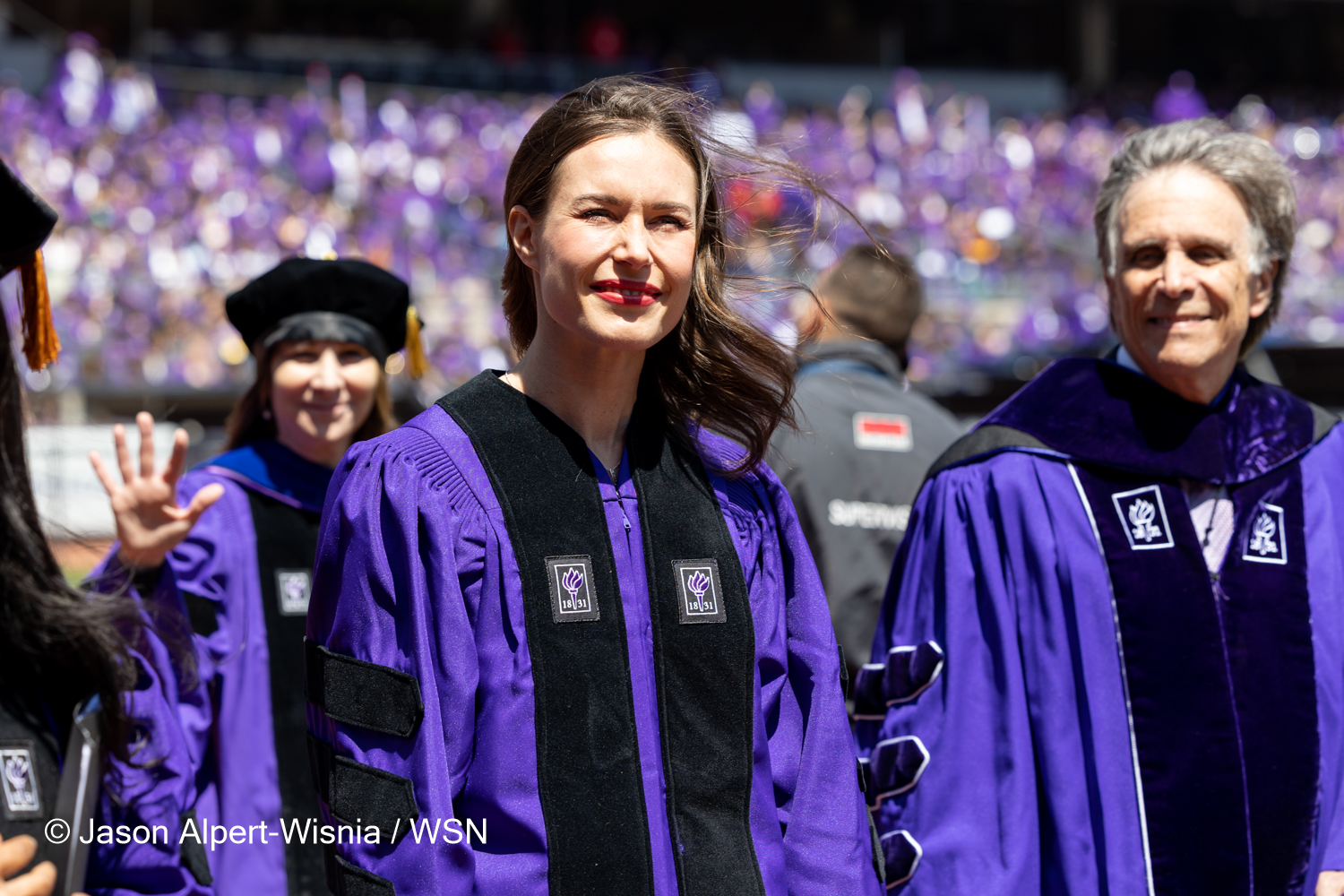 "Wanting is not enough — to change things, you have to take over," Marin said. "No change can happen without the will. You need to want things to change for better. "
CAS graduate Donovan Dior Dixon, the ceremony's student speaker, congratulated his classmates and said he was grateful for the friends he made during his four years at NYU.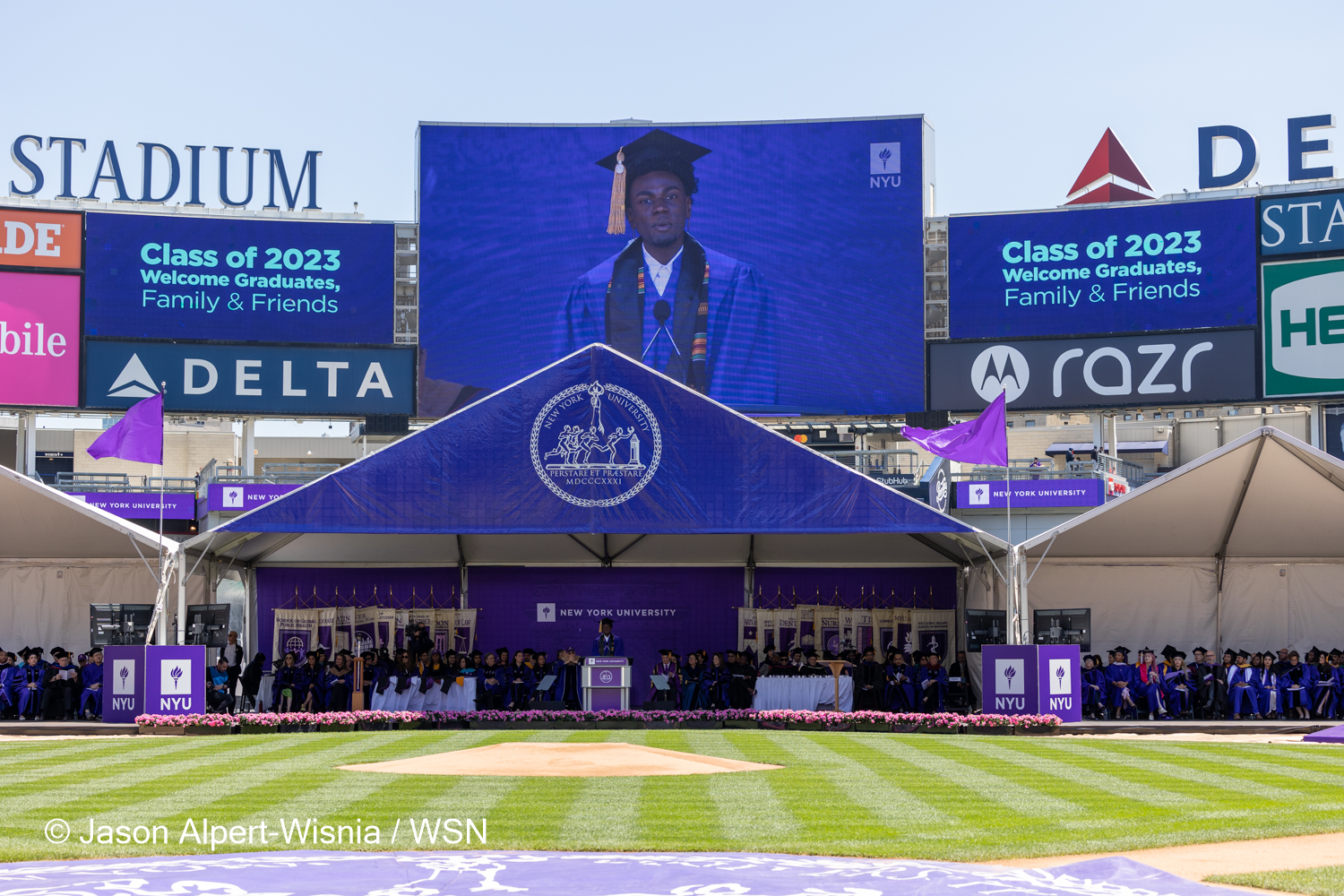 "All of us came to this university with a lit flame," Dixon said. "With that illumination comes transformation — the opportunity for all of us to usher in the day when our society is free from fear, guided by hope, and bound by an everlasting love for one another."
Ron Hall, the outgoing Student Government Assembly chair, presented Hamilton with a framed photograph of the commencement ceremony before the two shared a hug.
Student representatives from each of NYU's schools were then given symbolic diplomas from deans and administrators on behalf of their respective graduating classes. 
At the ceremony's conclusion, Dopico and Hamilton announced the passing of the torch — a university tradition since 1938 — during which J. Anthony Movshon, a senior NYU administrator, handed a torch to the youngest undergraduate student in the class of 2023, Morgan Xu. 
Tandon graduate Florentina Sergiou said she was happy to be able to spend her last moments at the university alongside her fellow students.
"I'm super excited," Sergiou said. "I'm looking forward to just spending these last few moments with friends before we're all off on our different adventures."
Hamilton concluded the ceremony with advice to the graduating class and his final farewell.
"You have now joined the ranks of NYU alumni, who have used their knowledge to benefit humanity," Hamilton said. "Continue their tradition embodying the words of our motto: 'perstare et praestare' — to persevere and excel."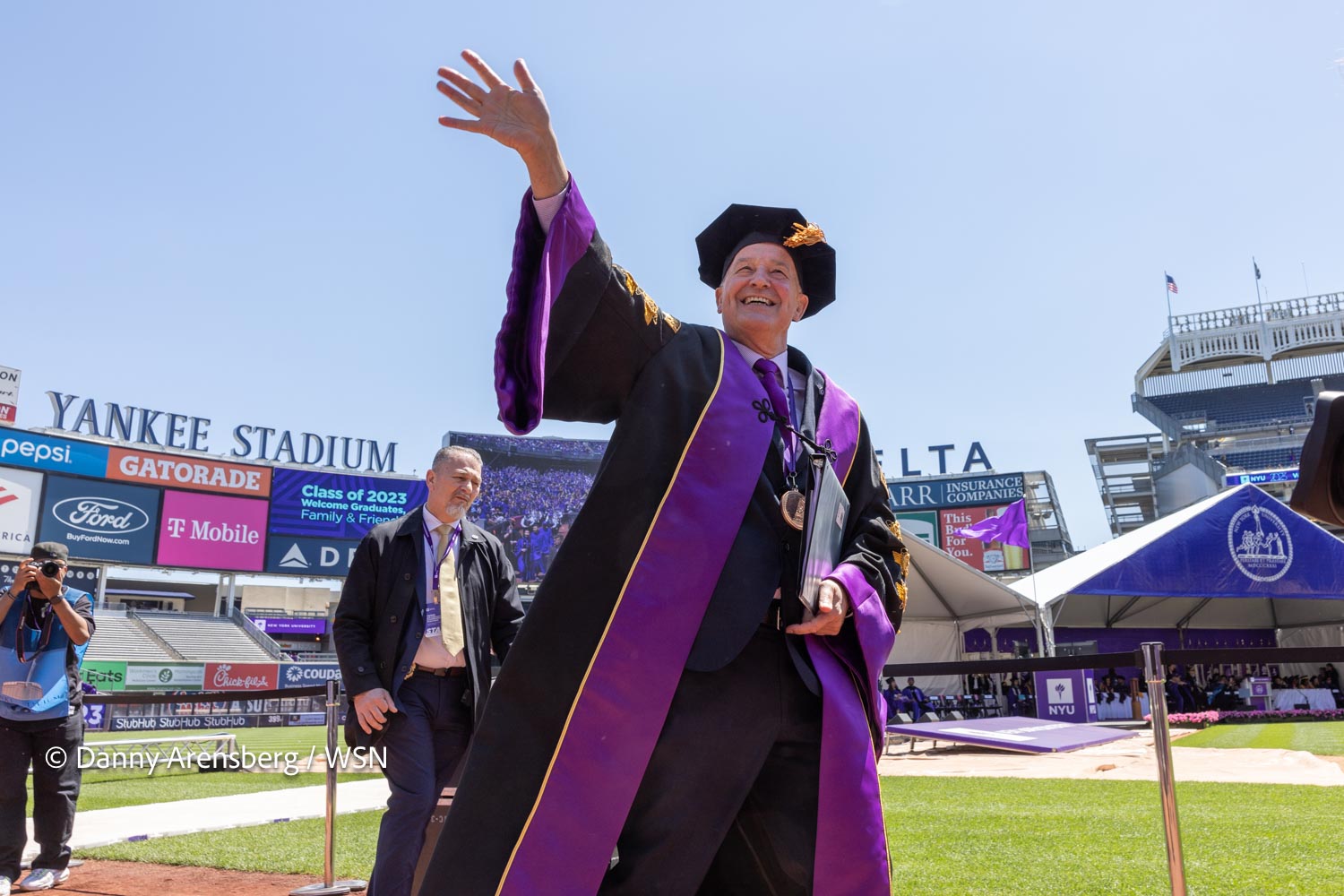 Contact Bruna Horvath and Yezen Saadah at [email protected].