NYU students join protest for 47 pro-democracy figures on trial in Hong Kong
Local activists and students held a demonstration at Washington Square Park in support of pro-democracy advocates in Chinese government custody.
Posters with the names and faces of 47 Hong Kong pro-democracy figures were fanned out along the edge of the fountain at Washington Square Park on Sunday, April 16, as demonstrators gathered to demand their freedom from the Chinese government. Dozens of protesters, including NYU students, crowded the north side of the park to demand justice for the group of pro-democracy legislators and organizers that had been arrested amid the Chinese government's 2020 crackdown on Hong Kong. 
An NYU student who helped organize the protest said they have been involved in advocacy for the pro-democracy prisoners because they are from Hong Kong and have family there. They requested anonymity due to concerns for their family's safety.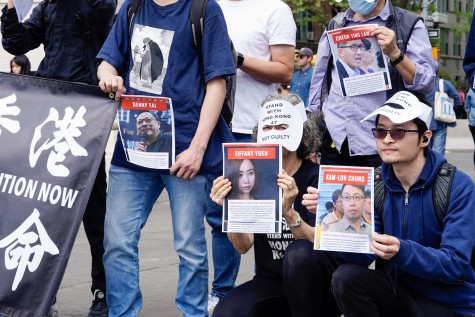 "People are literally being arrested for just going about and exercising their political rights and social rights," the student said. "We can't be silent against it."
The Chinese government arrested the activists, known as the Hong Kong 47, in January 2021 after the group organized a protest against a national security law imposed by China that restricted Hong Kong's autonomy and made it easier for the government to prosecute protesters. The law has been described as "draconian" by The Guardian. It was passed in June 2020, a few weeks before the activists organized the 2021 protest, in which they held a primary election for the city's opposition party. Hundreds of thousands in Hong Kong participated.
The trial being held for the imprisoned figures has been postponed multiple times, leaving most of the activists held without bail for more than two years. Thirteen of the 47 arrested have been granted bail, and 31 have pleaded guilty to charges of subversion.
The demonstration was organized by New Yorkers Supporting Hong Kong, a volunteer advocacy group, Students for Hong Kong, a group of student organizers from Hong Kong, and the Hong Kong Student Advocacy Group at NYU. Attendees shouted "47" and "not guilty," and some participants wore white paper masks that read, "Stand with Hong Kong 47."
Anna Cheung, a member of New Yorkers Supporting Hong Kong, also called NY4HK, said she has worked with prominent pro-democracy activists Albert Ho and Lee Cheuk Yan for over 20 years. Ho was arrested under the national security law for leading a pro-democracy group in Hong Kong, and Lee is serving a 14-month sentence for organizing an unauthorized vigil for victims of China's 1989 Tiananmen Square massacre.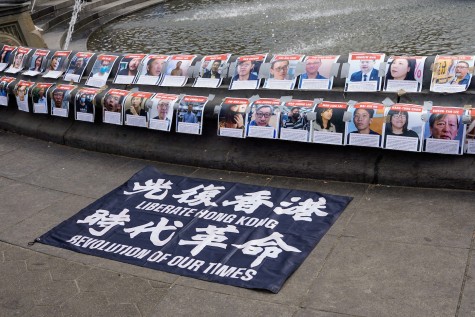 "I hope that people will be aware that we are in a very dire situation in Hong Kong," Cheung said. "Even if it is not on the front page of the news, it doesn't mean that nothing is happening to these people. They were just joining a primary election, and were jailed for over two years."
Another demonstrator, an NYU student from Hong Kong who requested anonymity due to fear of political retaliation, said they felt it was their right to stand in solidarity at the protest with the Hong Kong 47. They said some of their former classmates in Hong Kong were arrested for attending pro-democracy protests after the national security law was passed.
"One of the main reasons that people like me, or people from Hong Kong, are going abroad to study is because we want to escape," the student said. "I would feel bad if I didn't do something — if I didn't stay behind here and try to raise awareness about the issue."
Contact Mayee Yeh at [email protected].