'I feel like I'm attending my own funeral,' Hamilton says at farewell event
Students were outnumbered by university administrators at a farewell event in which NYU president Andrew Hamilton spoke to the student government chair about his time at the university.
A student government event featuring Andrew Hamilton, NYU's outgoing president, saw lackluster attendance on Thursday, with around 30 people in the audience — most of whom were university administrators, though eight student government representatives and one other student were present. At the event, Hamilton spoke to student government chair Ron Hall about relations between NYU and local residents, legal challenges to education and his eight years at the university's helm.
"I've still got three months, by the way," Hamilton said. "I feel like I'm attending my own funeral."
During the conversation, Hamilton said that NYU has made "very significant progress" during his tenure, including advancing its academics, diversity, sustainability efforts, affordability and expanding NYU's global network. He also defended the construction of the Paulson Center — which has for years been a source of frustration among Greenwich Village residents — and separately said that he thinks NYU is the reason many restaurants in the Village survived the pandemic.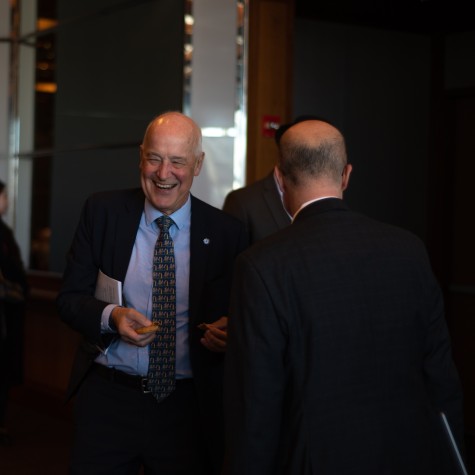 "I wish I could say our relations with the community are better than they were when I first arrived," Hamilton said. "I think they are — now others may profoundly disagree with me, but we embrace disagreement at NYU. I actually think this university has never been more important to Greenwich Village and to New York City than it is today."
Hamilton also spoke about the upcoming Supreme Court decision that will decide whether race-sensitive university admissions are constitutional, and how NYU is preparing for the result. He said that the university's admissions team is preparing for different outcomes of the case and that he is consulting experts on the topic at NYU.
"We don't know at this point what the decision will be and even if it is going to be overturned — everyone seems to think it will, but we don't know," Hamilton said. "I am confident in the professionalism of our enrollment management team — the way in which they approach holistic admissions, looking at the whole person, looking at not just the academic achievements, but also the experiences of that individual."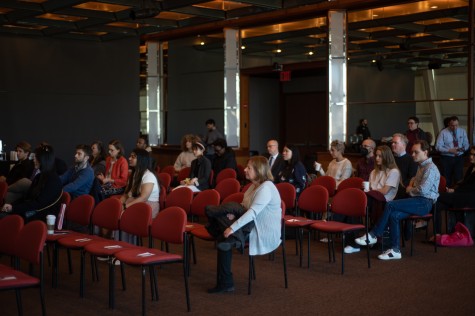 Pei Lin Lu, a first-year, was the only student in attendance who is not involved in the student government.
"I saw this on the Instagram and I felt like, since he's resigning, that I get a chance to actually meet him because I didn't get a chance during the welcome week," Lu said. "I felt like this was a great time to know the past president and get to know his work at NYU."
Contact Max Getty at [email protected].