Trump rally outside Manhattan DA's office sees scant attendance
A small group of protesters was surrounded by reporters outside of the Manhattan District Attorney's office on Monday as they protested the potential indictment of former president Donald Trump.
Tens of demonstrators gathered outside the office of Manhattan district attorney Alvin Bragg to protest the potential indictment of former president Donald Trump on the evening of Monday, March 20. They were outnumbered by a ratio of almost 3-1 by dozens of reporters and television crews.
The protest, which was organized by the New York Young Republican Club, is one of many organized across the country in response to a post by Trump on Truth Social, his social media venture, claiming that his arrest was imminent.
Some protesters carried signs, and one played a guitar with "Hang Fauci + Gates" written on it in Sharpie. Many wore red "Make America Great Again" caps; others carried "Trump 2024" flags and the Stars and Stripes.
Gavin Wax, the president of the New York Young Republican Club, attributed the low turnout to the fact that the organization  chose to only distribute 100 tickets due to safety concerns. He claimed that hundreds of protesters were on a waitlist to attend the event. He added that the group does not condone any kind of political violence.
"We're going to continue to engage and continue to activate and continue to message on this topic, as we have been — and we're not going anywhere," Wax said. "We're going to continue to be a force pushing for Republican and conservative values here in New York City."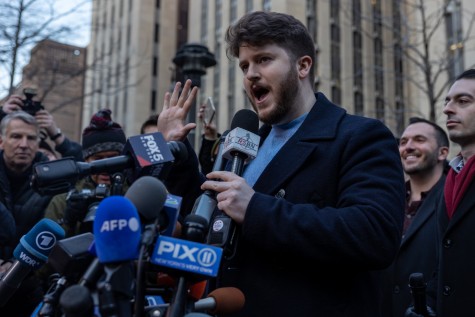 The DA's office is investigating Trump over "hush money" payments made on his behalf to porn actor Stormy Daniels in exchange for her silence over a purported sexual encounter between the two in 2006. The investigation is expected to come to a close in the coming week. Trump has urged his supporters to protest in response to a possible indictment against him.
"NOW ILLEGAL LEAKS FROM A CORRUPT & HIGHLY POLITICAL MANHATTAN DISTRICT ATTORNEYS OFFICE, WHICH HAS ALLOWED NEW RECORDS TO BE SET IN VIOLENT CRIME & WHOSE LEADER IS FUNDED BY GEORGE SOROS, INDICATE THAT, WITH NO CRIME BEING ABLE TO BE PROVEN, & BASED ON AN OLD & FULLY DEBUNKED (BY NUMEROUS OTHER PROSECUTORS!) FAIRYTALE, THE FAR & AWAY LEADING REPUBLICAN CANDIDATE & FORMER PRESIDENT OF THE UNITED STATES OF AMERICA, WILL BE ARRESTED ON TUESDAY OF NEXT WEEK. PROTEST, TAKE OUR NATION BACK!" Trump wrote on Truth Social.
The DA's office began its investigation in November of 2022 to look into Trump's involvement in a $130,000 payment made to Daniels through former Trump lawyer Micheal Cohen in 2016, and Trump reimbursed Cohen for the payments during his time in the White House. Cohen testified in front of a grand jury in the investigation the day of the protest, and a decision over whether there will be an indictment is expected soon. In 2018, Cohen was charged with tax evasion and campaign finance violations, for which he served a three-year prison sentence.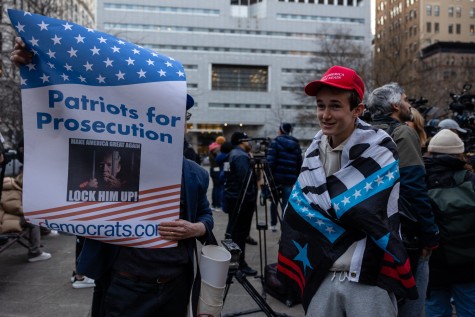 At NYU, Nate Sirotovitch, the president of the university's chapter of the College Republicans, said that whether the campus group participates in any protests at the time of an indictment will depend on the credibility of the charges made against Trump. He added that the College Republicans condemn political violence, and are only open to participating in peaceful protests.
"We believe in justice and due process for everyone," Sirotovitch wrote in a statement to WSN. "We hope that the courts treat everyone in an impartial manner, and we will only participate in demonstrations if we believe that Mr. Trump is being treated extremely unfairly and contrary to the principles upon which our great country's justice system is built."
Manhattan resident Susan Miller, who said she supports Trump, criticized the investigation and said that she was confident that the former president will not be charged. 
"They can never stop him, this is a witch hunt," Miller said, "Nothing can stop Trump, he'll beat it no matter what."
Contact Ania Keenan at [email protected] and Carmo Moniz at [email protected].