As Roe v. Wade turns 50, protesters march against the loss of abortion rights
A group of abortion rights activists marched down Broadway in support of nationwide abortion access on Sunday, Jan. 22, joining thousands of demonstrators throughout the country.
Hundreds of people marched from Washington Square Park to the Financial District on Sunday, calling for national abortion rights on what would have been the 50th anniversary of Roe v. Wade. The rally was a part of the seventh annual Women's March, a national event centered on social issues such as reproductive and voting rights.
Ymoni Shavuo, a teacher and the founder of activist group Black Feminists Matter, led the New York City march, where she called for better access to safe and affordable abortions across the country.
"When we think about Roe v. Wade, it's deeper than abortion," Shavuo said. "It's bigger than Roe. It's about freedom. A child is born into this world in the condition of its mother, if the mother is struggling that child is born struggling."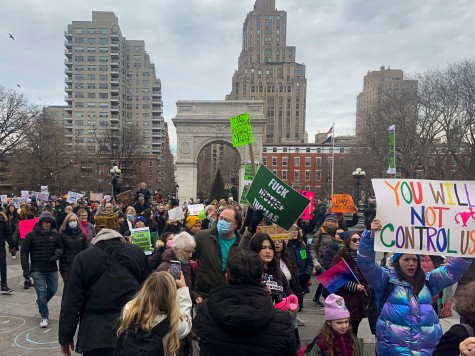 As protesters made their way down Broadway to the final destination of the march at the intersection of Wall Street and Broad Street, they chanted "abortion rights are human rights," and "no uterus, no opinion." Many attendees carried signs, with some reading "legal abortion nationwide now!" and "our future, our fight, our bodies."
Roe v. Wade, the 1973 Supreme Court case that found that the Constitution gave pregnant people the right to an abortion, was overturned this past June. The decision led thousands to protest across the country, including in Washington Square Park.
At the march, Shavuo also spoke about New York City's key role in the historical fight for reproductive rights — the first birth control clinic in the country was opened in Brooklyn — and the increased impact of anti-abortion laws on Black people. Increased abortion restrictions as a result of Roe v. Wade's overturning have disproportionately affected people of color.
"This is a Black issue, it's a racial issue, it's an economic issue, it's a human rights issue, it's a civil rights battle," Shavuo said. "We are putting all politicians at every level of government on notice. If you come for our families, our freedoms, our lives or our futures, we are coming for your seats."
Karin Schall, president of the board of A is For — an organization dedicated to ending the stigma associated with abortion care — said the overturning of Roe v. Wade affects people across different generations. She added that many people had the right to an abortion for most of their lives.
"It's a travesty that we have come to this place in our country's history where a Supreme Court made a decision that is affecting millions of people," Schall said. "I have been fighting for abortion rights and abortion justice for a while now because it's an individual right — it's a human right."
In New York state, abortions for any reason are legal until after 24 weeks of pregnancy, and legal after 24 weeks if the pregnancy poses health risks for the pregnant person. This corresponds with the protections outlined in Roe v. Wade that guaranteed legal abortions until a fetus was viable — typically at 24 weeks.
Since Roe v. Wade was overturned, however, a total of 12 states have implemented near-total bans on abortion care, and another four have reduced the amount of time that pregnant people have to get abortions.
Mun Chong, a climate activist who attended the march, said she believes protesting is an effective way of improving abortion and access to healthcare.
"Something that we fought and won 50 years ago being repealed, it's just not acceptable," Chong said. "Through history, we've always been told that unless we actually come out and do civil disobedience, and actually resist those in power, we won't get change."
Contact Carmo Moniz at [email protected]