Police detain and release 9 NYU Shanghai students in drug sweeps
Three weeks ago, Chinese police detained nine NYU Shanghai students in two separate drug sweeps.
Nine NYU Shanghai students were detained in two separate drug sweeps conducted by local police in Shanghai on March 12. Two students were taken into custody at a local bar, and seven others at a birthday party at an off-campus apartment. Police conducted both drug enforcement operations at approximately 10 p.m. local time on the same night.
After testing negative for narcotics, the students were released. They are now alleging police misconduct.
"The students who were at the bar told us that, just after leaving the bar, they were confronted by a person in plainclothes who showed something resembling a badge that they did not recognize," Yuhan Xu, the media relations manager for NYU Shanghai, wrote in an email to WSN.
According to Xu, the students were uncertain whether the officers were police. They did not know drug sweeps were commonly conducted by plainclothes officers.
At the bar, the police kicked a male student in the head and bruised a female student as they took her into custody, according to The Washington Post. According to the article, an anonymous NYU Shanghai student said that the injured student was bleeding from the head, and tried to call NYU Shanghai Public Safety. The anonymous source also said that the girl was beaten after trying to flee the plainclothes officers, who were described as badgeless.
"One of [the students] attempted to leave the scene," Xu wrote. "They sustained some injuries as police sought to detain them. The injuries did not require medical attention. The two students were then detained and tested for drugs along with the other bar patrons and staff, all of whom were Chinese citizens … As for the students who were at the party, we believe that the police were focused on a particular individual."
A student at the birthday party who was not detained made NYU Shanghai administration aware of the incidents later that night. 
The NYU Shanghai students — including six U.S. citizens, as well as citizens of Finland, Morocco and Malaysia — were released next morning, approximately 11-16 hours after being detained. According to Xu and David Pe, the dean of students at NYU Shanghai, it is typical to keep detainees until their tests return negative. All nine students detained tested negative and were not in possession of drugs.
"Because of the prevalence of law enforcement efforts against drugs in Shanghai, NYU Shanghai educates students about the relevant laws and regulations, and how to respond to them, at student orientations," Xu said. "Chinese law enforcement has previously indicated that it looks askance upon efforts to intervene before the initial phase of their investigations — i.e., the drug tests — are completed."
The university offered counseling and medical assistance to the detained students. They have also been working with them about addressing additional concerns about the issue of drug enforcement in China.
In a March 17 email to students, Pe insisted there is no evidential basis to suggest that the detained students were politically targeted due to their U.S. citizenship. His reasoning was that bar staff and other patrons, who were primarily Chinese nationals, were also detained.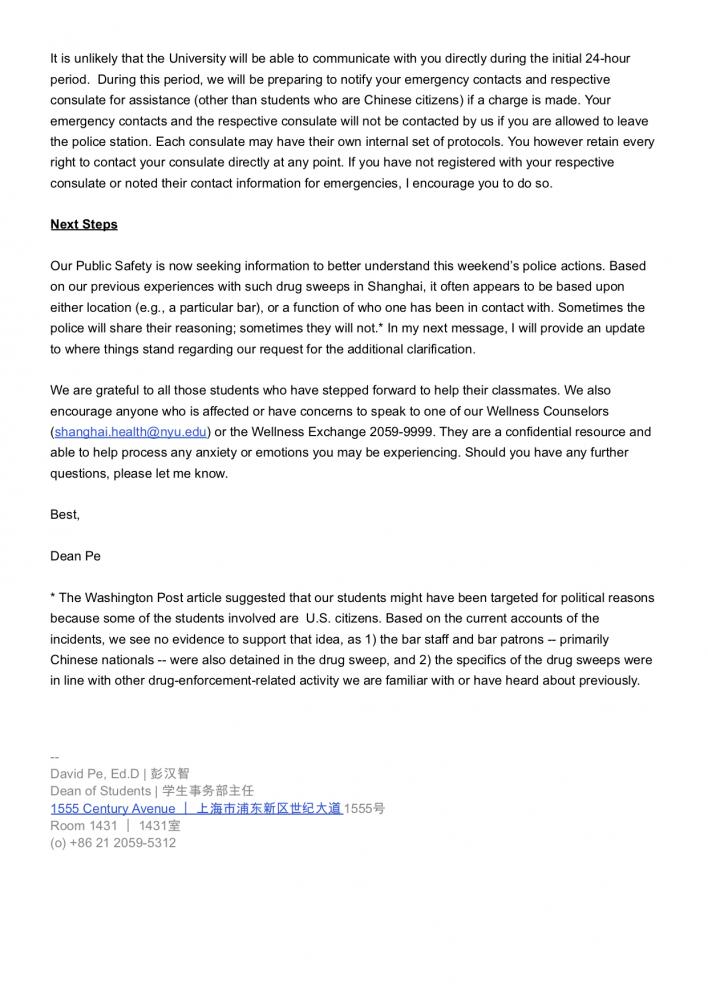 According to Pe, NYU Shanghai students encountering law enforcement should contact NYU Public Safety. If the encounter escalates, the Student Life Dean on Duty becomes the principal point of contact. The police have 24 hours to investigate a drug case and decide whether to press charges or release a detained person.
"From the time a person is detained until the result of the drug test is returned, police will not allow the university to intervene," Pe wrote. "Our past experience has taught us that if the university or a consulate intervenes in a case before an actual charge is made, it will prolong the process."
It is unlikely that NYU will be able to get in contact with a student in the 24-hour period following their detainment, Pe added. The police only notify a student's university if charges are pressed against them. In such a situation, the university notifies the student's emergency contacts and their consulate or embassy.
Benjamin Sand, a deputy spokesperson for the U.S. Embassy in Beijing, said that the embassy is unable to provide details specific to the students due to privacy concerns.
"However, on the record, I can say the U.S. Department of State and our embassies and consulates abroad have no greater responsibility than the protection of U.S. citizens overseas," Sand wrote in an email statement to WSN.
In response to the incident, NYU Shanghai will establish a safety task force charged with reviewing existing response protocols and recommending changes to training, programs and resource allocation for the NYU Shanghai community. The university will also contact all consulates and embassies of NYU Shanghai students, faculty and staff — who hail from more than 80 countries — and ask for citizenship-specific protocols in case of law enforcement encounters.
Additionally, NYU Shanghai will host representatives from the Shanghai Pudong police bureau — as well as professional safety and risk experts — to speak to the university community about useful information and resources.
A version of this article appeared in the April 5 e-print edition. Email Ruqaiyah Zarook at [email protected]