Attendees packed St. Mark's Church in-the-Bowery to listen to poetry and raise money for migrants and detainees on Wednesday.
Authors, poets, activists and artists — including members of the NYU community — participated in "Writers For Migrant Justice" by sharing readings and conversations related to being a minority in America. The goal of the event was to inspire donations to Immigrant Families Together, a nonprofit organization that provides legal council to migrants and detainees. Poet José Olivarez, who helped organize the event, said the work of the IFT is especially important now. Since the start of 2019, the Immigration and Customs Enforcement has taken over 600,000 immigrants into custody, leaving many migrants in need of legal support. The event was hosted by the Poetry Project and Latinx in Publishing, which promotes Latinx voices in the arts.
"Every dollar that you give today lets one of us immigrants know that you see us as a f-cking full human being," NYU MFA alum Javier Zamora said.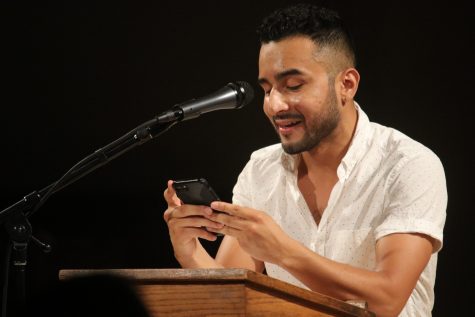 One of a series of 43 similar events that took place across the country on the same night, the national goal of Writers for Migrant Justice was to raise $5,000. Before the readings even began, $2,500 had already been raised at the New York City location through book sales, donations and a plethora of empanadas. Once the poetry began, audience members continued to donate. 
GSAS student Melissa Lozada-Oliva, who studies creative writing, felt obligated to partake in an event supporting migrants.
"As someone who is a child of immigrants, but has the privilege of citizenship, it's important for me to participate in events like this," Lozada-Oliva said.
Those associated with NYU who attended or were involved in the event told WSN they felt the NYU community should rally behind causes like Writers For Migrant Justice.
"I think the artist community has always been on the forefront of social change and it's always been a priority of the arts community to amplify the voices that often go unheard," CAS first-year Lin-Lin Mo said. "If everyone, no matter what their citizenship, can come together and support a cause like [Writers for Migrant Justice], I think that aligns with the values of [NYU]."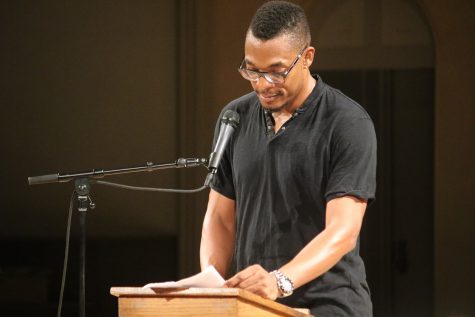 NYU admitted its most diverse class yet this year, 22% of whom are students who identify as Latinx. Gallatin Adjunct Professor of Dramatic Writing Darrel Holnes said that being part of diverse communities within NYU and New York City necessitates involvement in causes like Writers for Migrant Justice.
"I think one of the wonderful things about going to school at NYU is you get to go to school in …  a city that's rich with so many stories," Holnes said. "What makes stories and New York City so rich and interesting and valuable is that they come from all over the world. It has such a rich immigrant history that this crisis really has to hit home for every NYU student, regardless of their politics, regardless of wherever they're coming from."
Email Ronni Husmann at [email protected].