A sea of violet gowns replaced the white and navy pinstripes that typically fill Yankee Stadium. On Wednesday morning, NYU held its 187th Commencement ceremony for the class of 2019, made up of over 17,000 undergraduate, graduate and doctoral students. Students' families and friends also attended the ceremony — although each student is limited to four guest tickets — coming from across the globe to see their loved ones turn over their tassels.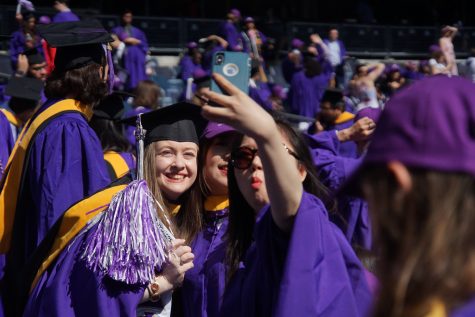 Before the ceremony began, Assistant Director for Visual Storytelling Sapna Parikh hosted the Commencement Preshow, in which she interviewed notable Class of 2019 graduates about their time at NYU and what life looks like post-graduation.
Among those Parikh interviewed was José Diaz, the first member of NYU's Prison Education Program to graduate with a bachelor's degree. The program provides educational opportunities for inmates at Wallkill Correctional Facility, located in New York's Ulster County, to work toward an associate's degree. Diaz graduated with a degree in Latino Studies and Social and Cultural Analysis, and will continue his education at NYU as a master's student this upcoming fall.  
"The Prison Education Program took a leap of faith on me, which in turn I had to internalize and figure out 'How do I take a leap of faith on myself?' and make those changes necessary to push forward and progress in my life," Diaz said.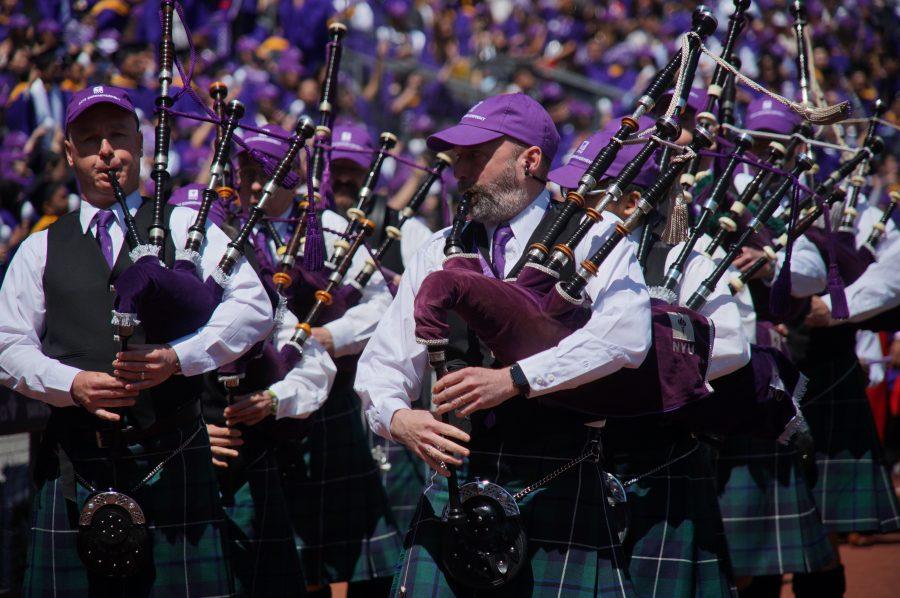 After the ceremony kicked off with the traditional procession of NYU Pipes and Drums, faculty members, school representatives and the platform party, Chair of the Board of Trustees William Berkley welcomed those in attendance and introduced Tisch Film & TV graduate and Henry Luce Scholar Alfonso E. Morgan-Terrero, this year's student speaker.
Morgan-Terrero's speech focused on self-worth and the unique background of each graduate. He started by highlighting some of the difficulties he faced as a new first-year trying to find his place.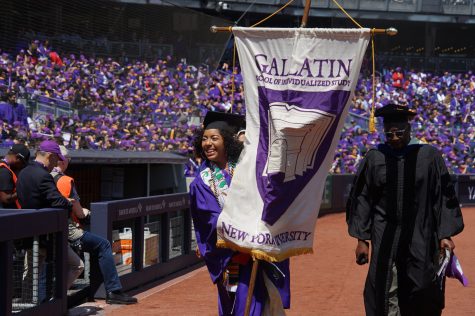 "I arrived at NYU Tisch after having driven down from my family's small home in the Bronx in a minivan packed to the brim with bags of clothes," Morgan-Terrero said. "But upon arriving, I quickly came to question whether or not I belonged. I spent my first year rooming in a suite with the sons of an Oscar award-winning filmmaker, a billionaire music producer and a very successful surgeon."
While at NYU, Morgan-Terrero said he grew to realize that he did indeed belong. Along with filmmaking, he studied Mandarin, and will use those skills next year when he goes to Taiwan through his fellowship to study and film. He ended his speech with a message of confidence and belief in oneself.
"This week, I've been asking myself, 'How did I get here?' I think the answer is that I, like all of us gathered here today, have always been here," he said. "The admissions committee saw us for who we were, in some cases before we saw that clearly for ourselves. And we, in turn, make this university what it is."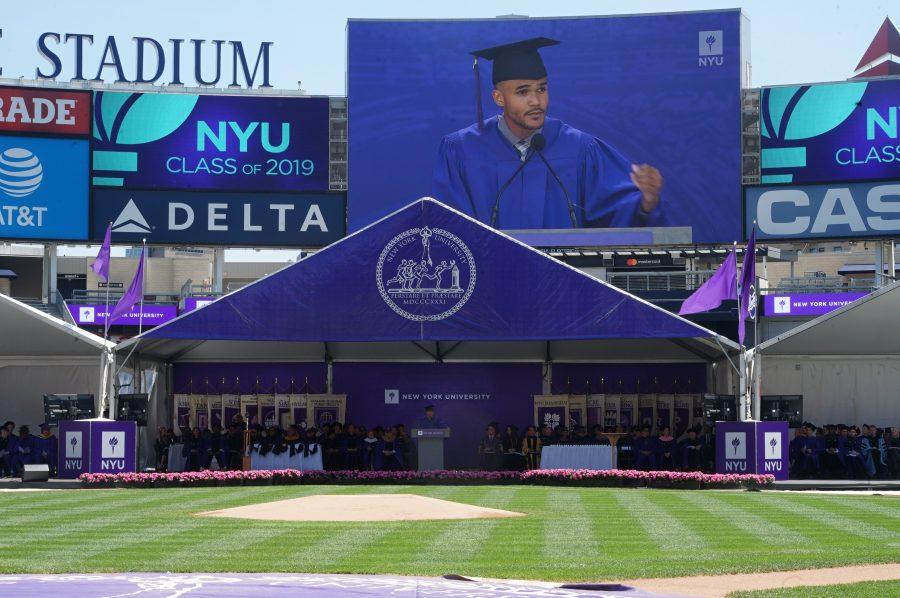 Following graduation, Morgan-Terrero will be flying to the Dominican Republic, where his mother is from, to begin shooting his first feature film.
The university then awarded honorary degrees to Tony Award-winning playwright Terrence McNally, who received a Doctor of Fine Arts; and Acting Director of the U.S. National Cancer Institute Douglas R. Lowy, who received a Doctor of Science and graduated in 1968 from the School of Medicine. Director of the Mamma Haidara Library in Timbuktu Abdel Kader Haidara, Librarian of Congress Carla Diane Hayden and President of the Andrew W. Mellon Foundation and poet Elizabeth Alexander were each awarded Doctor of Humane Letters degrees.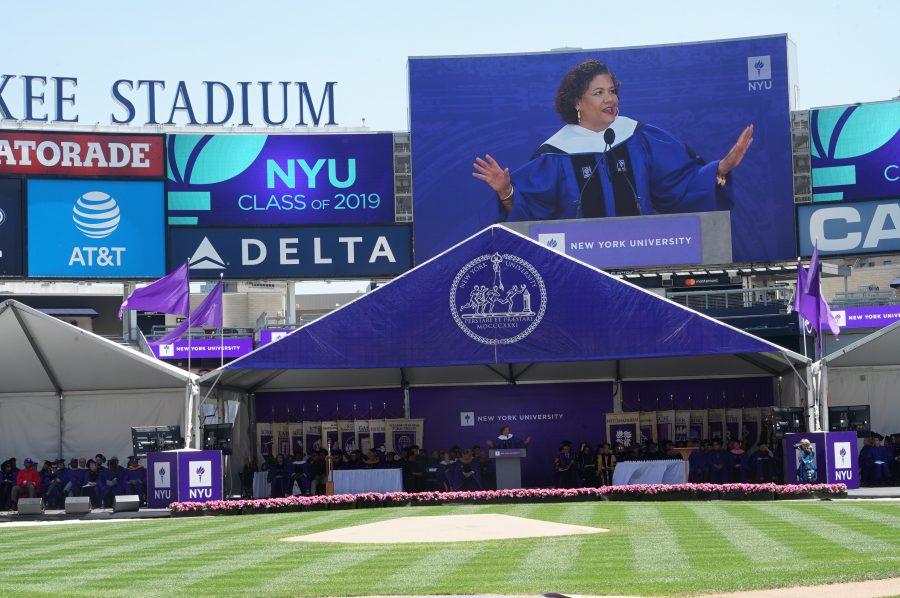 Alexander delivered this year's commencement speech, centered around love, freedom and the power of language. She said her purpose as a poet is "to join common words in uncommon ways to illuminate realities tucked beneath the apparent," and continued on to speak about different communities less present in dominant narratives of media and history.
"The power of language is to assert presence, is to speak truth to power, is to make space, is to see each other as human beings," Alexander said. "Because our society, on this day that you graduate, is engaged in too many fraught conversations about who belongs, who merits our attention, who is seen as human."
She then posed a question to the graduates.
"In the midst of a horrible laying bear of anxieties and violence taking form in the language of who is truly American and who belongs, I put this challenge to you: How do we understand the stakes of precise language? What is the power of your words once you are in the room? What can you do with your words to move us closer to beloved community?"
Alexander closed her speech with an excerpt from Robert Hayden's poem "Frederick Douglass" to sum up her thoughts on freedom and to urge graduates to work on behalf of others who "are not at the table, not in Yankee Stadium and excluded from necessary conversations."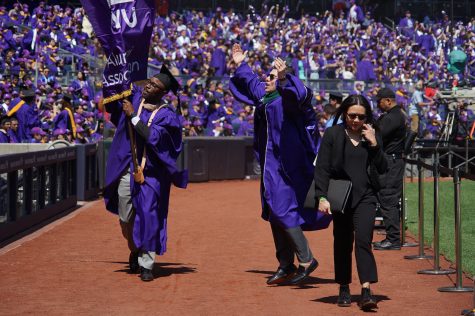 "Class of 2019, I believe that you can create this world 'where none is lonely, none hunted, none alien,'" Alexander said. "I believe that you can create a world where all people have community and safety. Where we can all belong and be known."
President Andrew Hamilton gave the final speech of the day. In his address to the graduating class, Hamilton revisited the state of the nation 50 years prior.
"Leading up to today's ceremony, I have been thinking very much about the year 1969," he said. "From the Stonewall uprising that took place just a few blocks from NYU's Washington Square campus, to the surging protests against the war in Vietnam, to the momentous Apollo 11 moon landing."
Hamilton said 1969 was one of the most financially difficult years for NYU, citing reduced federal funding and decreasing enrollment as the chief causes.
"The result was budget deficits so large that NYU's very survival was in question," he said.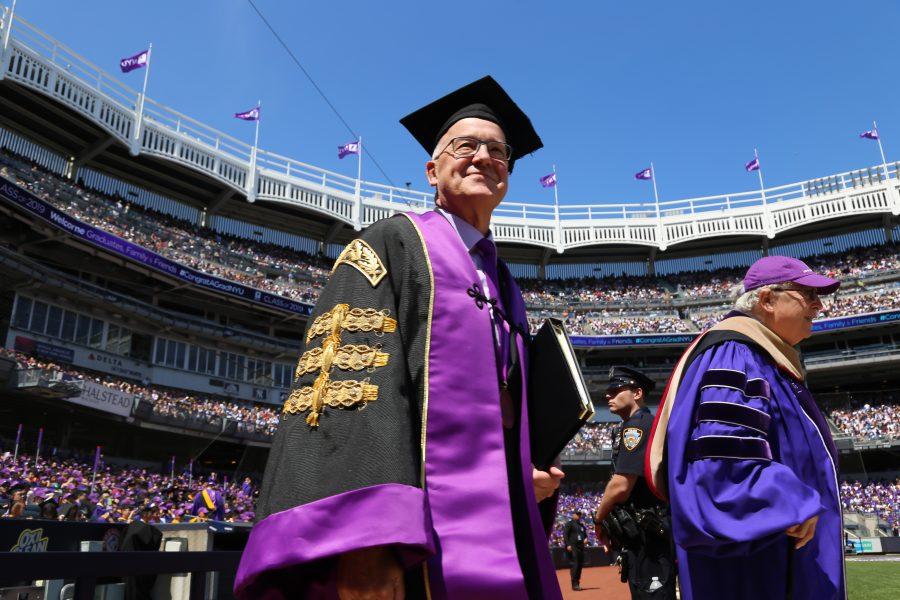 He elaborated on the actions the university took to combat this instability and emphasized how far it has come since then. He noted the drop in this year's acceptance rate to 16% and the rising SAT scores of each incoming class. Despite all this, Hamilton recognized NYU may not be held in the same regard as other prestigious institutions.
"Compared to most of the world's elite universities, NYU might seem an underdog," he said. "We don't have a very long history, we don't have as large an endowment, we certainly don't have as entrenched a pedigree as many other top institutions. But we have managed to turn those challenges into real advantages."
As of the end of the 2018 fiscal year, NYU's endowment is $4.2 billion. Columbia University's endowment is over $10 billion; Yale University's is nearly $30 billion, and the University of Southern California's is $5.5 billion.
The celebrations concluded with the Ceremony of the Torch, in which a senior faculty member passes the university's Tiffany & Company silver torch to the youngest member of the graduating class. This year, Tandon Biomedical Engineering Professor Mary K. Cowman passed the torch to NYU Abu Dhabi graduate Daniel Obaji, who is just 18 years old.
Each year, the Empire State Building is lit up in white and violet the night before commencement to honor that year's graduating class. CAS graduate Daniella Levine saw the glowing spire last night from near her apartment building.
"I looked at the Empire State Building last night, and I just sat by the water for ten minutes," Levine said. "I was like 'wow.' Just taking it all in because it goes by so fast. It's like a rush."
Email the management team at [email protected].