Leaving the Bars Behind and Starting Anew
The impact of the incarceration of a parent on families is not something that can be understood through reading textbooks. It is not a reality that many have experienced or fully understand; a concept that is known but can never be grasped. 
The "Fatherhood After Incarceration" panel on March 29 brought together people whose lives have been impacted by incarceration. The panel was moderated by Silver School of Social Work Clinical Assistant Professor Kirk James, whose research focuses on mass incarceration, specifically the systems that uphold it and the trauma it causes. Carlos Evans and Five Mualimm-ak spoke about their experiences with fatherhood during and after the time they were incarcerated. They were both accompanied on the panel by their sons.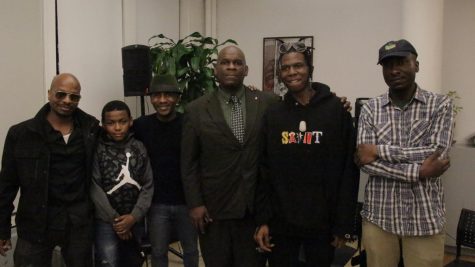 The event was organized by CAS junior Jose Diaz, who was approached by Mualimm-ak to host a panel about the repercussions of incarceration on families. 
Despite growing up in a stable household with parents who worked good jobs, Diaz got involved with gangs as a teenager.
"You are exposed to certain things and a kid is susceptible to a lot of things especially if there are gangs around," Diaz said. "Sometimes a kid has to make decisions and in my case I made many poor decisions."
In a random moment that turned into a big brawl, Diaz found himself in a gang fight that led to him to plead guilty to a felony,and become incarcerated for 11 years and 20 days at 18 years old.
While reflecting on his time spent in prison, Diaz talked about rehabilitation and how it changed throughout the years.
"There is this narrative that promotes correction facilities are meant to rehabilitate people," Diaz said. "But as things started to progress on a historical level, political agendas started to change and you saw the flip of the new age from the Democrats having 35 years of consecutive politicians in office to the Republicans coming into presidency and starting to revamp how politics and rhetoric happens in America."
Diaz believes that when Bill Clinton came into office, he ended the Pell grant for prisoners, which was intended to help subsidize the price of education. This caused colleges to pull away from the prisons in New York.
As funding for prisons diminished, more money was funneled into law enforcement and a larger carceral state. The prison system became more punitive and government-funded colleges failed to successfully rehabilitate prisoners or provide education. Rather than helping formerly incarcerated people rejoin society, they taught formerly incarcerated individuals skills that only served to further alienate them. Diaz took part in one such program called the "Horse Farm." 
"So now you have programs that really don't teach up-to-date skills and their locations are like a horse farm," Diaz said. "If I was paroling to somewhere in the country, this would be okay, but I'm going to Brooklyn, not really a transferable skill."
Now, with non-governmental organizations and colleges that don't cater to political agendas, the education system has an opportunity to operate independently within prisons. Schools like NYU and Cornell have prison education programs that can be used as credit toward a college education after serving the sentence.
"What they do is try to give these guys education as a tool for reaffirmation," Diaz said.
Diaz applied to the the Cornell Prison Education Program while at the Auburn Correctional Facility in 2009 and was accepted.He then got into NYU at the Wallkill Correctional Facility in New York state, where he met Evans, and was able to earn enough credits to transfer to NYU at New York City as a junior. 
During their time in prison, Mualimm-ak and Diaz were in opposing gangs that could not stand each other.
"We were about to go to war," Diaz said.
However, after the realization that they had both built up anger toward the injustices in the U.S. prison system, they started to talk about these issues instead. The war stopped, the hate disappeared and talk of social change took precedent.
"Sometimes when you are in the system and you are being digested by it, you can't really name it but you see the oppression," Diaz said.
With talks of giving back to their communities that seemed like pipe dreams, Diaz and Mualimm-ak started planning their advocacy work for when they got out.
During the panel, Mualimm-ak talked about the collateral consequences of incarceration, specifically regarding the issues he has had with child support. While he was in prison, his family only received $500 for child support and when he got out he had to help support his family.
Although Mualimm-ak has not committed a crime since his release, many people do if they're not given time to heal or the opportunity to survive financially.
The vulnerability panel members displayed was striking. Talking to an audience about one of the most scarring experiences of their lives, while trying to maintain a light atmosphere is not an easy task, but the panelists led a deep, thoughful conversation.
"We cannot heal what you don't reveal," James said about the importance of sharing and creating spaces to talk. According to Mualimm-ak, discussion on these subjetcs is made even more difficult because of the macho facade upheld by most people in the community.
"Black masculinity is toxic," Mualimm-ak said.
The psychological toll of not being able to afford calls from family — let alone not seeing them — is straining for both sides.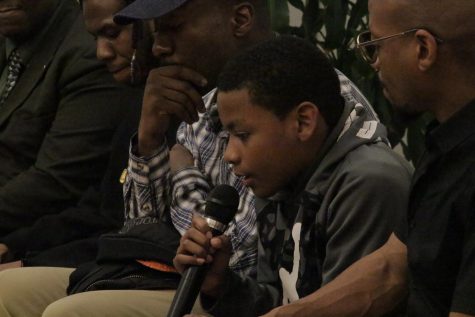 Mualimm-ak's son, Shaquille, spoke about the toll that the incarceration of his father took on his own childhood.
"When I needed my father, he got incarcerated," he said. "I was pissed and I did not care when he got out."
Omar, Mualimm-ak's older son, agreed that not having a father also significantly impacted his childhood.
"I learned a lot of things that you cannot learn alone," Omar said. "A lot of standing up for yourself when there is an absence to fill."
Evans is in his third year of freedom after being incarcerated for 13 years. He met Diaz while studying in Cornell's Prison Education Program. He praised the moms and grandmothers who were left behind to carry the weight of the family, the women in his life who were great examples of resilience and strength.
"Prisons are hard to get to," Evans said. The geographical inconvenience of these facilities makes it extremely challenging and oftentimes expensive to maintain relationships while incarcerated.
Shaquille also mentioned that  the current structure of the prison system in the United States is problematic because it never accounts for everyone else who are affected when one person is incarceration. It is a system that separates.
"Prison systems incarcerate not only one person, they lock everyone up," Shaquille said. "I was incarcerated too."
When asked to reflect on what he learned during his years incarcerated, Diaz answered me with his own question.
"There is this idea or theory that I kind of throw out sometimes: Does oppression create awareness?" Diaz said.
He believes that the current prison system is numbing for the spectators, and that society normalizes concepts like incarceration.
"When I think about ways prison has changed me, I can definitely say that it has made me more aware," Diaz said. "What it made me more aware of systematic oppression and how it works — systems that work together to perpetuate societal modes of incarceration for everyone." 
His main goal in organizing this panel was to inform people about the challenges during and following incarceration. When there is a person in front of you talking about their experiences, it exceeds what any book can teach.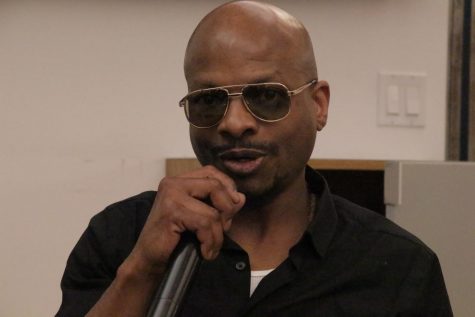 "It is about organizing an event that brings that reality much closer," Diaz said.
When asked about how to improve the prison system, he smiled. I realized the irony of my question.
"The idea of making the prison system better is with the notion that prison could be a better place," Diaz said. "Oftentimes we are concentrated on one particular problem but thinking about how to make the prison system better, is to question how do we make the neighborhoods better because essentially these prisons are being filled with people from particular neighborhoods."
Diaz added that everything leading up to incarceration has to change as well. Poverty has to decrease, public education has to improve and neighborhoods have to become safer. To make the prison system better, is to decrease the number of people becoming a part of it.
Diaz's father warned him of that, and the fact that if he didn't shape up, he would end up suffocated by the system.
"Prison is the end result, it's either prison or death," Diaz said, recounting the advice from his father. 
Update: New background information and reporting has been added to the piece since it was originally published. 
A version of this article appeared in the Monday, April 9 print edition. Email Yasmin Gulec at [email protected].