As blue and white Israeli flags flooded Washington Square Park on Thursday in celebration of the 71st anniversary of Israel's founding, dozens of student activists staged a die-in to protest the event.
"It's Yom Ha'atzmaut [Israeli Independence Day] and my family is partying in Israel and so I've got to [go to] something here," Tandon sophomore Jason Zilberkweit said.
Pro-Israel campus group Realize Israel has organized the Rave in the Park each year. Realize Israel started planning for the rave last summer and obtained permits to use Washington Square Park. The rave featured a DJ, Israeli EDM music, food, a prayer table and face painting. For Realize Israel, the event was intended to celebrate Jewish heritage and the nation of Israel.
"My goal for today is for people to come out of this party and feel proud of who they are and their Jewish identity and their Zionist identity like I am," President of Realize Israel and Stern junior Ezra Cohen said. "To see that this is something to be proud of and not something to hide behind, but something we should say proudly and loudly."
As students danced and waved Israeli flags, members of Students for Justice in Palestine laid on the ground holding posters with the names of Palestinian villages depopulated by the Israel Defense Forces.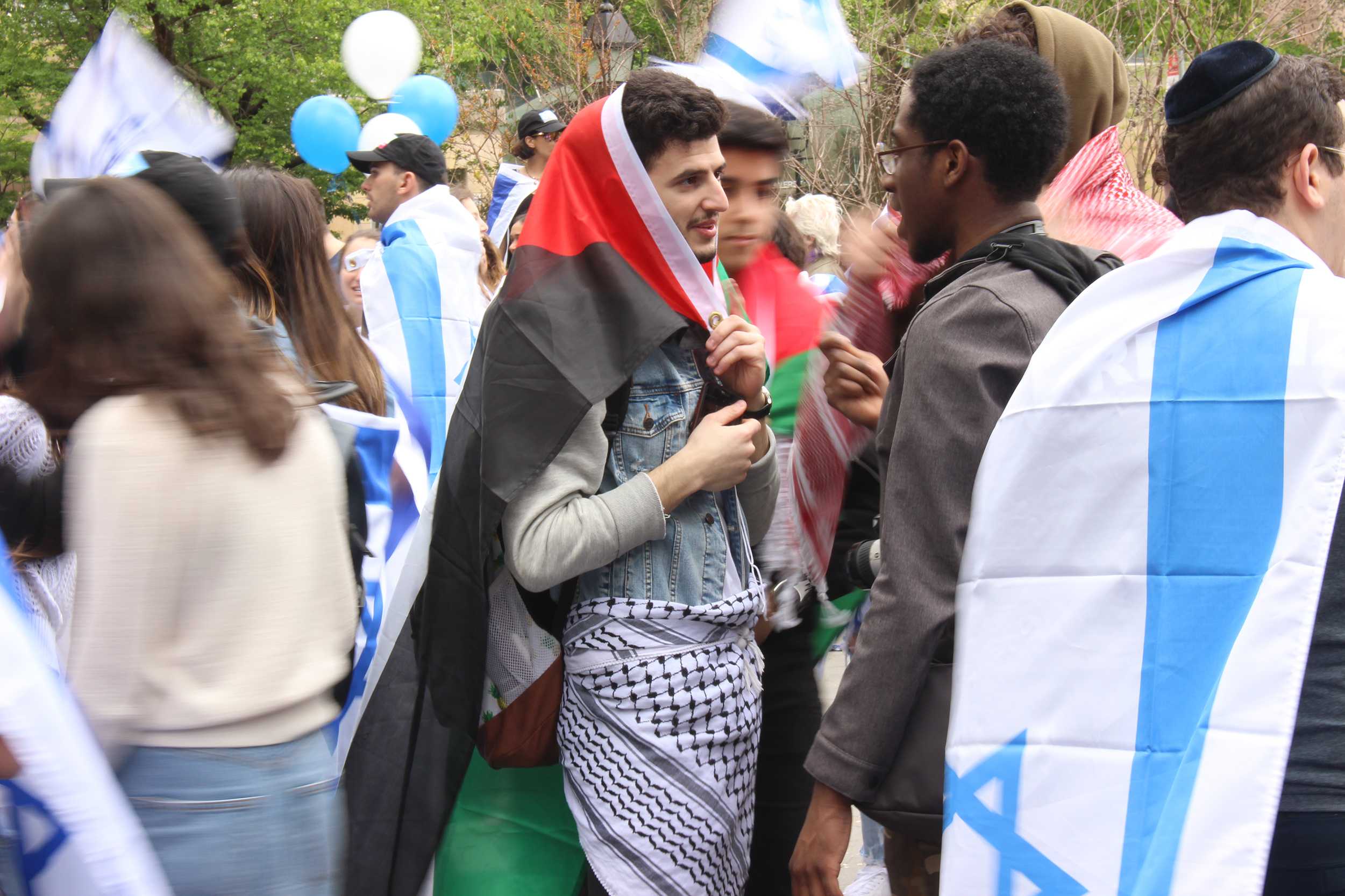 Following the event, SJP posted photos and a message to their Facebook account detailing their experience protesting the event.
"Zionists hurled racist slurs at us, calling our members 'terrorists," the post said. "They made a mockery of the violence they celebrate."
In a Facebook post, SJP organizer and GLS senior Khalid Abu Dawas said he was harassed by several rave-goers while he was protesting. Abu Dawas said that people called him a terrorist and kicked off his kufi, a short brimless hat commonly worn in regions of Africa and Asia.
"People kicked off my kufi, stepped on, kicked on, danced on, and had Israeli flags shoved into my face," Abu Dawas said. "People tried to get their dogs to walk on us. People danced and clapped in our faces."
Over the past year, tensions between pro-Israel and pro-Palestine groups on campus have been on the rise. During last year's Rave in the Park, two protesters were arrested for burning the Israeli flag and assaulting a Realize Israel member. While there were protests, there were no altercations at the rave this year.
In the fall 2018 semester, the Student Government Assembly passed a resolution calling for NYU to divest from companies supporting Israel, causing outcry from pro-Israel students. Tensions again escalated as Realize Israel condemned NYU's decision to give SJP the President's Service Award in April.
CAS first-year Asma Bawla joined SJP's protest to advocate for Palestinian human rights.
"I'm here to support the right of the Palestinian people," Bawla said. "I'm not Palestinian myself, but I believe a great injustice has been done towards them and I want to make sure they know what they [Israel supporters] are doing."
Stern junior Jonathan Farchi-Segal said the protests felt disruptive of what was supposed to be a celebration of Israel.
"I'm upset about the protesters," Farchi-Segal said. "They have the right to free speech, and I'd die for the right for them to express their views, but at the same time I wish they could be a little more respectful about when and where they display their views."
Although arguments occasionally broke out between the protesters and celebrators, many ravers, spectators and protestors sat down together to talk about the Israel-Palestine conflict. GLS sophomore Raj Kittusamy showed up to the rave to try to understand which solutions could lead to peace.
"I came to start conversations so that I could learn more about how both sides feel, but to also, whether it be naive of me or not, to reach a more objective conversation, to bring people I'm talking to more nuanced points," Kittusamy said. "I'm here to learn."
Email Lachlan Hyatt at [email protected].