Wall Street was filled with chants from a nearly 1,000-person crowd gathered for the March for Science on Saturday.
"Give us a Green New Deal, climate change is real!" the marchers chanted.
The first March for Science was in 2017. This year's march continued to champion climate change policy and the importance of science. Diversity in science, the #MeToo movement in STEM and the recently proposed Green New Deal were the focuses of the march.
March for Science NYC organized the last two marches. Its Director of Communications Alexandra Serio said one of the goals of the march was to encourage diversity in STEM.
"We wanted to commit to social justice within STEM, in science," Serio said in an interview with WSN. "We need to empower these communities to solve complex problems so that we are all at the table when fighting for a cause."
The march included a panel of four female climate and activist experts: Dr. Ayana Elizabeth Johnson, a marine biologist and founder of Ocean Collectiv; Dr. BethAnn McLaughlin, an MIT Disobedience Prize Winner and founder of #MeTooSTEM; Alexandria Villaseñor, a 13-year-old youth climate activist and Aracely Jimenez, one of the leaders of the Sunrise Movement.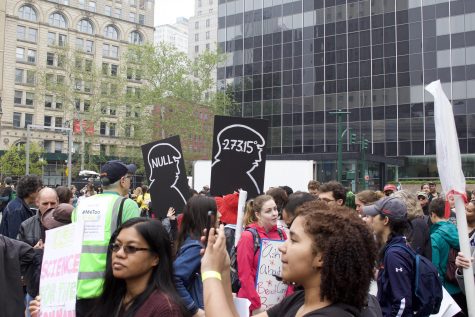 The keynote speakers addressed the crowd shortly before the march began and rallied cries of support.
"It matters who does science," Johnson said during her speech. "Who the scientists are determines what science gets done. Diversity is not just for optics. We need scientists from diverse backgrounds in all senses of this word."
Many speakers emphasized the importance of backing the Green New Deal, a 14-page proposal — designed to reverse looming climate disasters — that would enact major changes, such as complete decarbonization and transitioning to 100% renewable energy in 10 years.
Since the first march in 2017, involved advocates and leaders have emphasized the importance of science-based policy. Speakers framed the Green New Deal as one such policy and the country's success or failure to enact it as a potential watershed moment.
Tandon doctoral student and co-chair of March for Science NYC Omar Gowayed said he hopes the Green New Deal, like the march, will connect activists and scientists.
"The Green New Deal has the potential to basically be a platform where you use evidence-based policy," Gowayed, who studies materials science, said. "We believe that [March for Science NYC's] role, seeing that we're so connected into the scientific community and we're tied into the advocacy community, is to connect them."
Despite drenching rain early on, the crowd moved enthusiastically and loudly from Foley Square, adjacent to New York's City Hall and down to Broadway, ending at Pace University's Student Center.
CAS senior Param Karandikar attended the march with others in the American Chemical Society at NYU.
"Unfortunately, we live in a time when decision making in government and industry is defined more by profit motives than by scientifically-rationalized thought," Karandikar said. "I believe science is a key to better understanding our world and a better key for affecting decision making, and I think it should be more represented in how decisions that affect everyone should be made."
Email Lachlan Hyatt at [email protected].