Decarbonization Resolution Passes University Senate
After months of collaboration between activists and the university administration, the decarbonization resolution passed the University Senate.
A resolution to decarbonize the university passed at a University Senate meeting on Thursday with 47 votes in favor of the resolution and 40 votes against. Decarbonization calls for increased action to combat climate change through complete divestment from fossil fuels and fracking.
The resolution would have NYU phase out its usage of fossil fuels for power, heating and transportation and asks for the university to instead rely on renewable energy. It also proposes that NYU extend its sustainability efforts from the Washington Square campus to all of its global campuses.
NYU Divest, a group that advocates for climate justice and fossil fuel divestment, worked on the resolution with members of student government. In October, the resolution passed almost unanimously with three abstentions at a Student Senators Council Meeting and was supposed to be presented at a University Senate meeting in November. The resolution was delayed and sent to the Sustainability Working Group, headed by Assistant Vice President for Sustainability Cecil Sheib, which give recommendations and edits to the resolution.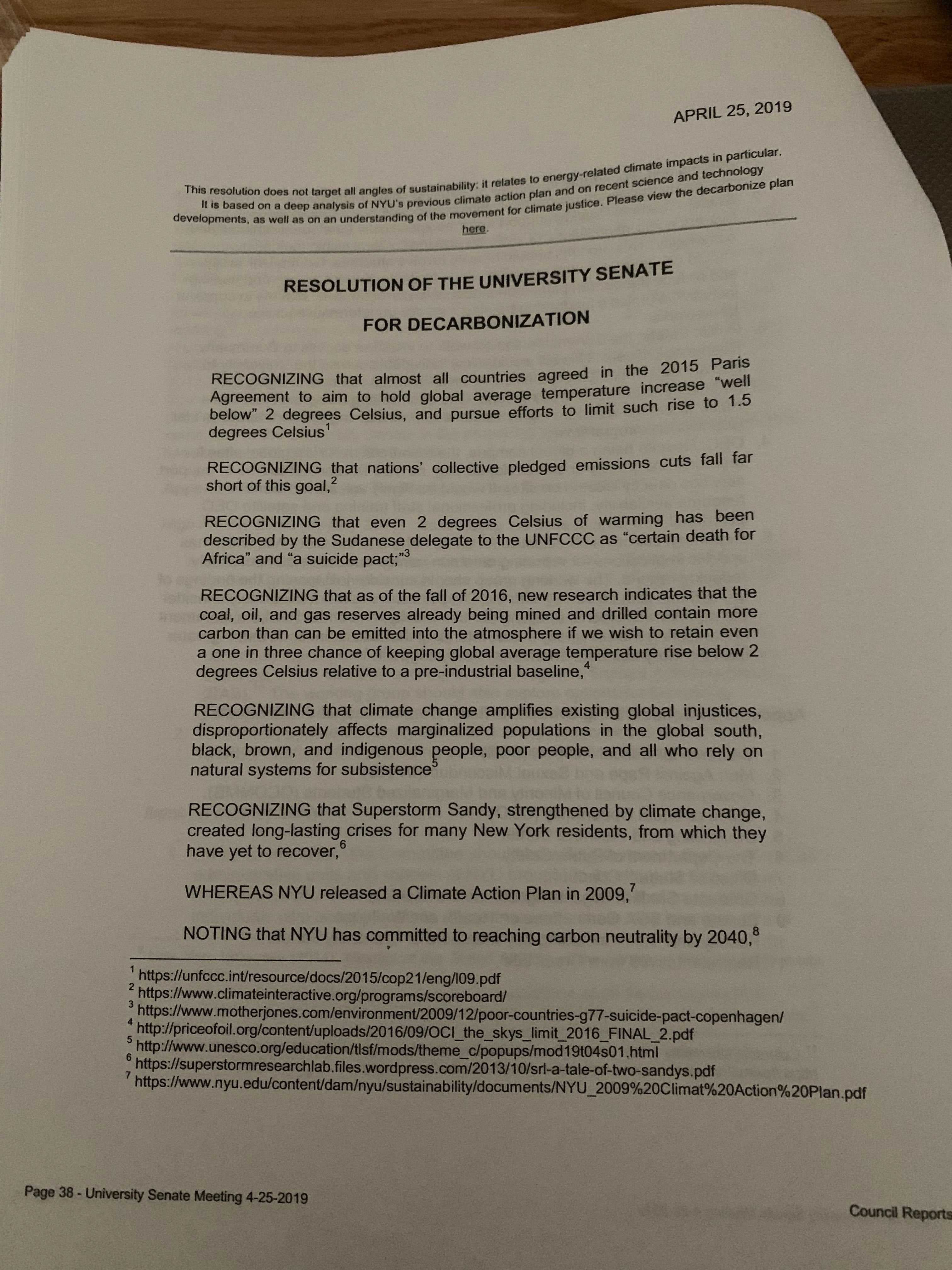 GSAS student Lola Jusidman presented the resolution to the Senate and said that it would ensure that the university is more sustainable for future generations.
"As a research and educational institution, NYU owes its students and faculty a clear, long-term climate action plan," Jusidman said.
"The Resolution For Decarbonization" also proposes a measure to increase NYU's transparency on sustainability through initiatives like creating an in-person public forum to discuss sustainability and publicly releasing greenhouse gas emissions reports.  
NYU Divest's resolution differs from the university's proposal for carbon neutrality because it calls for the university to also sever ties with gas plants that rely on fracking and to completely divest from fossil fuels. With respect to a timeline, today's resolution asks that the university phase out fracking and fossil fuels and aims for the university to be 100% reliant on renewable energy by 2040.
NYU's carbon neutrality plan, on the other hand, intends to achieve carbon neutrality by 2040 through creating energy-efficient buildings and reducing plastic and food waste. In February, the university announced that it was going to ban spending on plastic water bottles starting on Jan. 1, 2020 as part of this effort.
After Jusidman presented the resolution, School of Medicine Faculty Senator Joseph Carter expressed concern that the initiatives of the resolution could compromise patient care.
"When people talk about NYU, that also includes hospitals," Carter said at the Senate meeting. "We do a lot of work in order to try and maintain sustainability, but there are things in this resolution that could make it compromising for us in what we're planning to do and what we actually have to take care of patients. I just want to remind everyone that in a hospital, there are literally people on life support and I can't support anything that's going to compromise our ability to support that."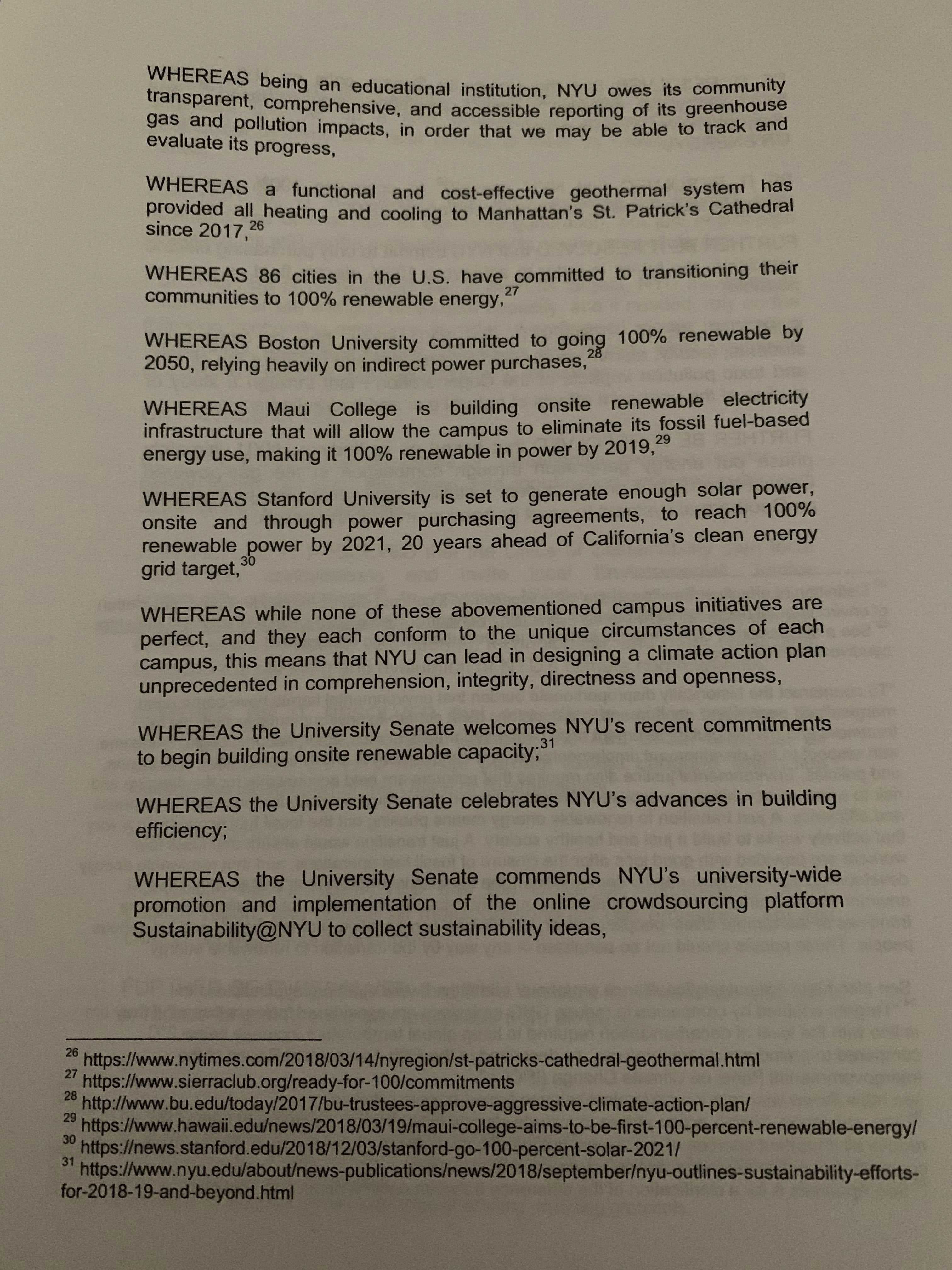 Chair of the Full-Time Continuing Contract Faculty Senators Council Mary Killilea said she would not vote for the resolution because its goals did not seem feasible for the university.
"I think that the aspirations of the resolution are incredibly important, but there are parts of the resolution that are just not feasible and I'm worried about the direction of it," Killilea said. "I have concerns about its focus thermal energy, that's something that is just not feasible for where we are and what we need."
Despite these concerns, Scheib said the Sustainability Advisory Group was in support of the resolution.
"The Sustainability Advisory Group generally found itself in agreement with the aspirations about the resolution," Scheib said. "Many of the things in the resolution we've already started to explore, like vehicles going electric. We feel that the university has its commitment [to sustainability], and these are all great ideas."
It is unclear if the resolution will need approval from the Board of Trustees. In June 2016, the Board rejected a resolution to divest from fossil fuel companies after it passed in the University Senate in April 2015. NYU President Andrew Hamilton and Board of Trustees chair William Berkley said at the time that the resolution would make a political statement rather than combat climate change.
Email Meghna Maharishi at [email protected].